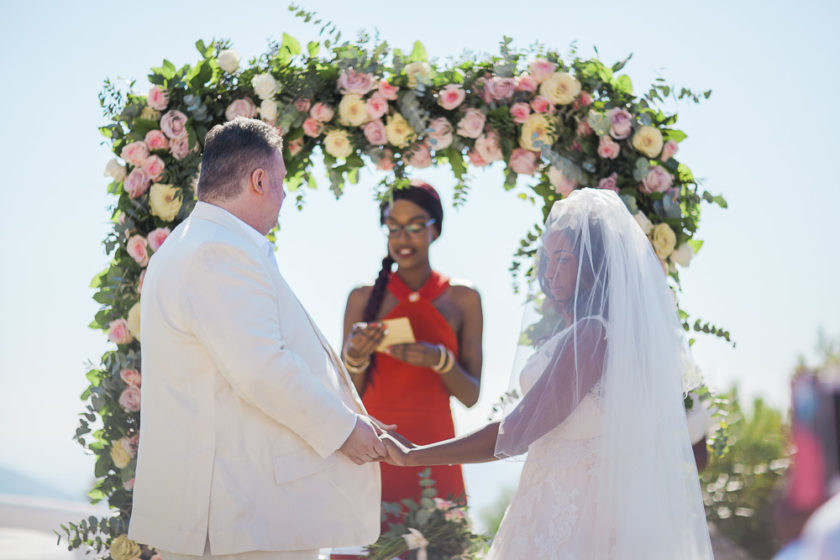 I have definitely noticed in the last few years a real shift in the types of readings that couples choose for their ceremony. More and more couples are now looking to have wedding readings which reflect real-life and the day-to-day of being married, the ups and downs, the annoyances and the little things that we love and don't love about our life partner.
I love this!
Now don't get me wrong, I also love beautiful, romantic readings, and Shakespeare's Sonnet 116 is still a classic favourite of mine. But it's all romance and no realism, which although is lovely, sometimes it's nice to give a nod to a bit of realism once in a while. To include some readings which highlight the challenges and the difficulties of marriage. The good and bad times, the tears of sorrow and tears of joy, the times your partner drives you absolutely bloody crazy, yet makes you happy in equal measure. All those elements that we can recognise in our own relationships.
So here's my pick of five of the most popular, realistic and modern wedding readings that will make you think, make you giggle and make you want to squeeze your love bunny with a big hearty hug of gratitude.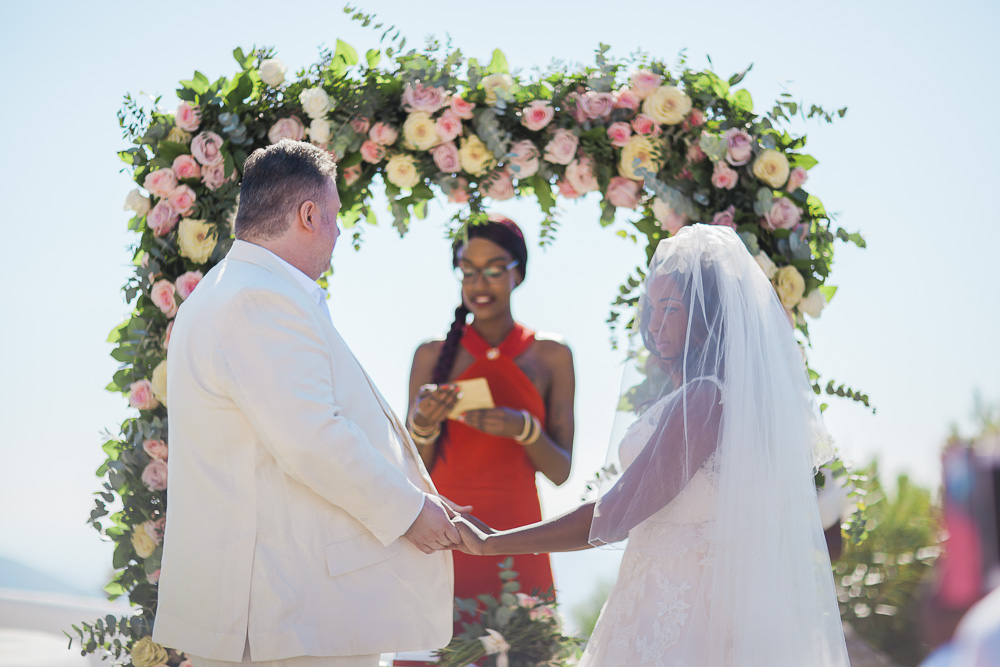 Marriage is Madness – author unknown
Marriage is about giving and taking,
And forgiving and forsaking,
Kissing and loving,
Pushing and shoving,
Caring and sharing,
Screaming and swearing.
About being together whatever the weather,
About being driven to the end of your tether,
About sweetness and kindness,
And wisdom and blindness.
It's about being strong when you're feeling weak,
It's about saying nothing when you're dying to speak,
It's about being wrong when you know you're right,
It's about giving in before there's a fight.
It's about you two living as cheaply as one,
(You can give us a call if you know how that's done!)
Never heeding advice that was always well meant,
Never counting the cost until it's all spent.
And for you two today it's about to begin,
And for all that the two of you had to put in,
Some days filled with joy,
And some days with sadness,
Too late you'll discover that marriage is madness!
Yes, I'll marry you – Pam Ayres
Yes, I'll marry you, my dear,
And here's the reason why;
So I can push you out of bed
When the baby starts to cry,
And if we hear a knocking
And it's creepy and it's late,
I hand you the torch you see,
And you investigate.
Yes I'll marry you, my dear,
You may not apprehend it,
But when the tumble-drier goes
It's you that has to mend it,
You have to face the neighbour
Should our labrador attack him,
And if a drunkard fondles me
It's you that has to whack him.
Yes, I'll marry you,
You're virile and you're lean,
My house is like a pigsty
You can help to keep it clean.
That sexy little dinner
Which you served by candlelight,
As I do chipolatas,
You can cook it every night!
It's you who has to work the drill
and put up curtain track,
And when I've got PMT it's you who gets the flak,
I do see great advantages,
But none of them for you,
And so before you see the light,
I do, I do, I do!
I'll be there for you – Louise Cuddon
I'll be there my darling, through thick and through thin
When your mind's in a mess and your head's in a spin
When your plane's been delayed, and you've missed the last train.
When life is just threatening to drive you insane
When your thrilling whodunit has lost its last page
When somebody tells you, you're looking your age
When your coffee's too cool, and your wine is too warm
When the forecast said "Fine", but you're out in a storm
When your quick break hotel, turns into a slum
And your holiday photos show only your thumb
When you park for five minutes in a resident's bay
And return to discover you've been towed away
When the jeans that you bought in hope or in haste
Just stick on your hips and don't reach round your waist
When the food you most like brings you out in red rashes
When as soon as you boot up the bloody thing crashes
So my darling, my sweetheart, my dear…
When you break a rule, when you act the fool
When you've got the flu, when you're in a stew
When you're last in the queue, don't feel blue 'cause
I'm telling you, I'll be there.
He's not perfect – Bob Marley
He's not perfect. You aren't either, and the two of you will never be perfect. But if he can make you laugh at least once, causes you to think twice, and if he admits to being human and making mistakes, hold onto him and give him the most you can.
He isn't going to quote poetry, he's not thinking about you every moment, but he will give you a part of him that he knows you could break. Don't hurt him, don't change him, and don't expect for more than he can give. Don't analyze.
Smile when he makes you happy, yell when he makes you mad, and miss him when he's not there. Love hard when there is love to be had. Because perfect guys don't exist, but there's always one guy that is perfect for you.
How Falling in Love is like Owning a Dog – Taylor Mali
First of all, it's a big responsibility,
especially in a city like New York.
So think long and hard before deciding on love.
On the other hand, love gives you a sense of security:
when you're walking down the street late at night
and you have a leash on love
ain't no one going to mess with you.
Because crooks and muggers think love is unpredictable.
Who knows what love could do in its own defense?
On cold winter nights, love is warm.
It lies between you and lives and breathes
and makes funny noises.
Love wakes you up all hours of the night with its needs.
It needs to be fed so it will grow and stay healthy.
Love doesn't like being left alone for long.
But come home and love is always happy to see you.
It may break a few things accidentally in its passion for life,
but you can never be mad at love for long.
Is love good all the time? No! No!
Love can be bad. Bad, love, bad! Very bad love.
Love makes messes.
Love leaves you little surprises here and there.
Love needs lots of cleaning up after.
Sometimes you just want to get love fixed.
Sometimes you want to roll up a piece of newspaper
and swat love on the nose,
not so much to cause pain,
just to let love know Don't you ever do that again!
Sometimes love just wants to go out for a nice long walk.
Because love loves exercise. It will run you around the block
and leave you panting, breathless. Pull you in different directions
at once, or wind itself around and around you
until you're all wound up and you cannot move.
But love makes you meet people wherever you go.
People who have nothing in common but love
stop and talk to each other on the street.
Throw things away and love will bring them back,
again, and again, and again.
But most of all, love needs love, lots of it.
And in return, love loves you and never stops.
This last reading was posted on the blog by a fellow celebrant. I'd never come across it before, so I thought I'd share it here, as it's a good one!
So there you go love bunnies, a little bit of wedding reading inspo for you, for those looking to inject a bit of realism, fun and humour into their ceremony. After all, that's the stuff of life, isn't it!?
Photo by Eloy Muñoz Photography