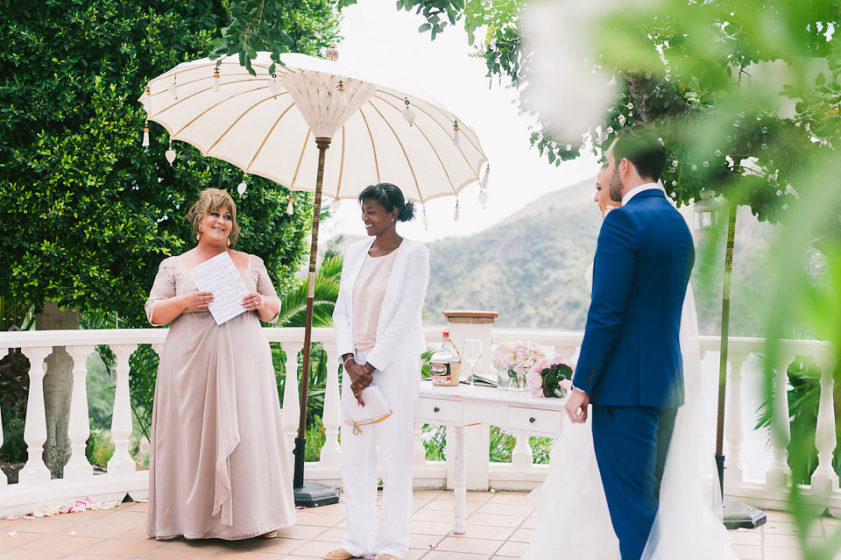 Now, you all know how much I love weddings. I really do. It's not like I make a secret of it either, because this blog's a bit of a giveaway! But as much as I love them, there is lots about weddings that I don't love. Mainly, traditions, and etiquettes which I feel do nothing to help but everything to hinder people, by pushing them towards having a day that doesn't really reflect who they are or how they feel.
So it may come as no surprise to you that I want to dedicate this post to mothers and encouraging them to have more of a role in their child's ceremony. Tradition has had mums firmly planted in the wedding background and behind the scenes for far too long. Times have changed people, and our gorgeous mothers most definitely do not belong there any more!
Through my weddings I meet some really amazing mothers. Women who have raised kick-ass daughters and sons, mothers who have shown their children how to be good and loving people and supported them in all that they do. Yet, when the day of the wedding arrives, I do not get to see much of these amazing women, bar seeing them looking very lovely whilst saving the chair next to them, for when their husbands have finished walking THEIR daughters down the aisle, the first of the their many jobs of the day! (Not to forget, the father of the bride speech and father-daughter dance!)
First of all, I know that there are MANY mums who are quite happy, thank-you-very-much with the behind the scenes role that they have on their child's wedding day. I get this. My mum would have probably accidentally-on-purpose-missed her flight if I'd told her that she'd be speaking or having a major role in my wedding. But my mum aside, I am starting to get feeling that more mums and couples would like their mums to have an active role, but don't really know if it's right, if tradition allows it and what they can do. And so all I have to say to that is, yes it is right, screw tradition, and here's what they can do.
Mums of brides can
1) walk their daughter down the aisle. Or walk down the aisle with the groom's mother!
2) Be a brides maid or maid of honour (why ever not?)
3) Do a reading or write one for you.
4) Involve them in a symbolic ritual, like the candle ceremony or Mother Rose ceremony*
5) Do a speech or read your love story
Mums of grooms
1) walk their son's down the aisle, or walk down the aisle with the bride's mother!
2) Be a brides maid or usher.
3) Do a reading or write one for you!
4) Involve them in a symbolic ritual, like the candle ceremony or the mother rose ceremony*, for example.
5) Do a speech or read your love story
6) Mums can dance with their sons, when the bride is dancing with her dad.
In theory a mum can do whatever it is that you ask her to do and what she's willing to do for you. The great thing about the options above is that they require different levels of interaction. So depending on your mum's nature and personality, you can choose an element which suits her. So if you have a confident, has lots-to-say mum, then perhaps a speech or reading a poem will be her cup of tea. Or if your mum is more quiet and reserved then involving her in a symbolic ritual where she doesn't need to speak may be more up her street. There really is something for every mum.
Why include mums at all?
For me personally, much of who I am is down to my mother. Much of who I am as a mum myself, as a wife, as a life partner and a friend is all thanks to how I saw my own mum live her life and share her wisdoms with me. I know on my wedding day she was very happy being the mother of the bride in the traditional sense, so that is fine with me. BUT I wish maybe I'd honoured her more during the ceremony, not just in the speeches.
On the other hand, my step mother is such a fantastic writer and a very confident orator. I would love it if when the time comes for my younger brother and sister to get married that they will use her amazing skills to some good in their ceremony. It would be such a shame not to feature some of that goodness that she can create and have her add her gorgeous touch to their special moment.
There is also the fact that this is a big day for mums, people. HUGE. Their babies are grown and even though they have known this for a while (decades in fact!!), seeing their child get married is real confirmation that they really are adults, adults who are forging new relationships and creating their own families. This is why I see all the tears that I do on weddings days. Mums shedding tears of joy but also a few tears of happy-sadness. So giving your mums a role in your ceremony is such a beautiful way of saying to your mum that you will always love her, that nothing is really changing and that she will always be a part of your life. End of.
So now you can see why I think that there is nothing more special than honouring your mum and thanking her for all that she has done for you in the course of your life, which has ultimately led you to where you are today!
Tips and things
Obviously, the desire to be involved in a ceremony has to be mutual. You won't get very far if your mum doesn't want a substantial role and vice versa. But if you really feel that this could be a nice touch to your ceremony and a nice way to have your mum be a part of it, then go for it!
Chat to your mums, ask if they'd like to be involved, see what ideas they have and work with them to involve something special which suits everyone.
Reading this post back, I have made myself so excited by this. I need to hear your stories on how you'll be honouring your rock star mothers. Share and make me happy!
Ps. I am saving this post for my son for when he's in his forties and ready to get married. If he doesn't have me doing a reading or speech at the least, I'll be having a word with the pair of them and putting this post under their noses. Oh goodness, maybe I need to read my own post on pushy parents!
*The Mother Rose ceremony is a lovely way of honouring your mums during your ceremony. The couple's mums are presented with a single rose to thank them for the love, goodness and respect that they have nurtured in their children. I will be dedicating a WHOLE post on this sometime soon, because it's so damned beautiful!