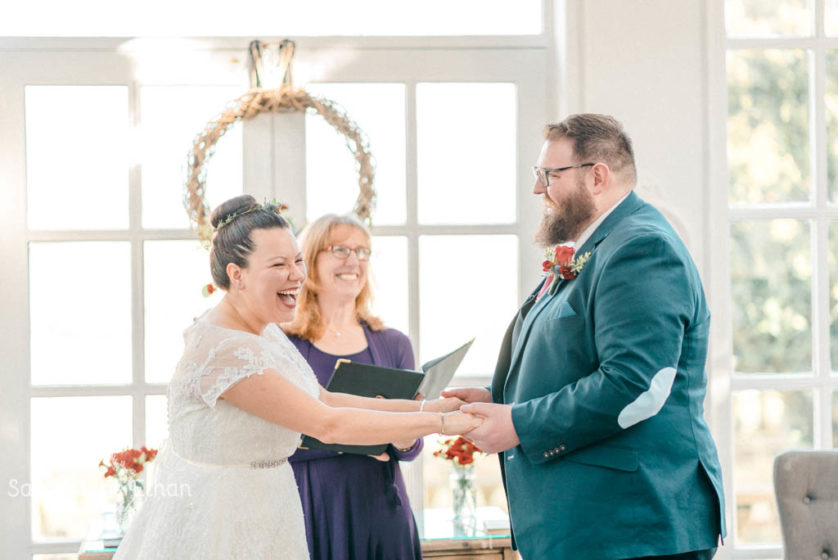 Wedding Celebrant Helen Williams is one very lucky celebrant indeed. From her base in beautiful West Wales, UK, she gets to lead wedding ceremonies for couples in the most amazing places. From old castles, stunning beaches, to beautiful rural locations, her couples know how to choose just the right spots for their bespoke wedding celebrations.
We chat to Helen about her work as a celebrant and as always we like to get into the nitty gritty and find out what celebrants really do love about what they do!
What has been the highlight of your wedding career so far?
Too many to mention! Beach weddings have been an absolute joy, as well as weddings in tipis and one large wedding on the couple's premises. I love those who ask for symbolism in its many forms, but particularly when we involve family and friends in the ceremony in some way. Then again, one of my highlights had no extra symbolism but the couple were so in love, and the (ancient ruined chapel) venue looked so beautiful, that stands out as well!
What are your favourite types of venues/locations for conducting ceremonies in Wales?
Anywhere unusual, preferably with a natural feel. It certainly doesn't have to be "grand".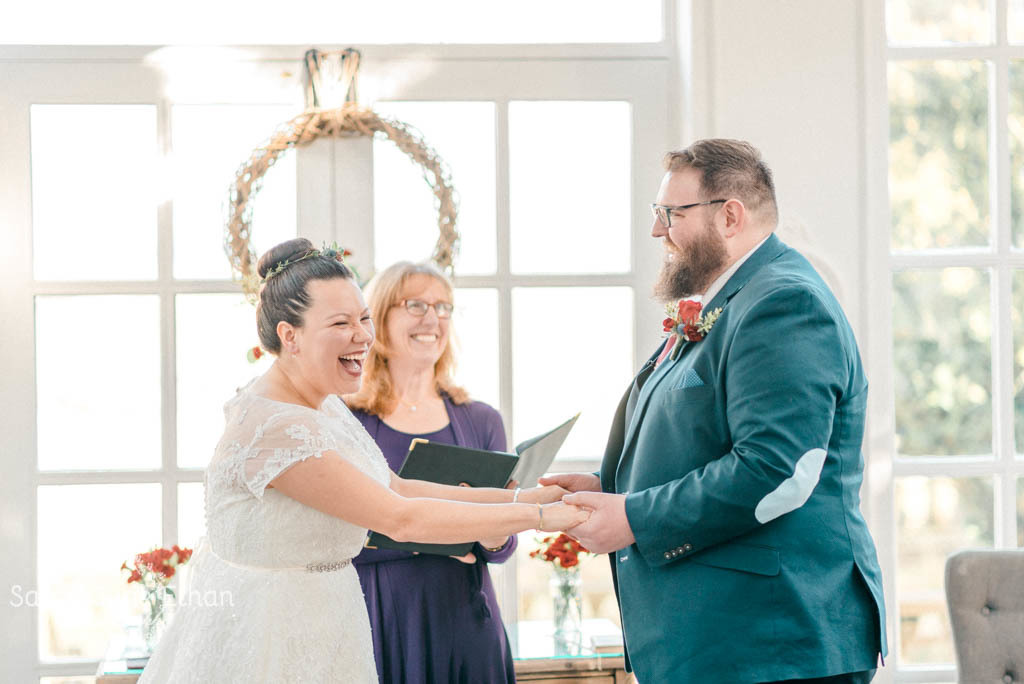 What advice would you give to Engaged and Ready readers who are planning their ceremonies?
Think about what you would like in your ceremony and set the rest of the day around that. Let your ceremony be the star of your show!
What has being a wedding celebrant in Wales taught you about life?
We are all capable of far more than we realised.
What do you love about being a UK wedding celebrant?
The creativity of writing something so important for my couples. Also, being so deeply involved in the most important day of their lives.
What aspect of your job as a wedding Celebrant gives you the most satisfaction?
Feeling the atmosphere in the wedding venue as we go through the ceremony, and knowing the part I've played to create it.
What are your favourite types of wedding ceremonies?
Ones which bring out the character of the couple, whether this is through the choice of venue, the words spoken, or the symbolism used!
What is your favourite symbolic ritual and why?
Hand fasting with a "hoop and wand", involving all of the guests. Because it gives everybody the opportunity to demonstrate their love for the couple within the ceremony, it's just joyful!
Describe yourself in three words!
A.Bit.Eccentric.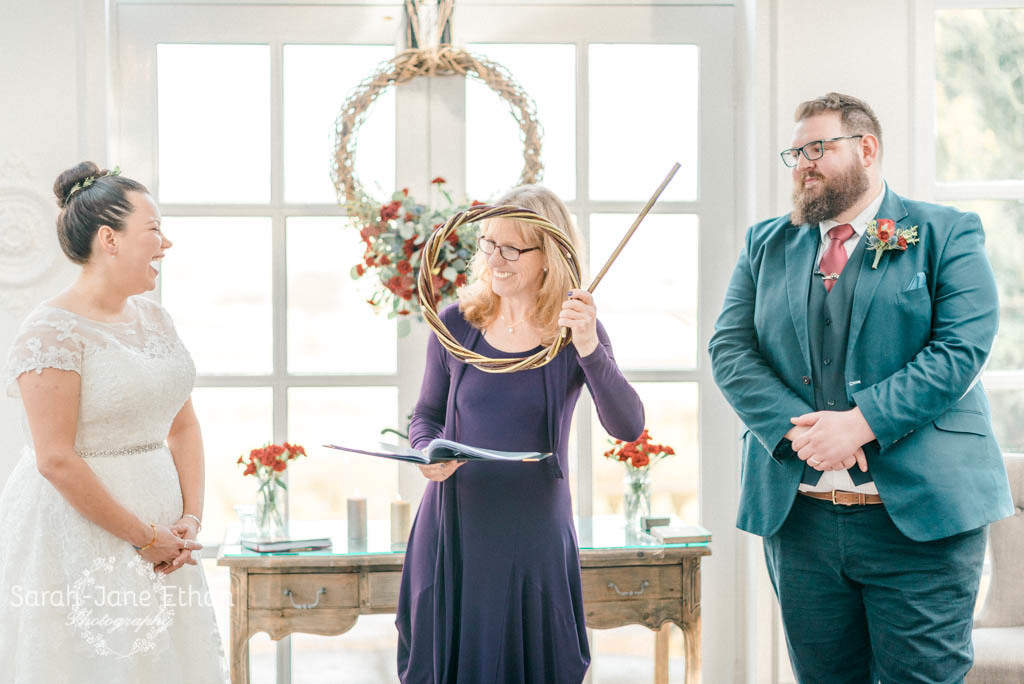 What would you love to see happen in a wedding ceremony?
I'd love to see a couple and their guests create a painting. I think I may be doing this this summer!
Who are you favourite types of couples to work with?
Ones who want the ceremony to be "theirs", who understand the benefit of being able to really make it a personal ceremony.
Have you ever had any hair-raising moments during a wedding ceremony?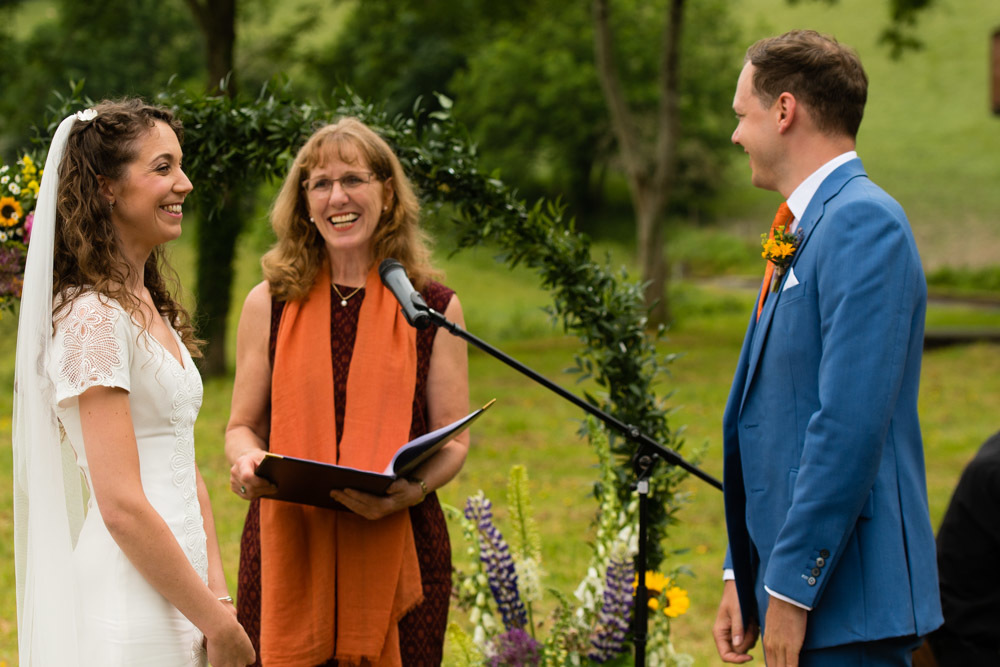 I officiated a ceremony outside with over 200 guests. They were a very friendly, relaxed crowd, everybody remained standing in a circle surrounding us. One particular guest's attire was unusual. A drape style jacket, and nothing else, whatsoever! He heckled me through parts of the ceremony but thankfully I could handle it with good humour and it all just added to the tribal atmosphere the bride and groom had been hoping for!
What do you get up to when not celebranting?
Running, cycling, walking my dog, messing about in the garden, going to the beach, visiting local beauty spots. Anything but cleaning!
Isn't Helen awesome? You can find our more about her awesomeness and contact here directly here and right here.