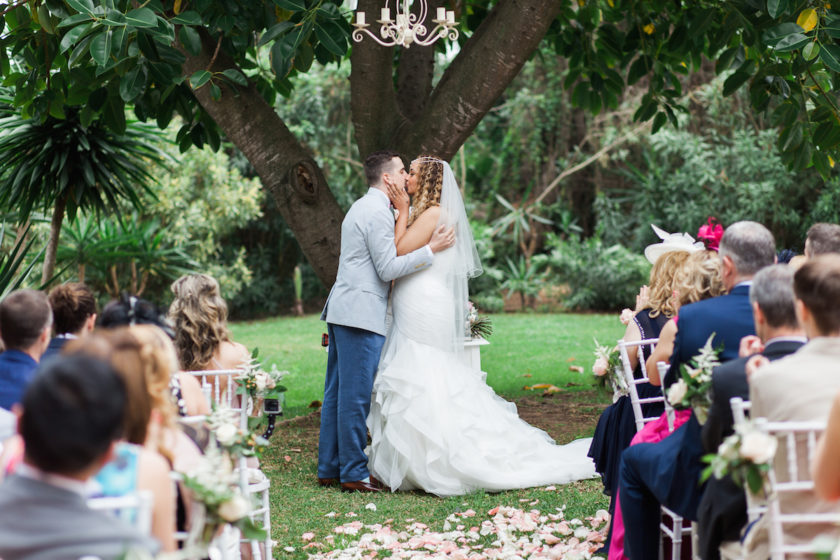 Sometimes I forget that I live in a constant wedding bubble. I forget that I'm immersed in weddings all day long. I forget that weddings have been a part of my life for the last nine years. I simply take it for granted, all that I know and love about weddings and wedding ceremonies.
This means that I forget that most couples who are getting married are doing it for the first time and are starting out on a unknown journey that is totally new to them. I forget that most couples do not instantly recognise what is and isn't important when it comes to their wedding. I forget sometimes that couples need a bit of encouragement, guidance and direction to help them understand how to categorise and prioritise the important elements of the day; their ceremony. Because I know the wedding ceremony, whether religious or not, is the most important part of the day, I often assume that everyone else knows this is the case too. But actually, this is not always true, at all.
I would say that for me, my wedding couples fall into three distinct categories;
Those who know they need to have a ceremony to start the day with, who haven't thought much beyond that, nor know of the possibilities for their ceremony.
Those who know the ceremony is important and have a vague idea of the kind of things they would like to do and are open to suggestions regarding their ceremony.
Those who arrive already knowing that the ceremony is the most important part of the day and are full of ideas for their ceremony or very keen to learn new ideas for their ceremony.
I would also say my wedding couples split into these categories in a 20:50:30 ratio. On the face of it, that is not a bad start really. What's also nice is that quite often those who start off in the first category soon jump to the second and third categories when they realise the importance of their ceremony.  And even then, no matter where people started off before their ceremony, by the end of it, they really are very much surprised and overwhelmed by how special it was. Double whoop.
Why is the wedding ceremony the most important part of the day?
Because I'm done with making assumptions about what people know and don't know, I'm just going to be real clear and spell it all out. Your ceremony is where your marriage starts. It's where it breathes life, it's where it takes shape. It's where you and your love bunny declare your love to each other and publicly share your intentions for your future lives together. It's where you outline your choices, promises and goals for your future happiness and your future wellbeing and harmony. It's where you soak up all of the love from your loved ones and celebrate your commitment with them by your side. The end.
I have said this so many times before and I will keep on saying it, your ceremony should not just happen to you, it should be something that you are actively aware, involved and supportive of. You should know what is going to be done or not done, what you're going to say, or not say. You should know the tone, the length, the style, the format of your ceremony. Because this is the time where the two of you will be committing to something life-changing, special, overwhelming, exciting and momentous. So you need to not only know what you're doing but be interested and invested in it, too.
I speak about this from the heart, like a person slightly obsessed, because I never had this approach on my own wedding day and so I know first hand what happens when you're not actively involved or aware of what will happen in your own ceremony. I wrote a piece about it for the awesome Practical Wedding blog, so have a read about it there, if you're interested. It will surprise you, because people always think that I must have had the most awesome wedding ceremony ever. Oh, if only that were true. Sigh!
Hopefully, people can understand now, why I kind of want to bash peoples' head together when I see their Pinterest board are full of dress, cake, decoration, music inspo and nothing or very little about their ceremony. Okay, maybe not bash their heads together. Maybe just give them a good talking to.
So why is the ceremony often under-prioritised?
I cannot blame people who start off their wedding journeys with little appreciation or focus on their ceremony. I'm not even sure if there really is anyone to blame. Historically couples have never really 'owned' their ceremonies, either the church did, or the priest did, or the state did, and wedding ceremonies were something that happened to couples with very little of their input, direction, or opinions, so you can see why when it came to planning your wedding, the ceremony was given very little thought, because basically, you weren't required to think about it. Full stop.
In church ceremonies of old, a couple would have had virtually no choice in anything that happened during their wedding ceremony, bar some simple decoration for the church and maybe the hymns that were sung. The rest would have been compiled by the vicar/priest.
And the same goes for civil ceremonies of old. Couples would have had hardly any input into the ceremony. You simply would have registered your interest to get married, done the paperwork, turned up on the day and time and been led through a pre-written civil ceremony, worded in accordance with the law. You spoke when you were spoken too and that was it. In civil ceremonies of the 60s and 70s, readings and poems, for example, were pretty unheard of!  And so this my dear friends, is why no one gave two flying bits of fudge about the ceremony, because they were never required too.
It is good to know that both systems, the church and the state, have got better in allowing people some autonomy and personal expression over their wedding ceremony, but there is always room for improvement.
So it's only really now in the last five to ten years (especially in the UK) that couples are learning to prioritise their ceremonies and understanding how much of an input they can have in the design and content of their ceremony. This is fab of course, but it still means however, that there are still many people holding on to the traditional ideas of what a marriage ceremony is, because it's all they've ever been exposed to.
And with this, the majority of wedding magazines, PINTEREST, books, and other wedding resources still can unwittingly big up and promote all of the other elements of a wedding day; the dress, the shoes, the hair, the cake, the venue, the decor, the theme, the wedding transport, the honeymoon, basically everything but the bloody ceremony! As an industry it's getting better, but it still has got a long way to go. But don't worry, this is why I am here!
Recently, I checked out a couple of wedding planning check lists that I found online, and when it came to the ceremony, they simply said '6-12 months beforehand book your ceremony'. Yet, the depth of the suggestions and time frames for all the other aspects were so much more detailed. On one, there were four different timeline entries alone, just for the dress – 18 months before to start looking for dress inspiration, 12 months before to book appointments for dress shopping, three months before to go back for a fitting, try on the dress the month before blah, blah, blah!  Yes, of course a dress is important but you can get married without your dress, you can't get married without your ceremony! Erm, priorities!! Oh and please don't follow my dress-buying time frames, as I don't remember exactly what was written, just the gist of it. They could be completely wrong!
Anyway, I think I've hammered home the point quite enough for today! And I'll stop typing now, in the comfort that if you've read this far down the page, you're probably already recognising/starting to recognise that your ceremony is THE most important part of your wedding day, an element which should be invested into just as much, if not more than everything else.
Thank you. The end.