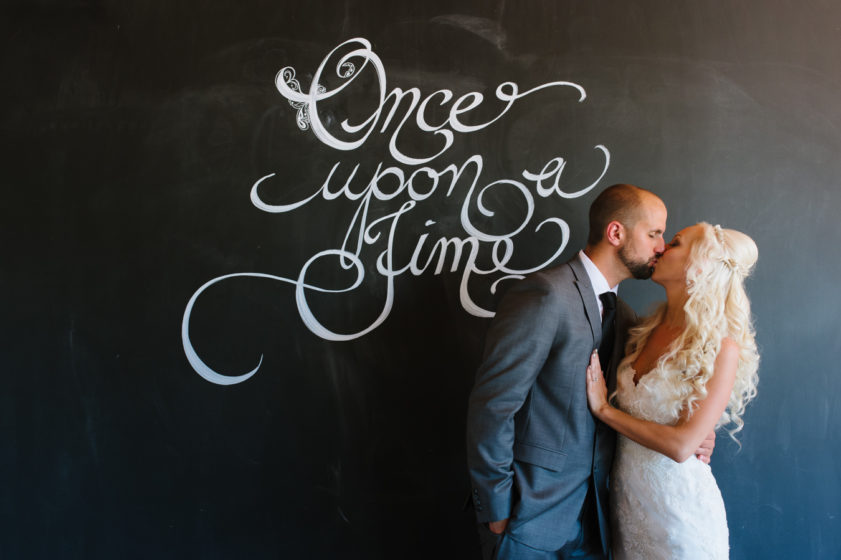 If like me, you still haven't quite filled the void that Game of Thrones has unceremoniously left us with and are still reeling from the way that season six seemed to end before it really started, (a whole other post all together!) then you will really need and want to see this awesome GOT inspired wedding.
You can't even imagine the moves I busted, (something straight out Bruno Mars' Uptown Funk video) when I came across photographer Janelle Carmela's email in my inbox, about this awesome wedding of her friends, Laura and Andy, which she photographed.
If this wedding doesn't cure you of your GOT blues, then it sure as hell will make you feel a whole lot better.
Laura and Andy are absolute fantasy nerds. That's not me being rude by the way, because they will tell you that for themselves, straight up. So let me hand you over to gorgeous bride Laura, who will tell you quite clearly that they are nuts over all-things fantasy and it was this shared loved that definitely played a huge part in cementing their future together
'On one of our first dates the subject of the made for tv movie Merlin came about (which is not by any means a popular film) but a film we both grew up with and adore. We both were in disbelief that the other had seen it.

We very early on discovered our similar interest in all things magical… just making the love between us seem even more magical. We would later name our rescue pup "Merlin." 

We started watching Game of Thrones from season 1 prior to it becoming a worldwide phenomenon. We told everyone and their mother about it and how much we loved it. How amazing the books are! We are super fans…Game of Thrones comes on.. And our cell phones go off, it's an hour on Sunday evening that we disappear into the world that we both feel we belong to, ha ha!'

Anyway… due to our love for all things magical… it just felt natural to have a fantasy based/ fairytale/ whimsical themed wedding with a main focus on Game of Thrones.
So let us check out Laura and Andy's Games of Thrones inspired wedding, complete with a hand-fasting, a GOT ring box (with a Westeros map on the front and some Khal/ Khaleesi quotes on the inside), GOT style wedding vows and a wedding script shaped and written by Laura and Andy themselves and officiated by their good friend. Double whoop!  And all set on the incredible Becker Farms in Gasport, New York this July, which allowed them to carry out their wedding theme perfectly.
Pre- ceremony
♥ Andy's pre-ceremony drinks with his besties ♥ Laura with her glamorous posse of ladies ♥ Her Daenerys hair style and stunning wedding dress ♥ Their awesome brewery setting ♥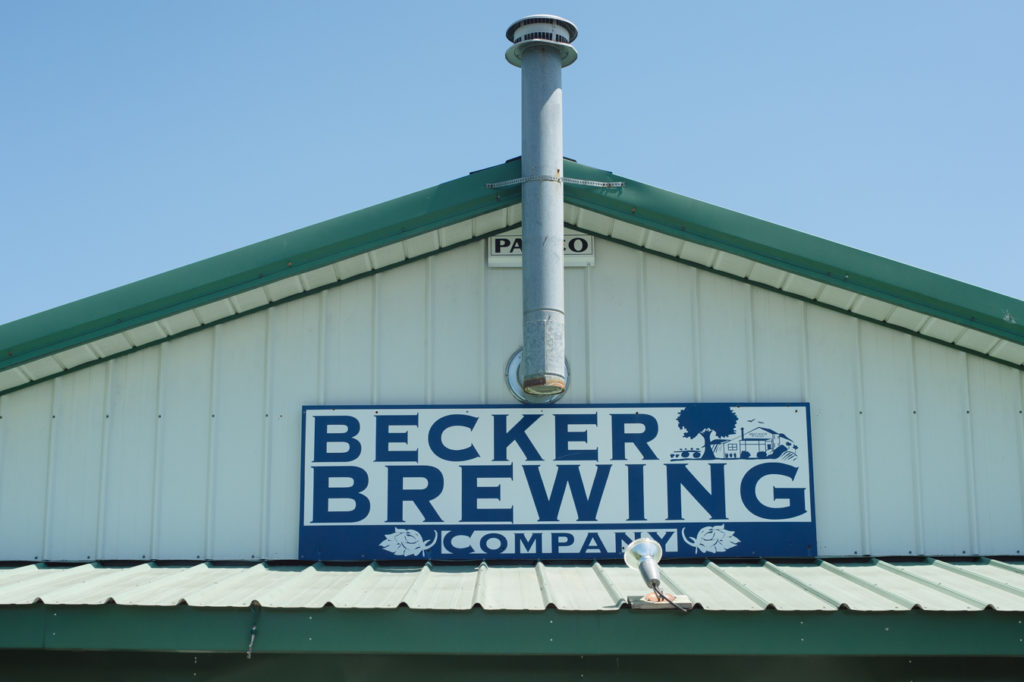 The first look
Before the actual ceremony Laura and Andy had a 'first look,' something which I think is frigging awesome and would highly recommend. It's a brilliant way to get those nerves calm before the ceremony and for couples to have some peaceful moments to themselves before the 'show' starts! And I absolutely love that they had their beloved doggies in on the action too. I can't think of a more calming, loving and joyous way to start your wedding day! You can read more about it first looks here.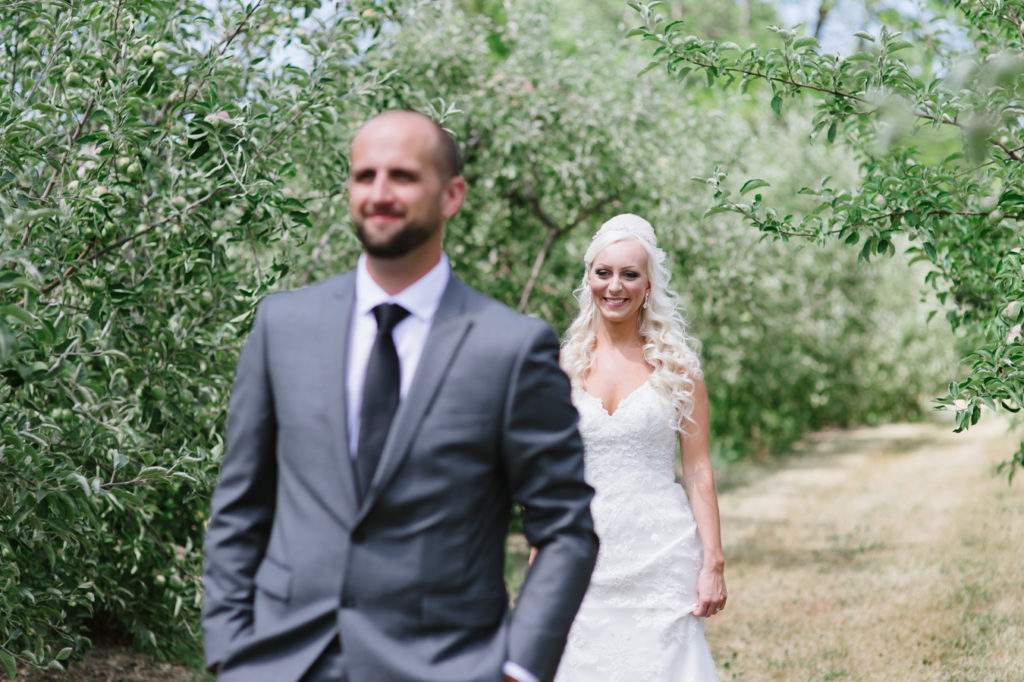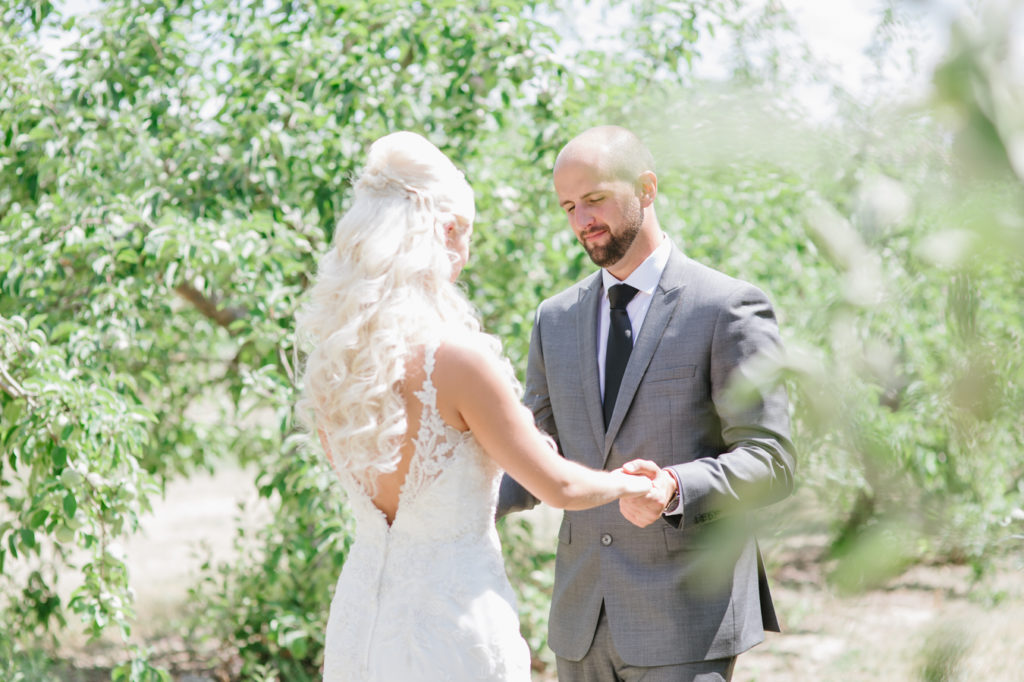 The ceremony
We wanted our ceremony to feel regal and magical. We wanted it to be extremely personal to us and our loved ones. I wanted the fairytale I always dreamed about. I walked down the aisle to the most beautiful Celtic music (The Secret Wedding by James Horner and the London Symphony Orchestra) and our wedding party walked to The Wedding by Bear McCreary.

I still have chills when I think of sitting alone in the bridal suite, hearing that music and knowing that it was almost time! With my long golden hair, in a dress fit for a queen (in my opinion), with the most perfect wild flower bouquet, to the most perfect man, my version of a king, my husband.

To start the ceremony, Andy entered by himself and waited at the altar with our good friend and officiant Jake. I entered with both my parents, too. When my mother was married she walked down the aisle and was given away by both of her parents, which was an idea I adored, so I thought I would keep that tradition alive.

Neither of us are religious but we are both spiritual. We are both very passionate and emotional human beings. We wanted it to feel very meaningful and personal. We had a short ceremony filled with some Game of Thrones reading, as well as some lines from another fantasy based series (Outlander)… very meaningful Celtic music… and to incorporate more of our personalities.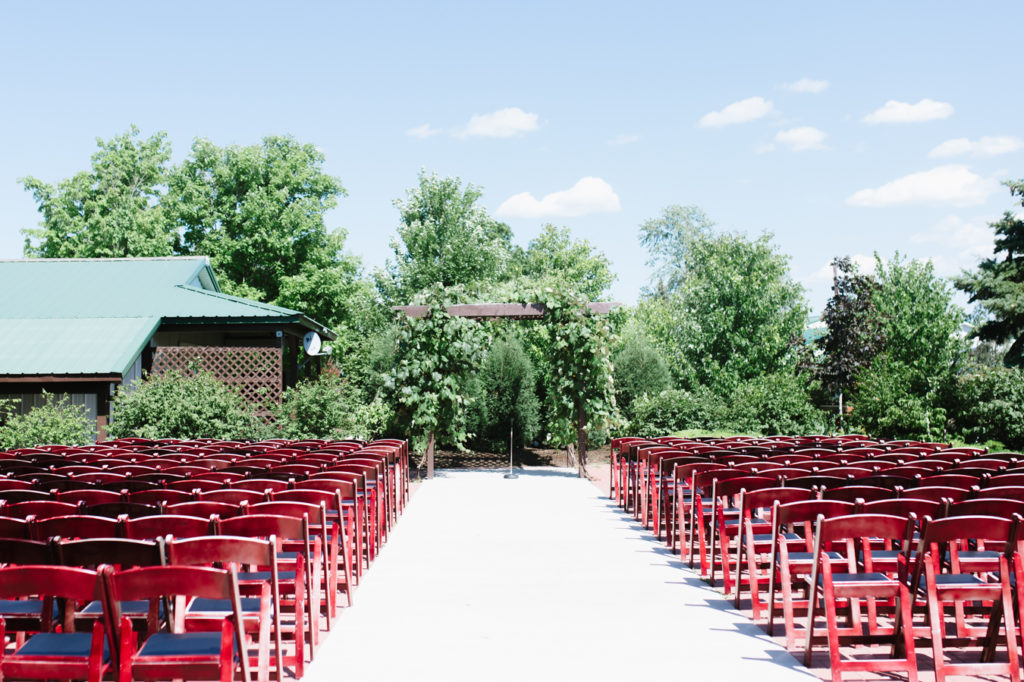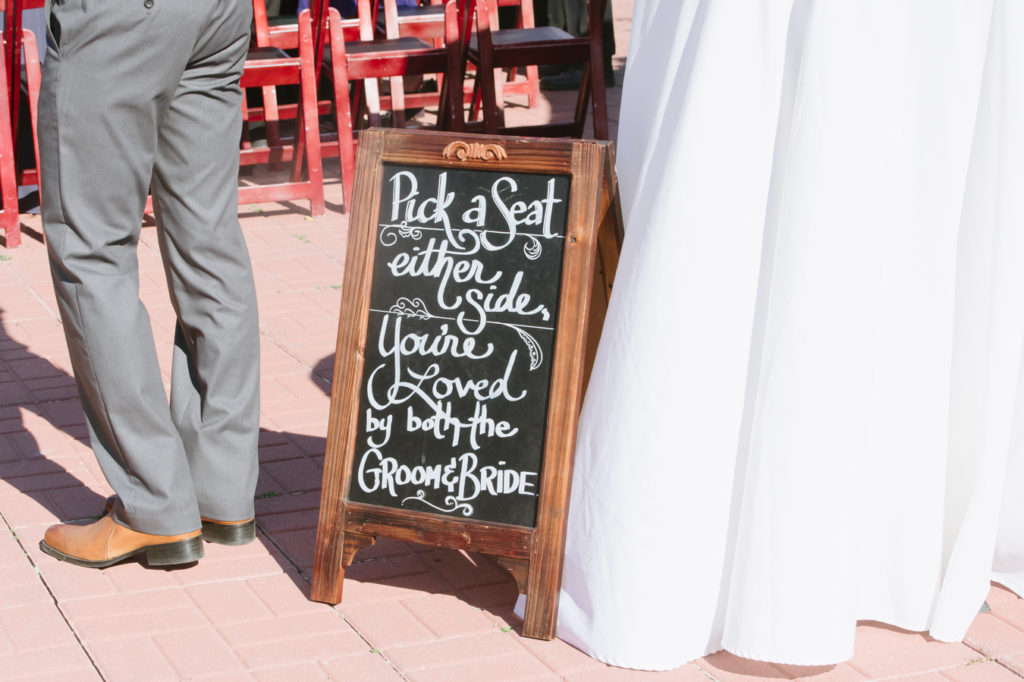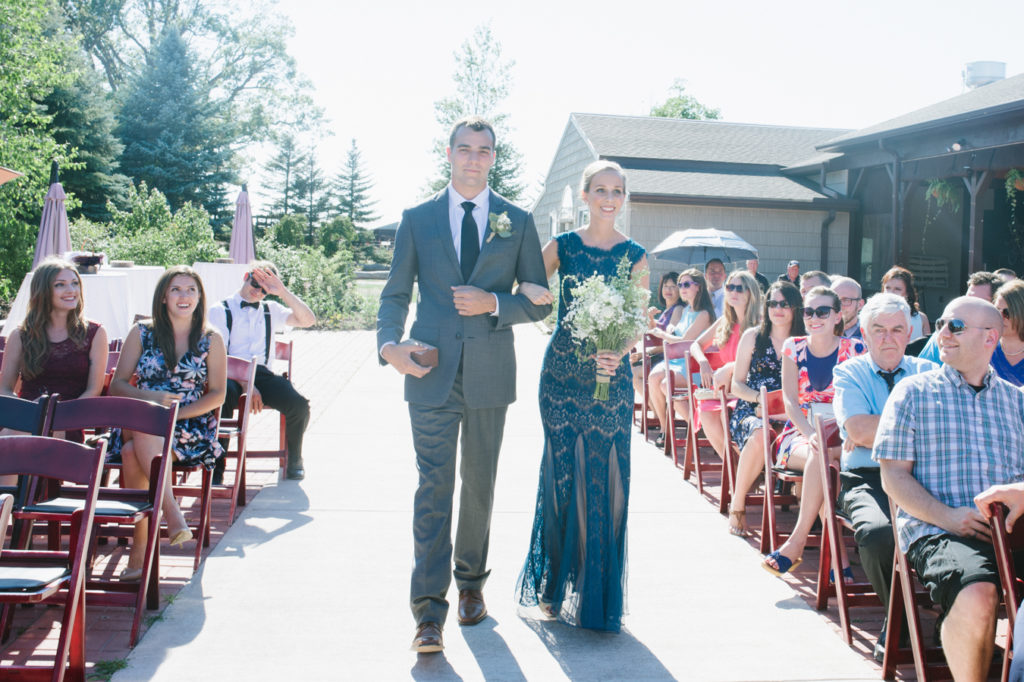 We did a hand fasting ceremony, too. I've always thought hand-fasting was a very unique tradition (that actually made the concept of marriage (to a little girl) visually simplified.) I love that it is cross-cultural and used in many religions and also turned out that it was used in the film Braveheart (another absolute favourite of Andy's) and a movie I saw as a little girl… you know how it is… you see these epic love stories in literature… or in a film… and you crave it… being told all along that that type of 'love' doesn't exist… but it does.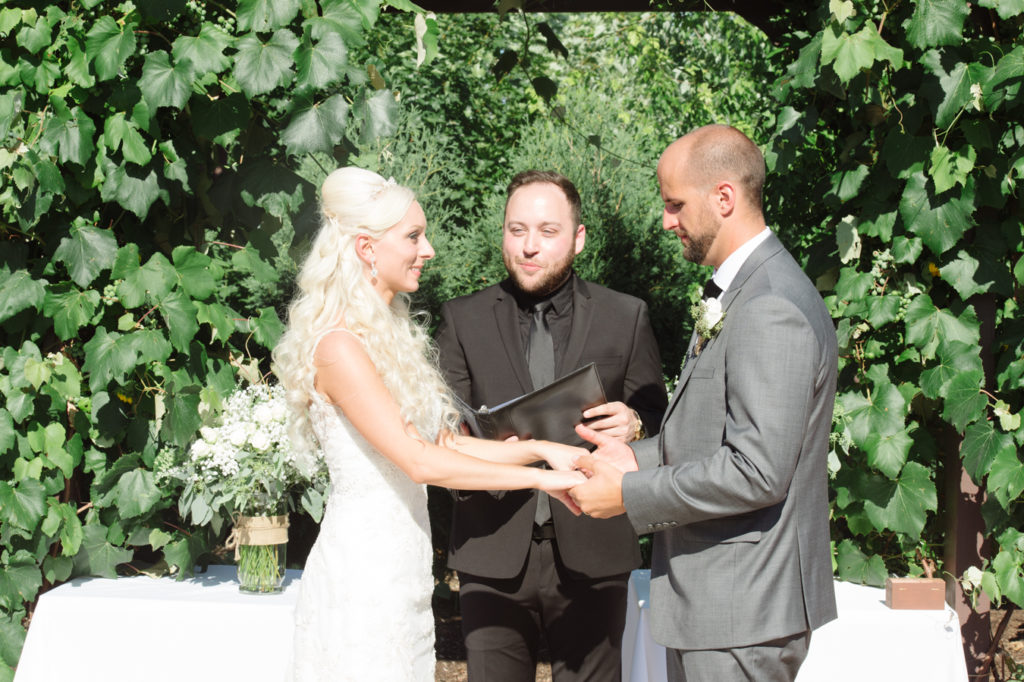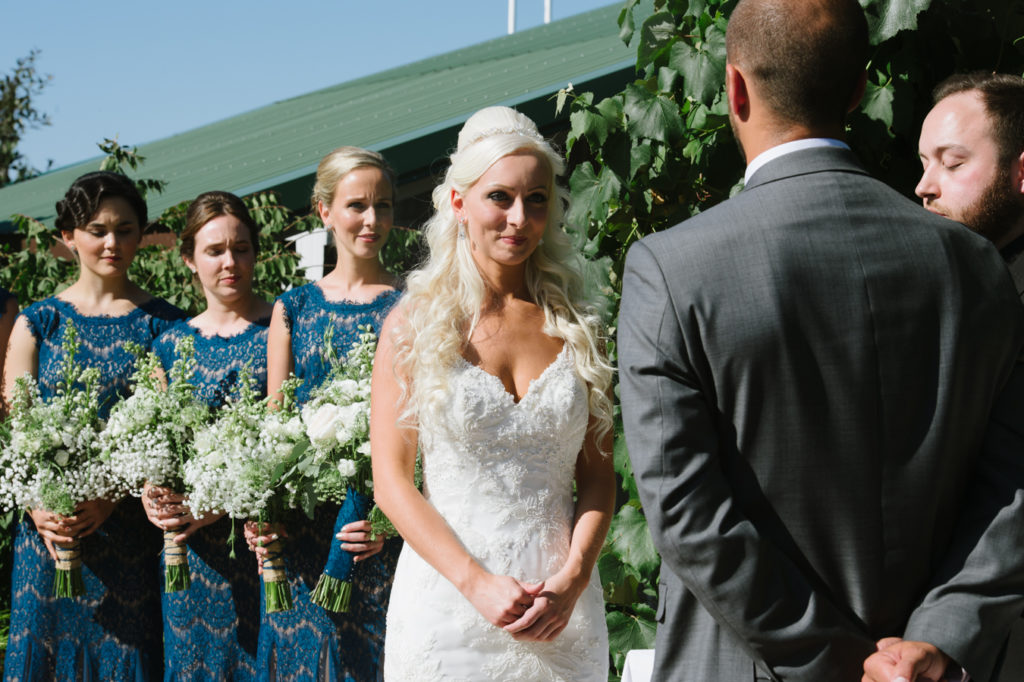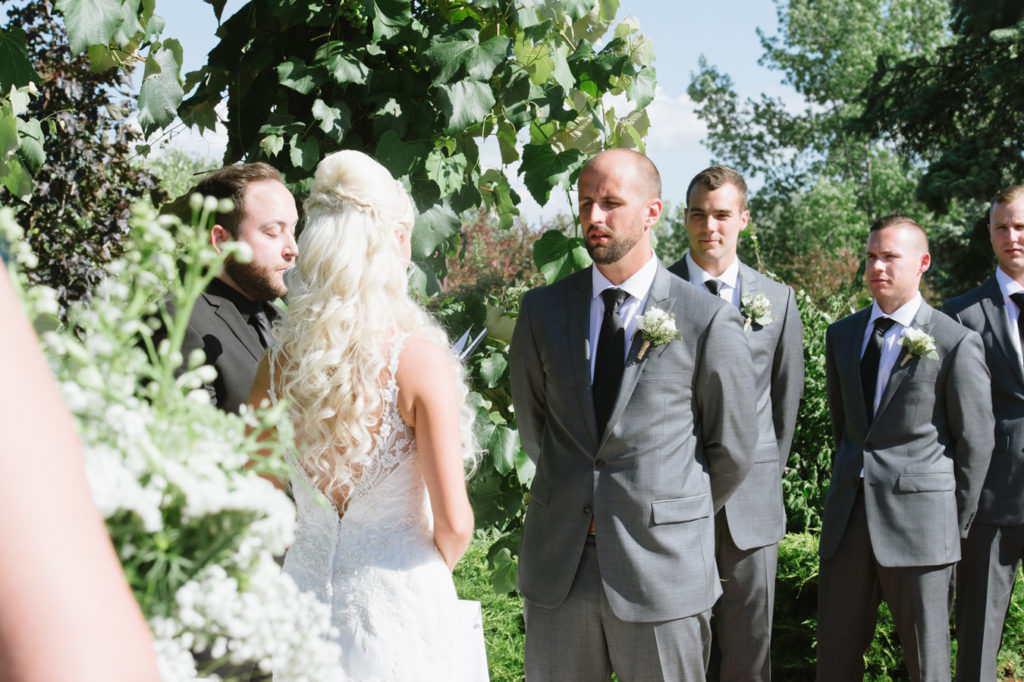 The awesome vows
Andy's: I, Andrew take you, Laura as my wife. I promise to love you day by day taking each one as it comes. To communicate so unspoken thoughts are not misunderstood. To make our house a home, a sanctuary, and a refuge. To stand beside you, when it seems as if you're standing alone. To believe in you and to believe in us. And to foster our future life together. For as long as we both shall live for you are blood of my blood, bone of my bone.

Laura's: I, Laura, take you, Andrew as my husband. I promise to love you day by day, taking each one as it comes. To communicate, so unspoken thoughts are not misunderstood. To make our house a home, a sanctuary and a refuge. To stand beside you when it seems as if you're standing alone. To believe in you and to believe in us. And to foster our future life together. For as long as we both shall live, for you are blood of my blood, bone of my bone.
Their personally crafted hand-fasting
Jake the officiant: Andrew and Laura I ask that you take each other's right hand. Knots have been used as part of marriage ceremonies from Celtic times and beyond. The love knot has no end and is therefore a sign of the eternal bond between two people.

These are the hands of your best friend that are holding yours as you promise to love each other all the days of your lives. These are the hands that will work together as you build your future and make your dreams a reality. These are the hands that will comfort you in illness and trials, and share the joy and happiness of life together. May you always hold each other and give strength to each other.

As you are the Moon of his life, he shall be your sun and stars. Your love shall be as ever present as those two celestial bodies… even though they are sometimes hidden from one another's sight. Your love will be the guiding force that charts the course of your tomorrows, holds your world together in difficult times and will make life itself shine bolder and brighter than we human beings have a right to dream of."
Awesome words, right?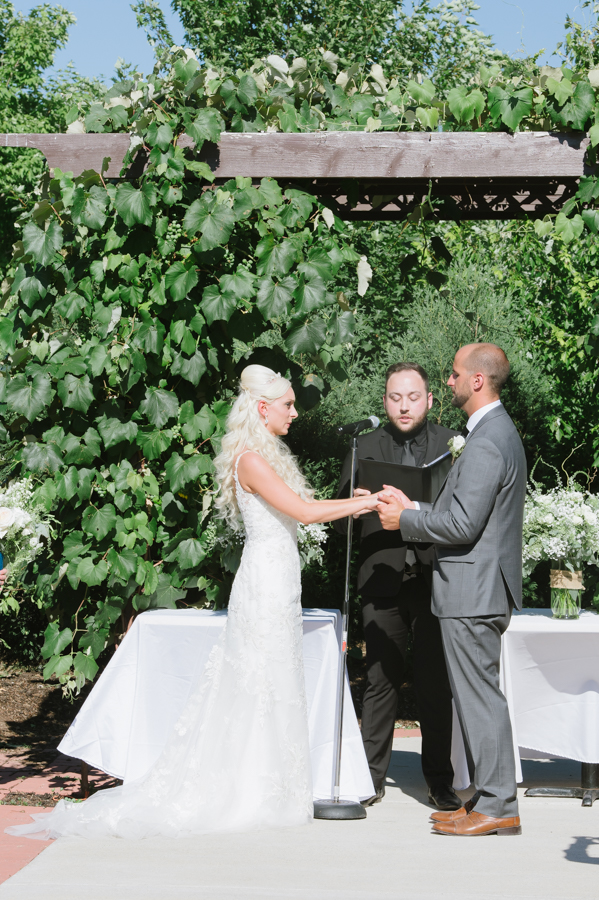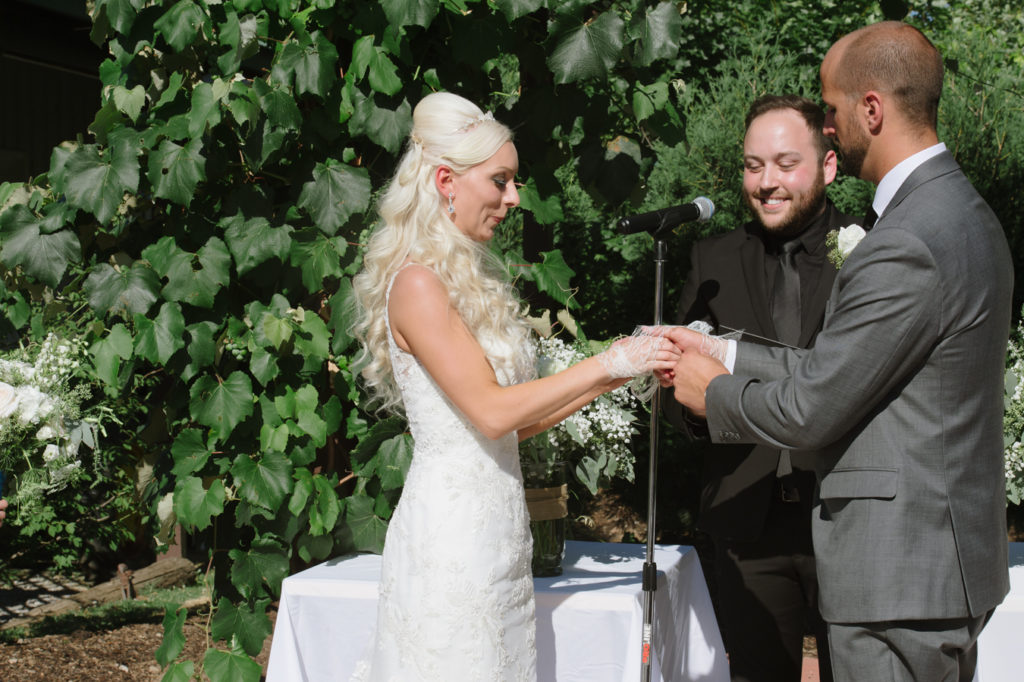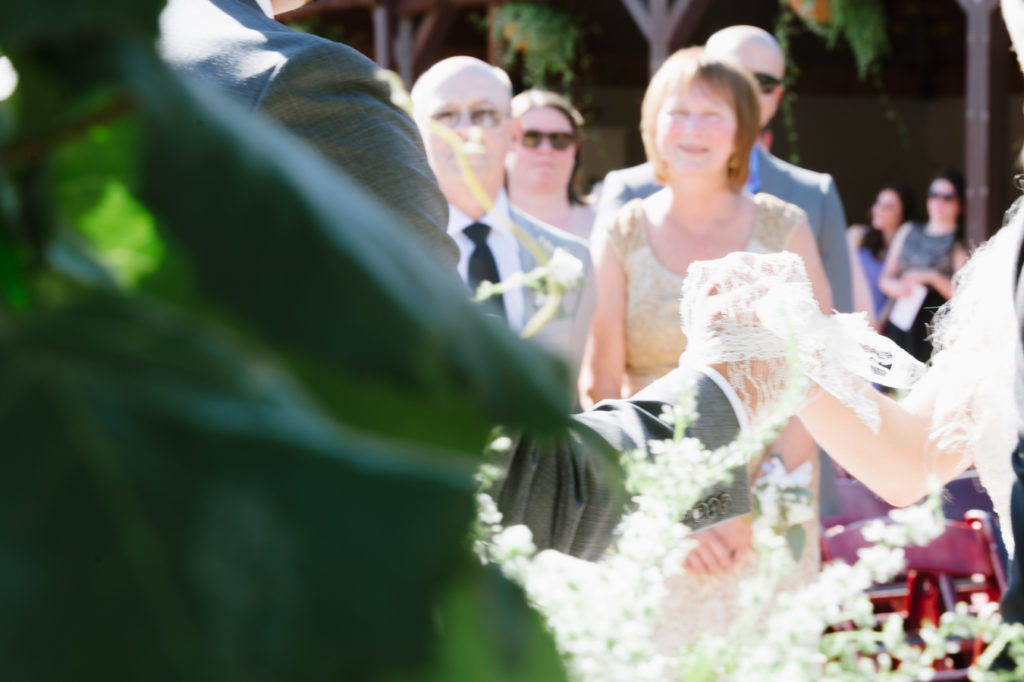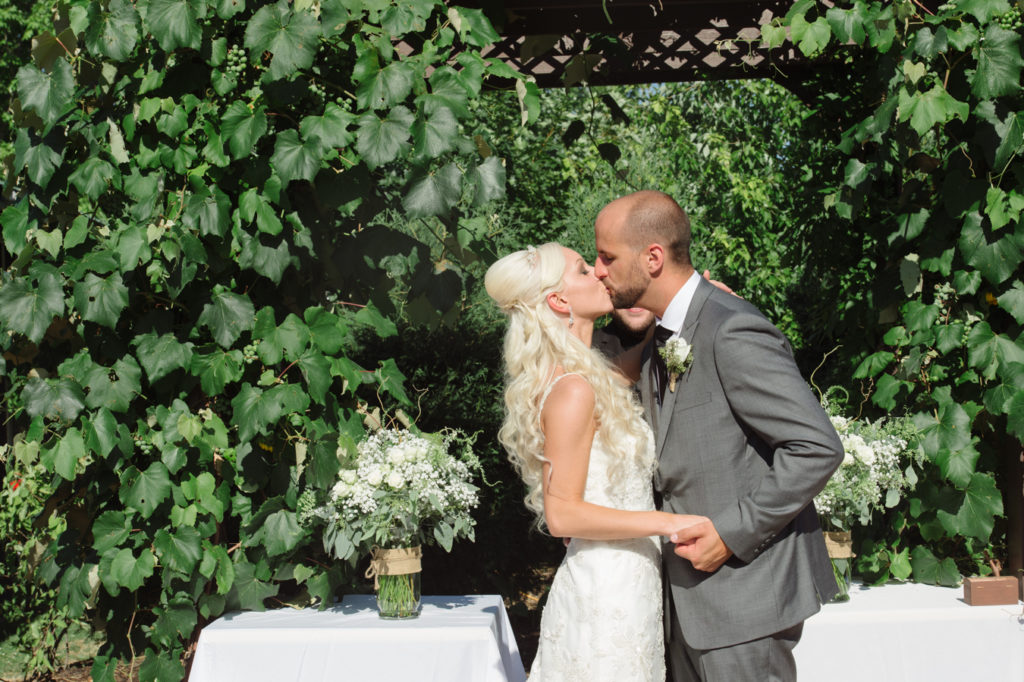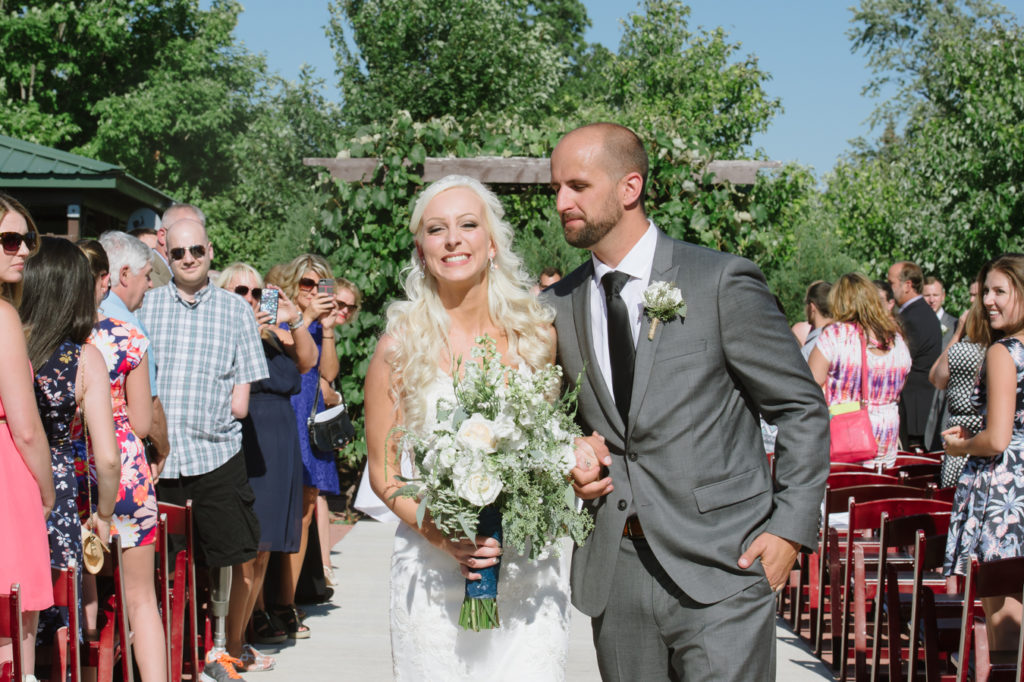 We exited our ceremony,  holding hands and enjoying the music of the Rolling Stones "Beast of Burden." We had thought about exiting to the Game of Thrones theme music but since we didn't want our wedding to feel TOO over the top themed… we went with option B.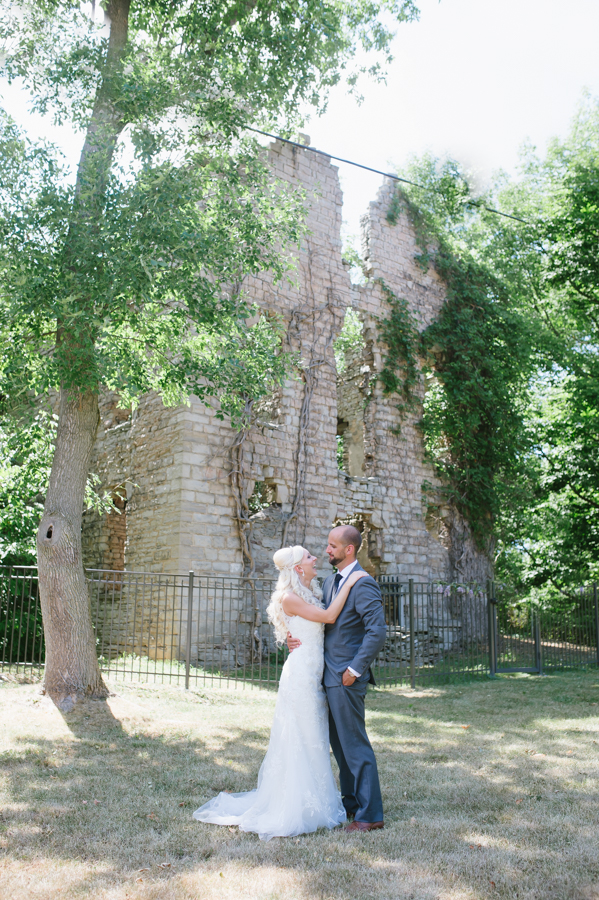 Our ceremony was very touching and very personal. We loved having each detail all hand crafted by us and not by a traditional priest or officiant. It was very personal and memorable and very us – which I think sometimes can be very lost in translation when you are competing with what is expected, what is traditional, what your family wants.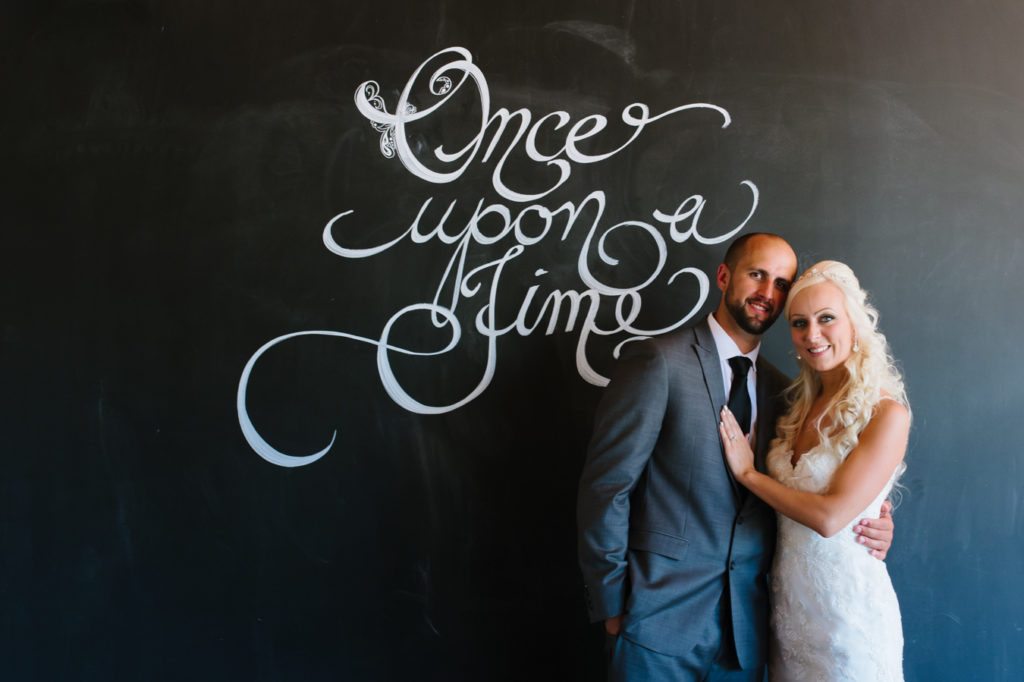 Well, I don't know about you but I'm going right back up to the top of the post to read this all over again. What an awesome, inspirational wedding, which in my mind is such a perfect example of celebrating your love in the way that YOU want to, so that your ideas, passions and shared interests are reflected. Amazing stuff, Laura and Andy.
Mad love to;
The amazing Janelle Carmela Photography for the awesome images
Floral: Robin and Team from Wegmans (Store 086)
Hair: Christiana Christiano with Salon in the City, Buffalo, NY
Makeup: Shianne Velletta with Don't Be Shi, Buffalo, NY
And the absolutely amazing Laura and Andy whose wedding celebrations are nothing short of inspirational, thank you so much!