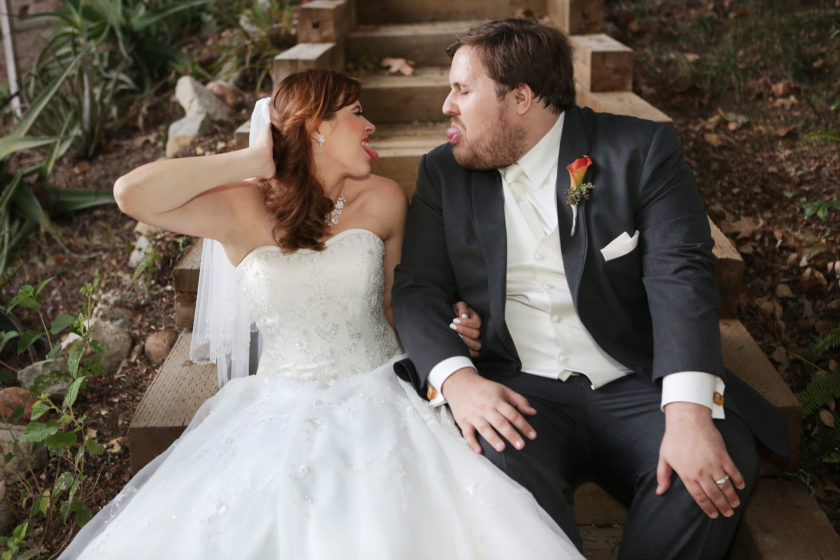 It's stories like this, that make me bloody love the internet. Stories like that of Stacey and Robby, a loved-up pair of self-confessed nerds (they've even got their own awesome nerdy blog), who when deciding that they wanted to write their own wedding ceremony, they came across Engaged and Ready and used it to help them get a few things in order. Keep on reading to find out how this blog helped them with their ceremony, and let me just say if you love Game of Thrones and the idea of a hand-fasting, then you are going to LOVE their wedding ceremony.
The power of the internet, folks. You just can't beat it. There is nothing more lovely and satisfying than to be able to share some tips and advice, for it to get picked up by others and for them to use what you've written for good.  And sharing Stacey and Robby's story makes me so happy today.
So who are Stacey and Robby?
So for the purposes of brevity, I've re-named Stacey and Robby, Strobby. I did have Stabby and Stobby but I think Strobby wins it. So Strobby met in high school (don't you just love high school sweethearts?) and having gone for having a mutual group of friends, their relationship naturally progressed into dating and of course, as we now know, marriage! Whoop!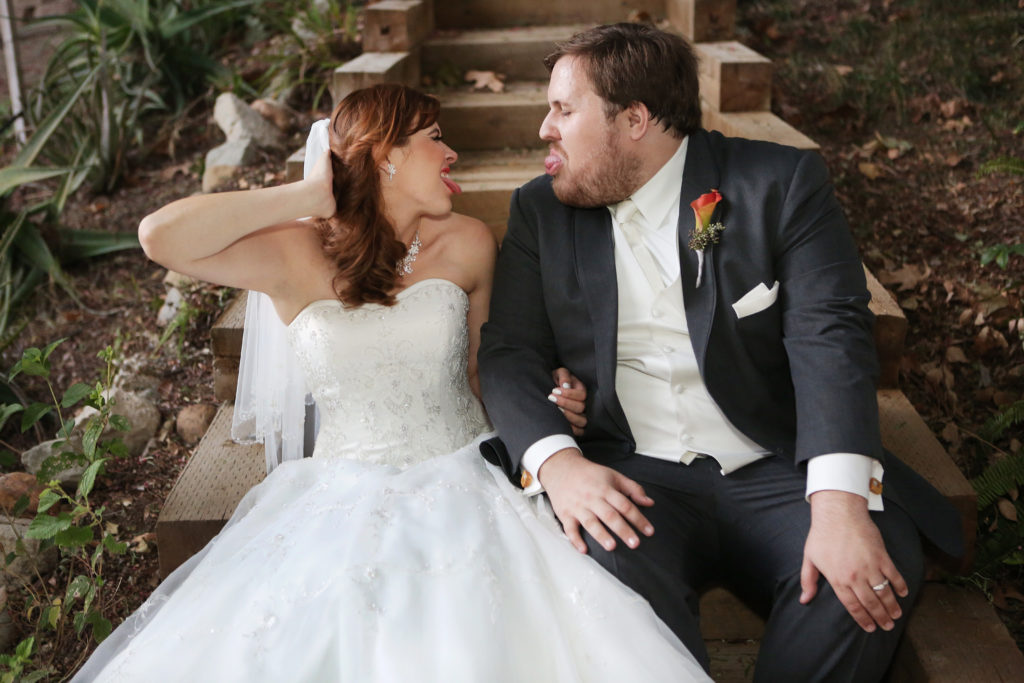 In a nutshell, Strobby are a pair of nerds. That's not me being mean, because they will tell you that if you ask them. They love nothing more than going to big nerd conventions around the Southern Californian area where they live. They're also really big into Cosplaying, (making costumes and dressing up like characters from pop culture), yep, I had no idea what that was either, but it sounds like lots of fun!
So back in 2014, they were attending cosplaying convention and had been working on a new matching cosplay from Disney's Frozen of the characters of Anna and Kristoff. Well, what do you know, Robby ends up proposing in costume at the convention itself in front of the convention centre. Awesome? Or awesome?
So fast forward a few months and Strobby are fully into wedding planning mode and deciding on the crucial details for creating a ceremony. So who better to hear about it from than the delightful duo themselves?
What was your vision for your ceremony and wedding day?
We wanted it to be classic in format but still incorporate us: nerdy, geeky, silly, fun, and full of memories. We wanted to create a sense of stepping into a fairytale, with a classically romantic wedding feel–but we also wanted a sense of casual fun. The day was a celebration, so it was about having family and friends and filling the day with things that we liked, whether conventional or not. We wanted to have a ceremony that really spoke to who we were, which is why we put together our ceremony ourselves.

Our ceremony was traditional but still incorporated much of us into it. There was a balance to find that would please the more traditional parts of our family while still appealing to our desire for a "fun" ceremony. We found that balance by keeping simple, classic structure and inserting our personality into the words.
They also knew what they wanted for their vows and just as importantly, what they didn't want. As I always say to you folks, this is so important. Figure out from the outset what sits well with you and then you will have a clearer head about what you want to do and what direction to go in with your vows. This is what Strobby had to say about it.
We knew we wouldn't make it out alive if we chose to do personalised vows. We had been discussing it, but when we both started crying when just previewing music we MIGHT use for the ceremony, we knew it was probably not the best idea to subject our guests to the tears. Instead, we searched on the internet and found Engaged and Ready's awesome Game of Thrones inspired vows.
How happy am I that I wrote that post! Strobby also decided that they wanted to include an awesome hand-fasting ritual in their ceremony, too. You know how I love hand-fastings and you can find out more here in my handy (get it?) hand-fasting guide.
We did a hand-fasting gesture during the ceremony. We had a bunch of our friends and family help braid together the rope that bound our hands beforehand. It was a really sweet way to enhance the involvement and importance of our family and friends.
And what is so cool about this process of writing your ceremony or in fact, planning your wedding in general, is that you can scratch out ideas as you go along, as soon as you realise they won't work for you, that you can't accommodate them or simply if you go off them!
Our wedding party was filled with people who kept us sane and helped us immensely during the process. They did not do anything special during the ceremony. We were going to try to add a little segment where they offered us wishes or something of the sort, but it was one of the plans that fell to the wayside as we ran low on time. They were up there supporting us!
So, once they got their heads together and knew what direction they wanted to go in, the end result was a truly awesome, made-with-love, self-written, personal wedding ceremony. They asked their close friend Hollis to officiate their ceremony, someone who knew them before they were engaged, which of course makes the ceremony even more special and symbolic.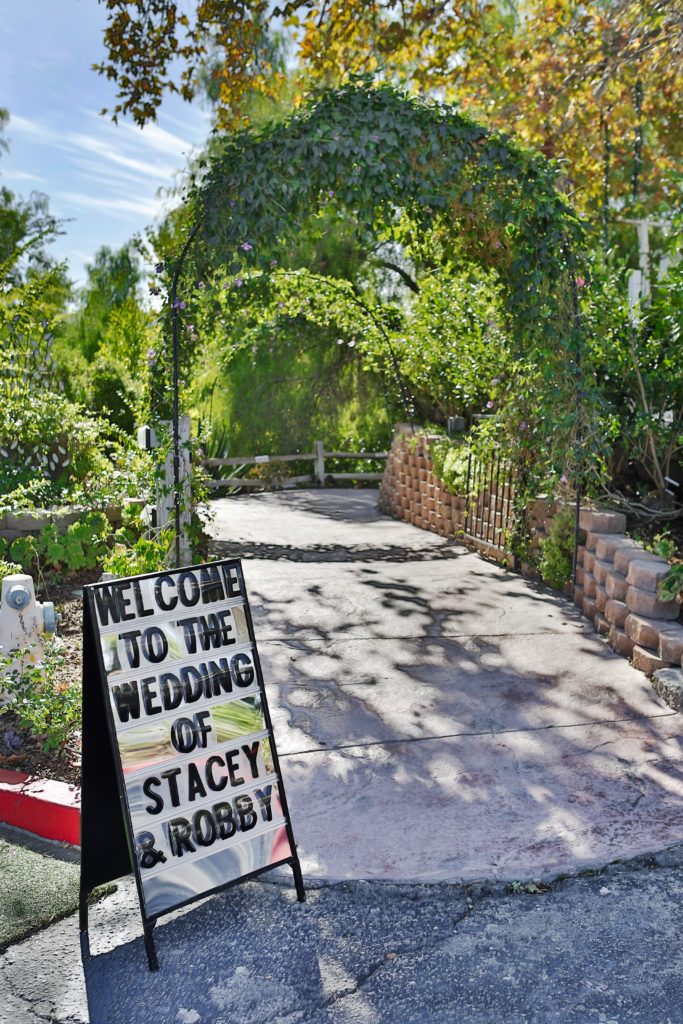 ---
STACEY & ROBBY'S AWESOME CEREMONY, WORD FOR WORD
GATHERING WORDS/II. ACKNOWLEDGMENT OF FAMILY & FRIENDS
Hollis:
Welcome!
Good afternoon friends, family, and you back there. We're all gathered in this beautiful garden to share a very important moment in Stacey and Robby's lives. No, not the release date for the next Game of Thrones book–sorry!–, but to celebrate how their love and understanding for each other has grown and matured, bringing them before you today ready to live their lives together as husband and wife.
Marriage is a bond to be entered into only after considerable thought and reflection.Marriage is having a confidant, a partner in crime, and a best friend.  It's having someone who will get your dumb jokes and obscure movie references.
Today, Stacey and Robby demonstrate their devotion to each other by dedicating themselves to a life together and show their respect for each other by embarking on a journey to honour the vows they make this day.
Today, their lives, which began on separate paths, will be joined as one.
Everyone present has been a major component of the couple's journey to this point–both personal and as a pair–, watching and guiding as Stacey and Robby grew, changed, and became who they are now. They look eagerly toward the future where their loved ones will continue to support and influence their new life together.
The couple would like to thank both of their parents. Without them, they would not be the adults that they have become today. With the guidance and advice passed down to them, Stacey and Robby know that they will be the very best, like no one ever was.
They would like to thank their friends and family, who have supported them through the good times and the rough times. Through all the laughs and the moments of sadness and tears. They cherish the friendships that have lasted for years and remain strong and supportive into the future. They are grateful to share in this celebration with all present today.
As much as today is a celebration of Stacey and Robby's marriage, it is also a celebration of their love, which is built upon the last nine years they have spent together and all the experiences encompassed by that time.
With so much love, support, and kindness surrounding them, they know that no power in the 'Verse can stop them as they embark on this new chapter in their lives.
III. MARRIAGE ADDRESS
All of us here today have experienced our own love stories. Some are short, others long. Some are yet unwritten, while others are just getting to the good part. There are chapters in all of our stories that are sad or disappointing — and others that are exciting and full of adventure.
Stacey and Robby's relationship has always been that: exciting and full of adventure. Whether it was their late night excursions to Target, navigating the intellectual waters in pursuit of higher education, seeing just how many times they can ride Indiana Jones in a row at Disneyland, or expanding their ongoing collection of cosplay for Comic-Con, the two were always on an unexpected journey, constantly showered with an outpouring of love and support from every side. Their shared passions have ensured that they never run out of new options to explore.
Now we are here. In this moment on the 8th of November. We take the time to pause, look back, and smile at all the moments that brought them to this point, and we take the time to look ahead at all the moments that are still to come.
We're all here because we want those moments for you. We're here to hope with you, to support you, to be proud of you, and to remind you that love isn't happily ever after. Love is the experience of crafting your own story, your own adventure. It's not one moment — not even this moment. It's every moment. The Big ones–saying "I love you," getting engaged, moving in together, — but mostly a million little ones that fall in between. Falling asleep next to one another, making dinner together, spending holidays with your families, binge-watching Netflix on a lazy Sunday afternoon, getting a big hug when you get home from work… These everyday moments fuse together into one big experience.
It's a work in progress, but it is a work in progress tackled by two minds, two spirits…two people ready to take on whatever life may throw at them, together.
READING ONE by a friend:
Song (Two Doves Upon A Selfsame Branch by Christina Rossetti)

Two doves upon the selfsame branch,
Two lilies on a single stem,
Two butterflies upon one flower:–
O happy they who look on them.
Who look upon them hand in hand
Flushed in the rosy summer light;
Who look upon them hand in hand
And never give a thought to night.
HAND-FASTING
Hand in hand, we gain the strength to overcome many struggles and approach even the bleakest of situations with hope. As a reminder that they shall walk hand in hand always, I ask Robby and Stacey to please join hands so that they may be fasted in the ways of old. (cross hands to be bound)
These are the hands that will work alongside yours, as you build your future together
These are the hands that will hold you whenever illness, fear, or grief may find you.
These are the hands that will give you strength when you need it.
These are the hands that will tenderly hold your children
These are the hands that even when wrinkled and aged, will still be reaching for yours
[BINDS HANDS] "In the presence of your family and friends, I now bind your hands together, to symbolize your new union of love, trust, and friendship. Now, look upon one another and pledge your vows to seal your union."
MARRIAGE STATEMENT OF INTENT/CONSENT
Stacey and Robby, do you, with family and friends as your witnesses, present yourselves willingly and of your own accord to be bound together in marriage?
[WE DO]
Will you promise to support each other in the joys and sorrows of life, come what may, and to share the responsibility for growth and enrichment of your life together?
[WE DO]
Do you promise to never give one another up, never let each other down, and never desert one another?
[WE DO]
Do you promise to always feed one another when you are hungry or grumpy or too preoccupied with a project to do so yourself?
[WE DO]
Do you promise to always treat one another as best friend and equal, to ask for help when you need it, and offer help always?
[WE DO]
Do you promise to never let anything come between you, to fight for one another, to love through good times and challenging times, and to always maintain a sense of humor?
[WE DO]
VII. VOWS
I hereby seal these two souls, binding them as one for eternity. Look upon one another and say the words.
You. Me. We. Us. Friend. Guide. Lover. I am yours, you are mine, from this day until the end of our days.
VIII. RING EXCHANGE
For thousands of years,
Lovers have exchanged rings as a token of their vows
Let these precious rings be a sign that love has a past, a present, and a future through you
Robby, take Stacey's ring, place it on her finger, and repeat after me:
I give you this ring as a sign that I choose you
To be my lover, my player two, and my best friend, to the end of my days and extra lives
Wear it, think of me, and know that I love you
Stacey, take Robby's ring, place it on his finger, and repeat after me:
I give you this ring as a sign that I choose you
To be my lover, my player two, and my best friend, to the end of my days and extra lives
Wear it, think of me, and know that I love you
WELL WISHES
Stacey and Robby, I offer these good wishes to you on this special day.
May your life together be blessed with prosperity and good health.
May you always share open and honest communication between each other.
May you respect each other's individual talents and gifts and give full support to each other's professional and personal pursuits.
May you cherish the home and family you will create together.
May all the years to come be filled with moments to celebrate and renew your love.
May your love be a life-long source of excitement, contentment, affection, respect, and devotion for one another.
READING  by family members (The Last Unicorn by Peter Beagal)
And this is what they sang as they went away together, out of this story and into another:
"'I am no king, and I am no lord,
And I am no soldier at arms, said he.
'I'm none but a harper, and a very poor harper,
That am come hither to wed with ye.
"'If you were a lord, you should be my lord,
And the same if you were a thief, said she.
'And if you are a harper, you shall be my harper,
For it makes no matter to me, to me,
For it makes no matter to me.
"'But what if it prove that I am no harper?
That I lied for your love most monstrously?
'Why, then I'll teach you to play and sing,
For I dearly love a good harp, said she."
There is always time for love and time to hold one another close. Time to cherish the moments that have shaped the story of love we celebrate now. We look back on the songs of happiness and sighs of sadness from the past and look forward to those that are yet to come. But more importantly, we look on this moment, a time to rejoice in the bond between two people that stand before you today.
PRONOUNCEMENT
By the power vested in me and in view of all gathered here, it is my pleasure and great honor to present to you Mr. and Mrs. Robby and Stacey Shuttleworth, Husband and Wife.
You may now seal your vows with a kiss.
---
Where are my tissues? Why didn't I have them next to me when putting this together? What a stunning and beautifully written ceremony (and I'm saying this as a human being AND a professional wedding celebrant). Their ceremony is brimming with love and not only reflects Strobby's awesome, fun-loving personalities, but also reflects the world around them and how they see themselves within it. Love, love, love it.
So there you go folks. Writing your own ceremony may seem daunting to start with, but with a bit of guidance here and there and using this post itself for even more inspiration, you can't go wrong when you write your own ceremony with both your heart and your head. I'll let Strobby have the last words on this matter, because they have first had experience of it.
Writing a ceremony on your own is tough, but also super rewarding. We found our momentum when we let go of trying to adhere to other people's standards, trying to follow a stiff format. When it comes down to it, we're the ones who're really going to care about the little details, so if they made us happy, it was worth it.
100% correct. 100% Awesome.
Mad love to;
The awesome Robby and Stacey, Strobby, for sharing their magical wedding ceremony. You can find their awesome blog here too.
Their photographer James Campbell at Campbell Photography for the images.
Their awesome friend Hollis Marcus who officiated their ceremony for them! How wonderful!