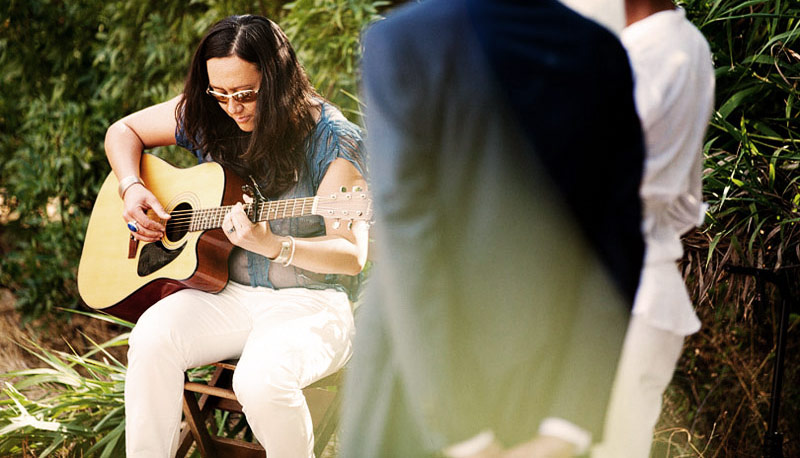 There was a time when I only heard Pachelbel's Canon in D or Cavatina as bridal entrance music. Don't get me wrong. I love them both, I appreciate them both and I totally understand why anyone would choose them for a ceremony song. However, it got to the stage where I couldn't listen to either piece without wanting to scream my insides out. 
But now, it's really nice to be able to say that I have not heard either song for quite sometime and do you know why? Because couples have started to get kick ass about their ceremony music and now I hear everything and anything from Israel Kamakawiwo'ole's version of Somewhere Over the Rainbow to the Rocky theme tune. Yes people, that's right, the Rocky theme tune. But I'll say this over and over again, your ceremony is you and if Rocky does it for you then you go for it. And just to prove to you that it's not just me thinking along these lines, here are some of the most popular, most random, most unique songs that couples have chosen to rock their wedding ceremonies.
Entrance music
Israel Kamakawiwo'ole's version of Somewhere Over the Rainbow. I've also heard ukulele playing friends of the happy couple singing this at the start of the ceremony, which adds that special live feel to a ceremony.
John Legend – All of Me. Yup, this will get the tears rolling.
Moon River – Audrey Hepburn's version from Breakfast at Tiffany's
http://youtu.be/BOByH_iOn88
Christina Perri – 1000 years
And the instrumental version covered by Piano guys

Take That – Greatest Day – I hear this a lot as an entrance or exit song.
Exit music
Pharrell Williams- Happy, of course!
The Rocky theme tune – how much do I love this!!
Starship – Nothing's gonna stop us now
http://youtu.be/bBQVrCflZ_E
Marvin Gaye and Tammy Tyrell – Ain't no mountain high enough
Stevie Wonder – Signed, Sealed and Delivered – love this!
I'm sure like me you love and hate many of these songs in equal measure! But at the end of the day it doesn't matter what you think about these songs, it matters what you think about the songs you choose for your ceremony! That's all! So if you love a song, that means the world to you, no matter how silly, sad, upbeat or downbeat it is, it's your song to do with what you please.