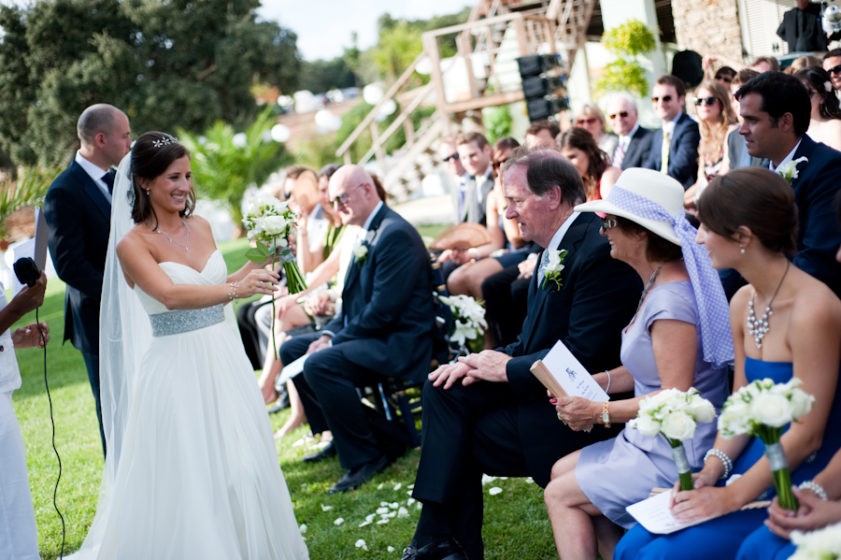 Gone are the days when your wedding guests (your beloved family and friends!) were mere spectators to your new union. We are now living in a time where the love and support of our nearest and dearest means so much that now more couples are looking for new and innovative ways to make sure that their loved ones also get a chance to be involved in the ceremony. And why ever not?
Here are five top ways to feel the love from your precious peeps during your ceremony by having them offer their blessings vocally and to cross over from spectator to participant. I call it 'love marrying love.'

 Passing of the rings. This is such a fantastic thing to do during your ceremony, I can't stress it enough and probably one of the few ways that you can have every single guest involved in the ceremony. What cooler way than to pass your wedding rings around amongst everyone before you exchange them with each other? All you need to do is to have someone start off the ring procession and direct your guests (the celebrant does) to spend a few seconds giving their blessing and well wishes, before passing the rings on to the next person. And what's great is that it does not matter how big or small your ceremony is, have some nice music playing in the background and that will help the time to lapse smoothly. And anyway, seeing the looks on everyones' faces in being able to give such a beautiful gift to you, it's worth the wait! Did I mention how much I loved this?

Friends and family vow. This is a true example of love marrying love. Before you say your own vows to each other, have a vow asked to all your friends and family so that they can vocalise their support for you and shout it from the rooftops. Such a stunning way to involve your beautiful people and to feel the love that such an poignant element can create. Here's an example of a friends and family vow.
As family and friends who have over the years been witness to the beautiful love and happiness that Ashton and Mila have found together. Do you support them and the pledges they make to each other?
You then wait, whilst your guests shout out 'we do,' in one almighty roar! Love it!

Friends with benefits. I can honestly say that some of the best ceremonies I have presided over have been where there has been live music, yet even better still live music performed by a friend of close family member. I don't know what it is, whether it's their proximity to you, the music choice or the mere fact that there is live music being played, there is something about it all that takes the ceremony to another level. Having a group sing-along is also an amazing way to spread the love and make everyone feel uplifted. So if you've got a talented loved one, why not show them off? Be it a ukulele playing bestie or a cousin who should be Beyoncé, let their love literally, play through.

Share your story. If you have a wonderful love story to share, perhaps about how you met and fell in love or how you became engaged, sometimes it's really nice to share it during the ceremony, especially if not many people know the origins of your togetherness. It's also a nice little touch when you have a set  of friends (three or four) to read your story out in parts. Written well, with dash of humour your guests will love hearing your love story and you will instantly notice that love vibe spreading itself around.

Symbolic gestures. There are quite a few symbolic gestures that can be incorporated and tailored so that it is not just you and your love bunny who is involved but your wider circle of peeps too. For example, a candle ceremony or sand blending can involve your mums or another close family member, a coin ceremony can involve 12 loved ones and your memory box can be nailed shut by a selection of amigos.
So get your thinking caps on. Nothing is set in stone. The rule book is there for you to rip and and re-write yourself.