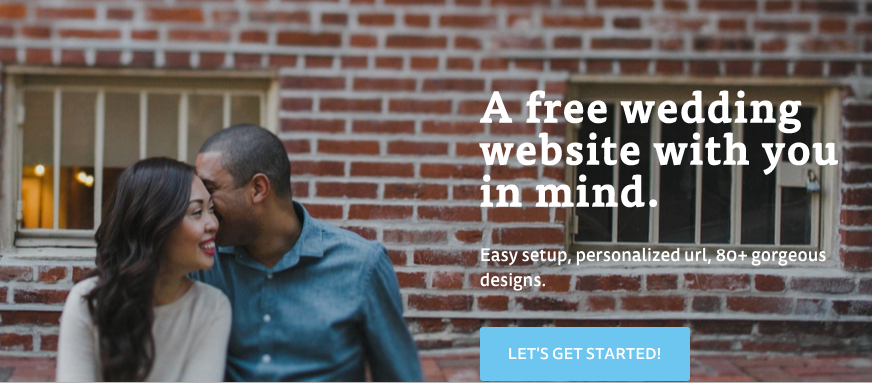 The short answer to this question is 'yes.' But if I didn't elaborate any further then this post would not be much help at all. So let me elaborate.
Weddings are responsible for bearing so much joy, happiness, love, presence, presents AND information overload. Seriously. Tonnes and tonnes of information.
With the drastic change in the way that we get married now, compared to how people got married twenty years ago, weddings have a lot going on. Now our weddings are more inventive, we are more creative, our celebrations are different and unique and the places where they take place are so varied.
Destination weddings for example have a lot going on. You need to relay a lot of information to potentially a lot of people and sometimes A4 sheets sent with invitations are not practical, or pretty options.
I wish we'd had a wedding website when we started trying to plan a wedding where we lived in Mexico for all of our family and friends living in the UK. But twelve years ago, we just about had email and that's how we did it all! I can still remember getting in from a long day's work and logging on to our wedding email account (ha ha before you could get emails on the go!) and seeing the tens of emails from guests about this, that and the other. Oh to have been able to send them a link to our wedding website and say 'there you go, now get lost,' but obviously omitting the 'get lost,' bit.
Even for couples not having a destination wedding, there still can be a lot of information that you need to get across to your guests and now with our love of social media and use of technology, a wedding website seems to me like a perfectly natural choice.
The plusses
The good news is that so many wedding websites are completely, 100% free! Woo hoo! No breaking the wedding budget and spending money that you don't have, which is not bad really for such a potentially useful wedding tool. Most free sites simply require you to sign up and become an account holder and then you are free to get designing.
Secondly, most wedding websites are really really easy to use and made for people with zero web design skills. Most companies that make these sites give you a handful of samples and designs to choose from and you literally just fill in the blanks with all the info you want and upload any photos you like too. Many of these companies also have paid options for people who want funky designs or what more options like email updates, save the date emails, gift list registrations etc, which are linked up within the website. Some websites even allow your guests to interact and add their own comments and photos etc.
There's also the fact that you cannot beat having a central place where all your guests can read up on all the information they need to know about your wedding day and celebrations. People have a lot of questions and so to avoid saying the same thing to lots of people, you can send them one useful link directing them to all the information that they need to know.
Some pages that couples like to create include;
An about us page – with a little love story and photos of the gorgeous couple
Wedding info-  information about your venue(s), ceremony info, ceremony time, dress code etc
Wedding logistics- transportation, flights, locations, accommodation suggestions
Wedding party bios – a nice way to show off who your wedding party is and introduce them to everyone.
Gift ideas/registry
Special requests/requirements – no kids, bring your dogs, buy your own drinks, switch your damn phones off, etc
Photo gallery – more cute photos
Local information and places of interest – maybe your guests will be traveling to a new area. Some couples like to give suggestions on what to do and places to visit, like all good travel agents should!
And you can of course also add whatever else you think your guests need to know, or fun random stuff to keep them entertained!
If you're still planning on having traditional postal invites, having a wedding website will enable to keep your invitations simple, clutter-free and just the way you want it. No need to stuff masses of info into the envelopes or crowd the invitation design with lots of information. You literally can just let your guests know that all the info they need is via the link to your website. Simples.
Also, having a personal wedding website forces you to write down all of your plans and logistics for your big day, which can be really useful for you to see how everything is looking. Sometimes seeing something laid out in front of you helps you to work out if any key elements are missing or have been overlooked.
From a celebrant's point of view, I love it when my own couples send me a link to their wedding website, because not only does it let me unleash my oodles of nosiness, but I get a real feel for the couple and their personalities and also a fab understanding of their plans for their wedding celebrations.
The minuses
Of course there are always downsides! Creating a wedding website is yet another thing to add on to what I already imagine is a long wedding to-do list! And it probably does take a fair bit of time putting it all together. BUT, I still think it's worth it, especially for the purpose that it will serve and I'm sure it will be quite enjoyable piecing it all together and personalising it all.
I was chatting to one of my brides recently who has set up a wedding website and she told me that having the website has not stopped guests asking a) stupid b) obvious c) inane questions, many of which are already answered on the website. So as much as you may be providing all of this info, there is a chance that some people just won't read it. Or won't read all of it, or won't read the stuff that you really need them to read.
However, I still think this isn't a good enough reason not to have a wedding website, because when you do get all of your a) stupid b) obvious and c) inane questions through you can reply with a link to your website and a 'here's everything you need to know and thank you very much'. Boom! Job done. Next?
A few to get you started
You seriously only need to Google 'wedding websites,' to get introduced to a whole host of companies and wedding resources that offer their own self-build wedding websites.
Check out big US wedding website The Knot's website building tool. Or Ewedding has a fab range of free and premium sites. There are so many that I can't possibly list them all here. It would take me all day and I haven't got all day, sadly!
So 'yes' to a wedding website if you want to streamline all of your wedding information, if you want to have a central place where everyone can find out what's going on and communicate with you AND hopefully, fingers crossed, a resource which will limit (never actually put an end to though!) the amount of questions and queries you'll get about your wedding celebrations. Anything that can help, right?
Good luck and happy planning.