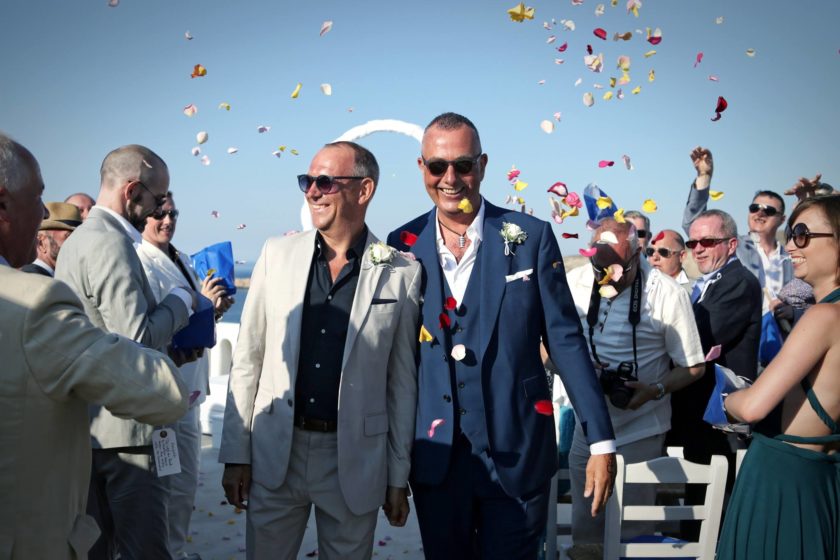 When the photos of this wedding landed in my inbox, courtesy of civil celebrant Ruby Beech, I spent the next half an hour not only wishing that I could be on the beautiful island of Mykonos (like now!) but also that I'd been a guest at Rod and Martin's awesome wedding. Oh my goodness, how amazing it would have been. These guys didn't just have a wedding day, they had a wedding weekend, full of love, unity and bloody good fun and I am so excited to share their wedding with you.
Now it doesn't get more romantic than this. Rod and Martin met twenty years ago on Mykonos and so it made total sense to them that they would return there for their wedding. Where else in the world would have been more special or symbolic to hold their marriage celebrations? Joined by 140 of their closest family and friends who came from as far away as the USA and Canada, it's quite obvious that these two are just a tad bit popular with everyone they know! And so began the start of their beautiful Greek wedding celebrations.
Mykonos is an island we love and have returned to many times and we wanted our family and friends to be able to experience this special and magical place. It was important that we incorporated all the important elements that we love about the island in to our wedding weekend– traditional Greek hospitality, great nightlife, glamour, world class food, sand between the toes, the deep blue sea and the fantastic sunsets. – Rod and Martin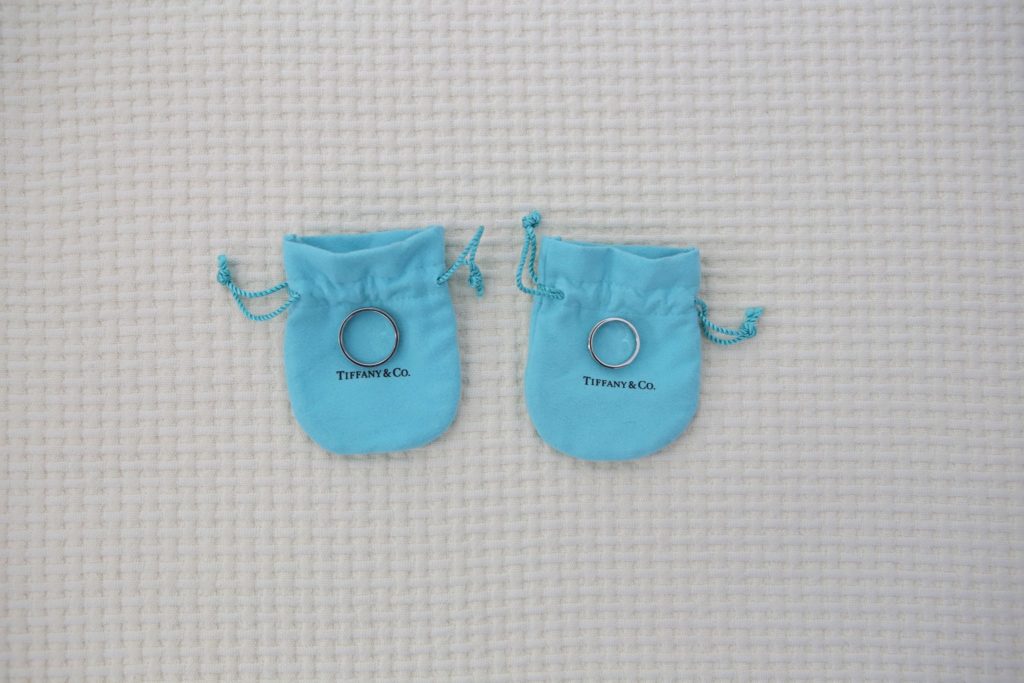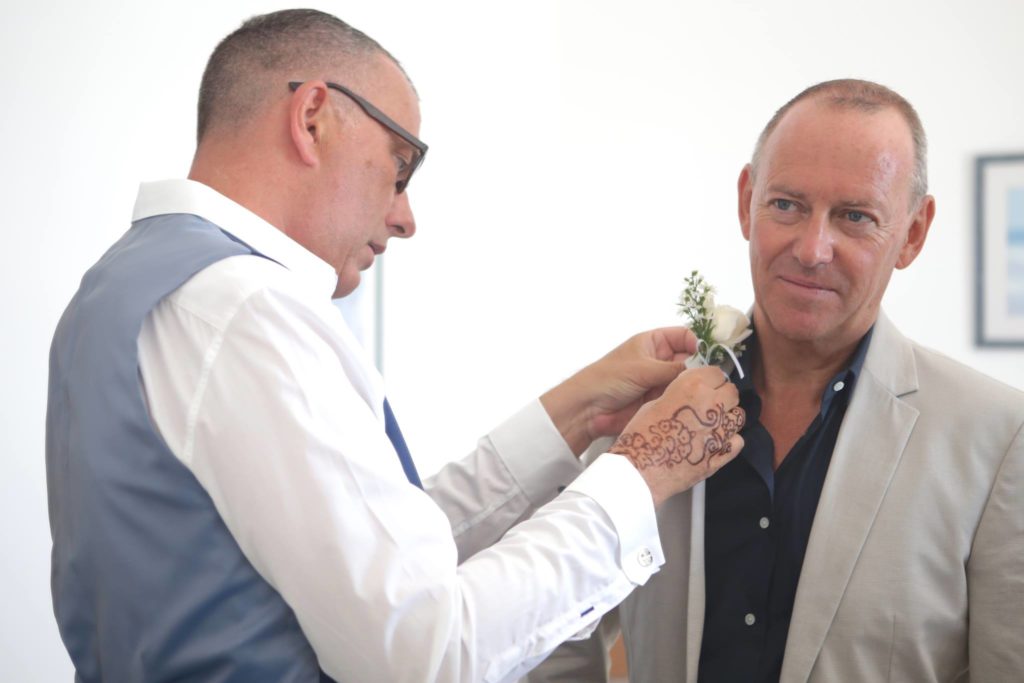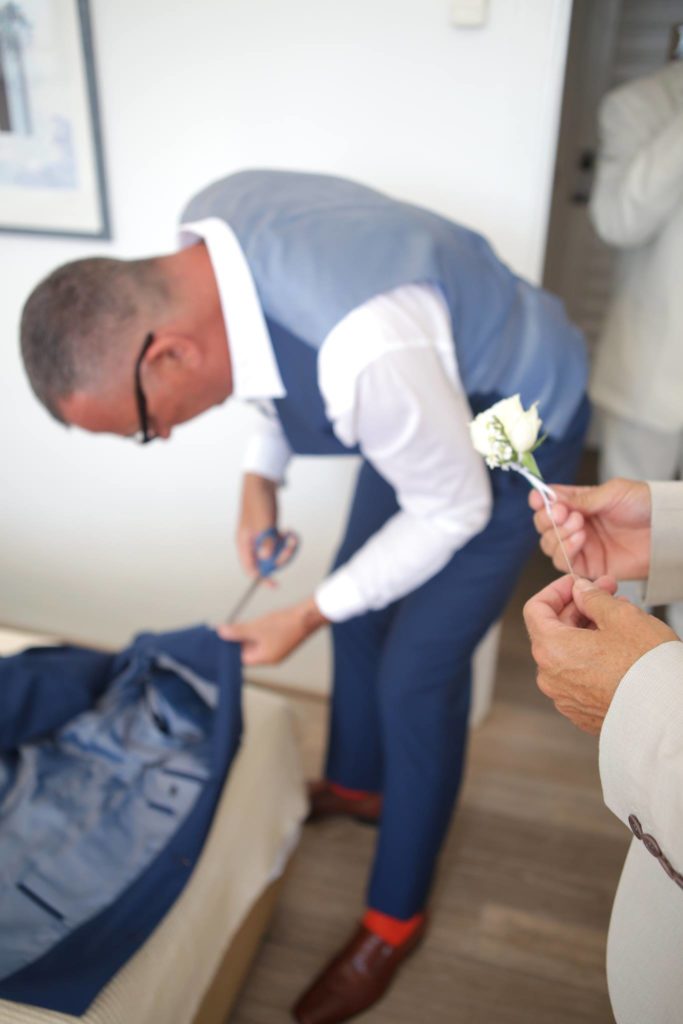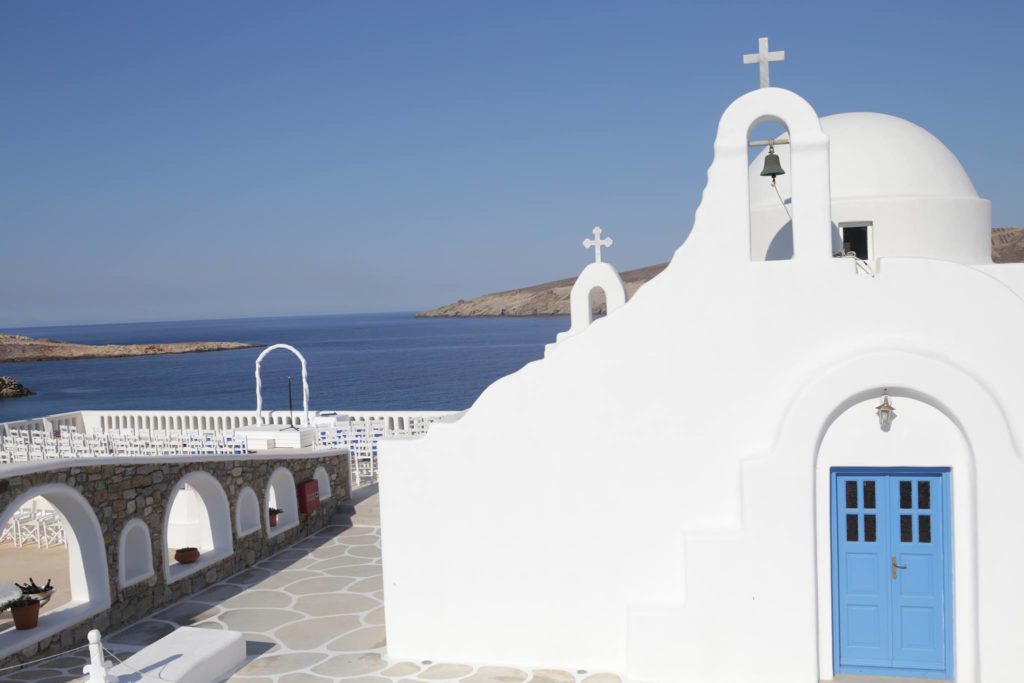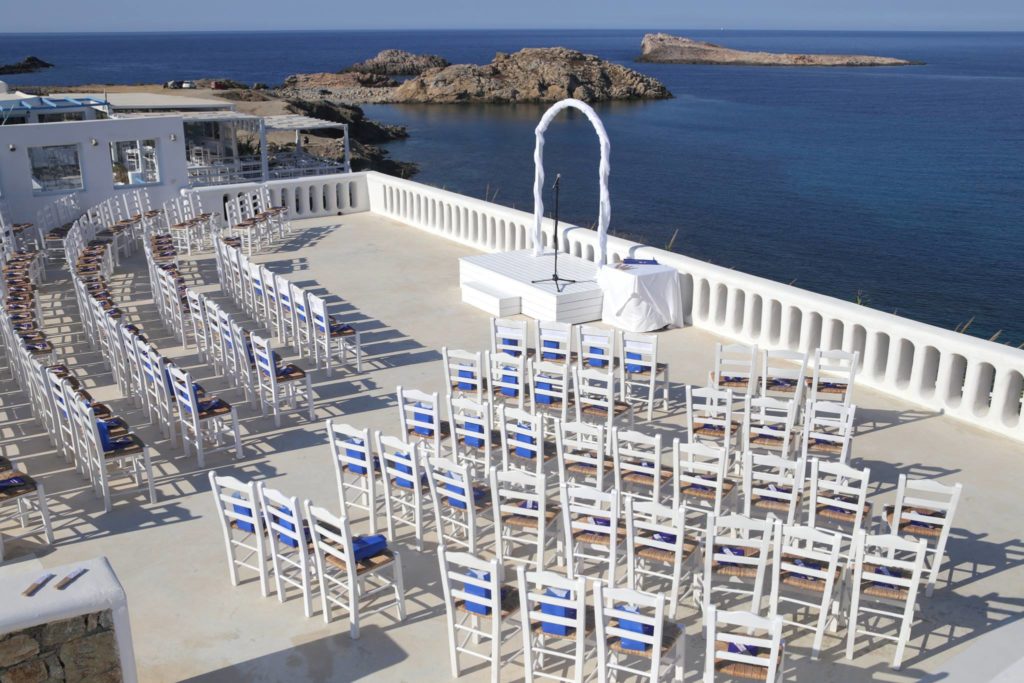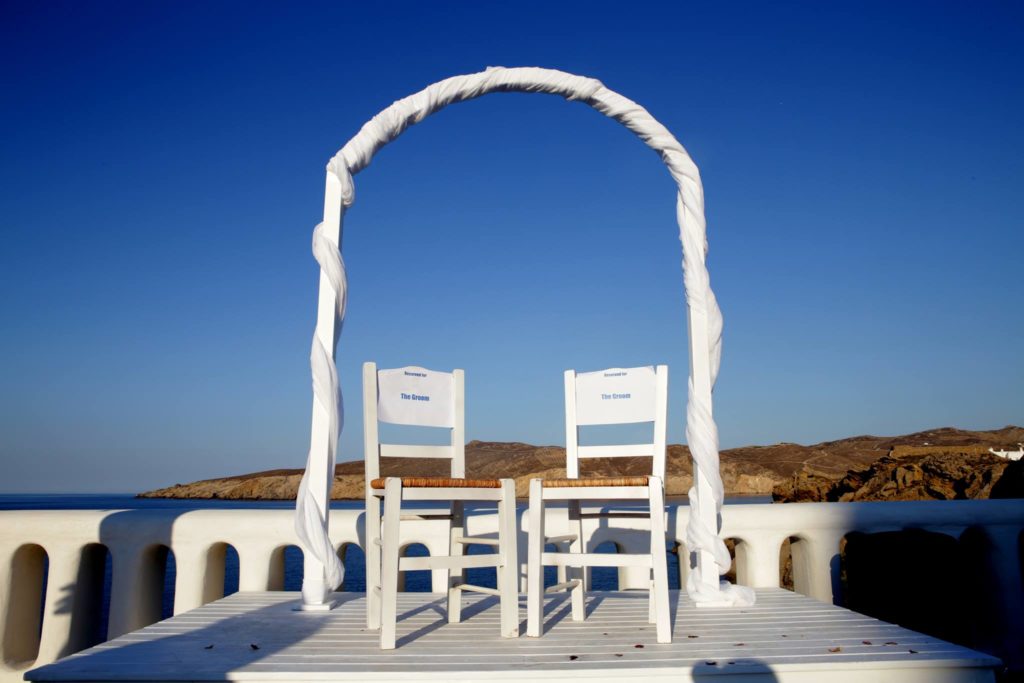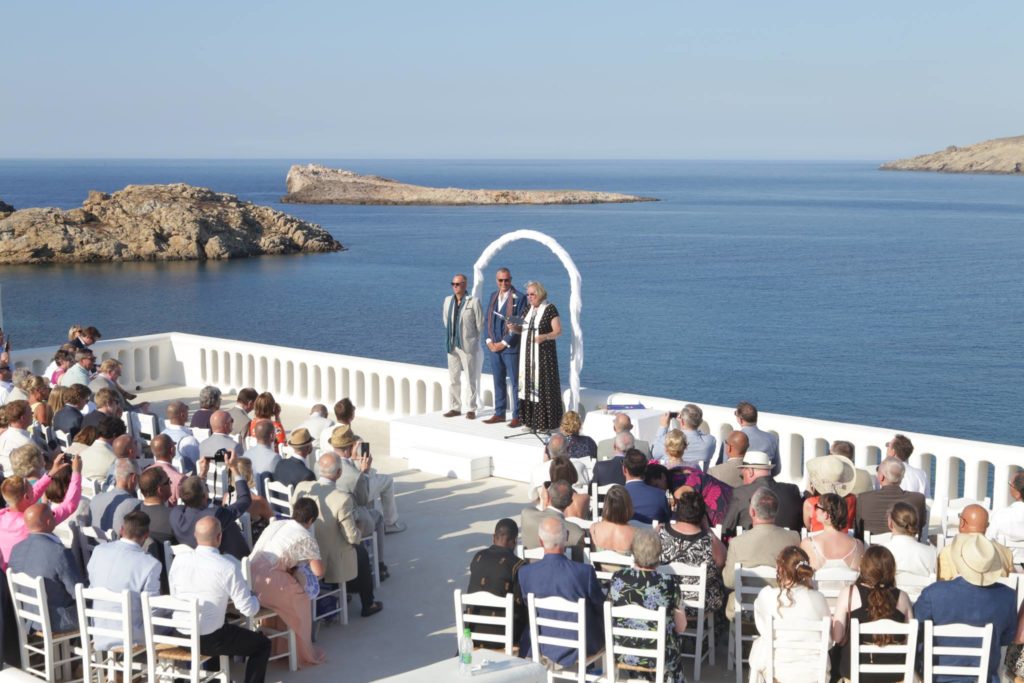 The ceremony
We wanted the ceremony to demonstrate our heartfelt commitment whilst at the same time not being stuffy or over formal – a mixture of traditional and light hearted. Our celebrant  was wonderful, listening really carefully to what we said and helping us to come up with the perfect words and to choreograph our readings and vows. We had a traditional Irish hand-fasting ceremony, poems from family and friends and book-signing which later became the place for everyone to add their messages. We finished with a light hearted version of '1 Corinthians 13 with lines from popular songs mashed in – which went down a storm. And we walked down the aisle to the opening bars of the Wedding March mixed into 'Finally (it's happening to me)' from Cece Peniston

– Rod and Martin
The vows
So not only did Martin and Rod pour their heart and soul into their ceremony and add the elements that they felt resonated with them both but they also exchanged these beautiful vows to each other. Can somebody pass the tissues please?
All that I am and all that I have, I offer to you in love and in joy. From this day forward I will love and comfort you, hold you close, prize you above all others, and remain faithful to you for all the days of our lives.
Rod and Martin's1 Corinthians 13 Mash-up
I don't know where the idea came from to take a traditional Christian wedding reading and throw in a whole load of pop song lyrics, but it's a really fab one and very very clever indeed! I take my hat off to Rod and Martin for having this in their ceremony and had fun trying to work out what all the pop songs were! I spotted some Queen and Kate Bush references in there, oh and the Beatles!
If I speak in the tongues of men and of angels, but have not love,
I am only a resounding gong or a clanging cymbal.
I walk into an empty room and suddenly my heart goes "boom"!
It's an orchestra of angels and they're playing with my heart.

If I have the gift of prophecy and can fathom all mysteries and all knowledge,
and if I have a faith that can move mountains, but have not love, I am nothing.
If I give all I possess to the poor and surrender my body to the flames, but have not love, I gain nothing.
The winner takes it all.
The loser standing small beside the victory.

Is it loving in your eyes all the way?
If I listen to your lies would you say I'm a man without conviction?
I'm a man who doesn't know how to sell a contradiction?
You come and go, you come and go.
Loving would be easy if your colours were like my dreams
Red, gold and green.

Love is patient, love is kind. Love is a many-splendored thing
It's the April rose that only grows in the early spring.
It does not envy, it does not boast, it is not proud.
It is not rude, it is not self-seeking, it is not easily angered, it keeps no record of wrongs.
Love does not delight in evil but rejoices with the truth.
It always protects, always trusts, always hopes, always perseveres.
Love never fails.
Love, love changes everything.
Hands and faces, earth and sky.
Love, love changes everything.
How you live and how you die.

But where there are prophecies, they will cease;
Where there are tongues, they will be stilled;
Where there is knowledge, it will pass away.
For we know in part and we prophesy in part,
but when perfection comes, the imperfect disappears.
What's love got to do with it?
What is love, but a sweet old fashioned notion?
The greatest thing we ever learn is just to love and be loved in return

When I was a child, I talked like a child, I thought like a child, I reasoned like a child.
When I became a man, I put childish ways behind me.
He's here again – the man with the child in his eyes.

Now we see but a poor reflection as in a mirror;
then we shall see face to face.
Now I know in part; then I shall know fully, even as I am fully known.
And now these three remain: faith, hope and love.
But the greatest of these is love.

All you need is love.
All you need is love.
All you need is love, love.
Love is all you need.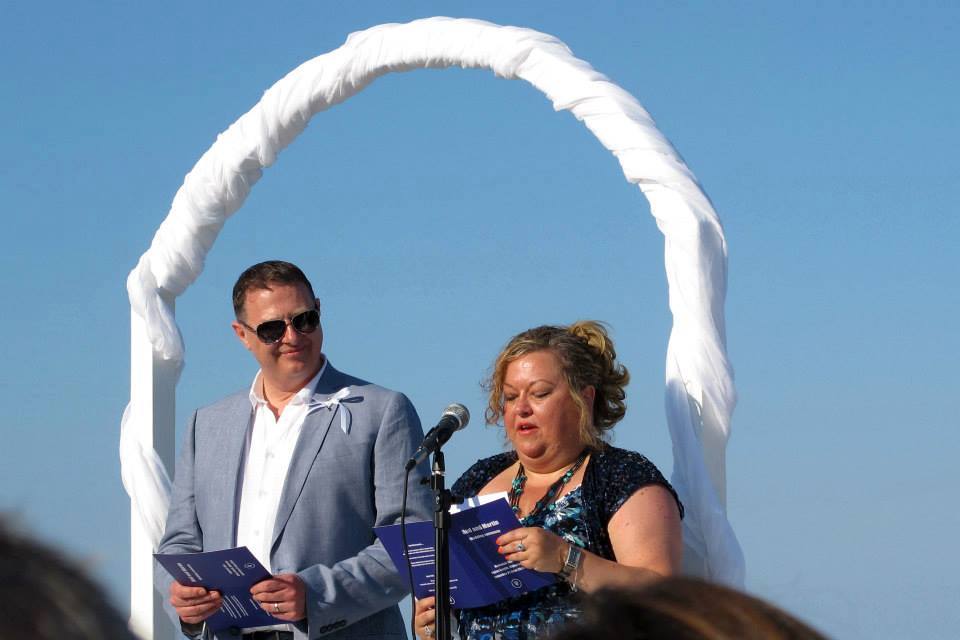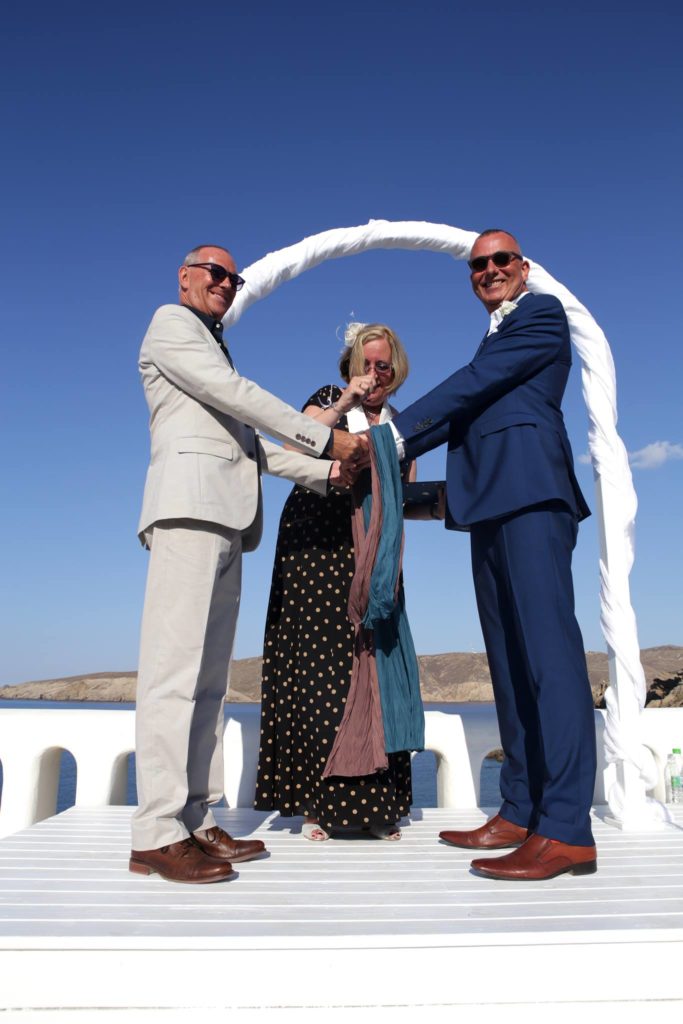 Rod and Martin's hand-fasting used two scarves made in Mykonos which they wore as they arrived at arch for the ceremony and which they then swapped over after the hand-fasting. They both then wore their newly-swapped scarves for the signing of the register. They knew what they wanted for their ceremony and had a great mix of readings and music. They were a joy to work with. It wasn't so much a wedding day as a wedding week with time for people to meet and share and rejoice in the love – and the ceremony sat beautifully within it. – Civil Celebrant Ruby Beech
Along with the three readings that Martin and Rod had, Aedh Wishes for the Cloths of Heaven by W.B Yeats, Loves Philosophy by PB Shelley and the Corinthians mash-up, they also had their nearest and dearest take part in a community response, where they all got to show their love and support of them by saying their own vow. I love this! It's such a fab way to involve all of your guests.
Ruby asked them,
"Do you, the friends and family of Rod and Martin give your blessing to their union and do you promise to uphold them in their journey together?"
And I imagine there was the most rapturous response when 140 people shouted out 'we do.'!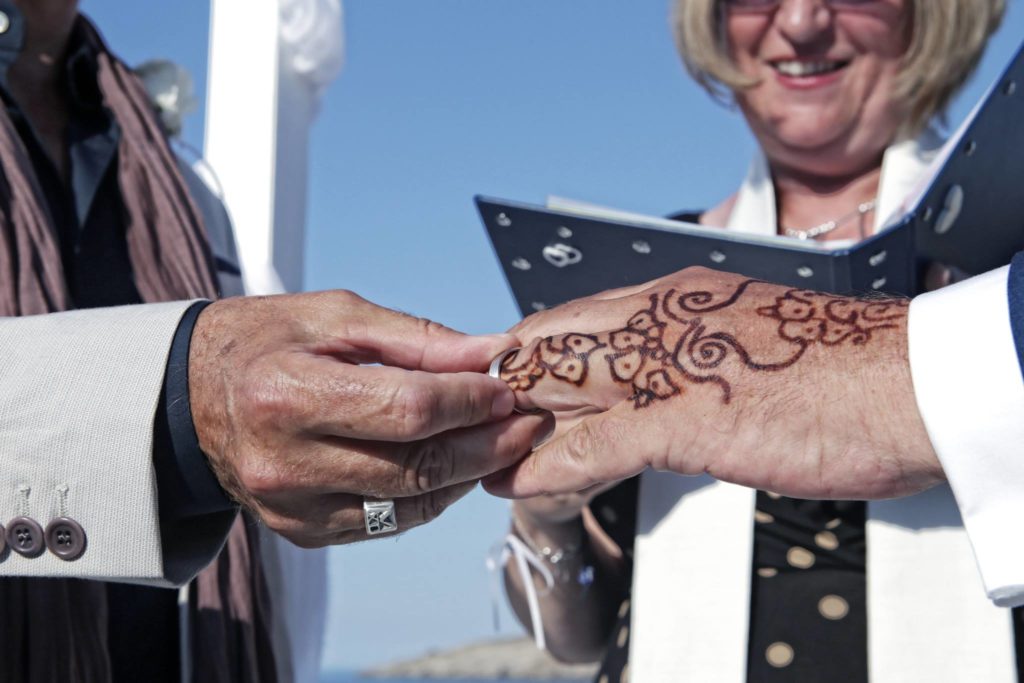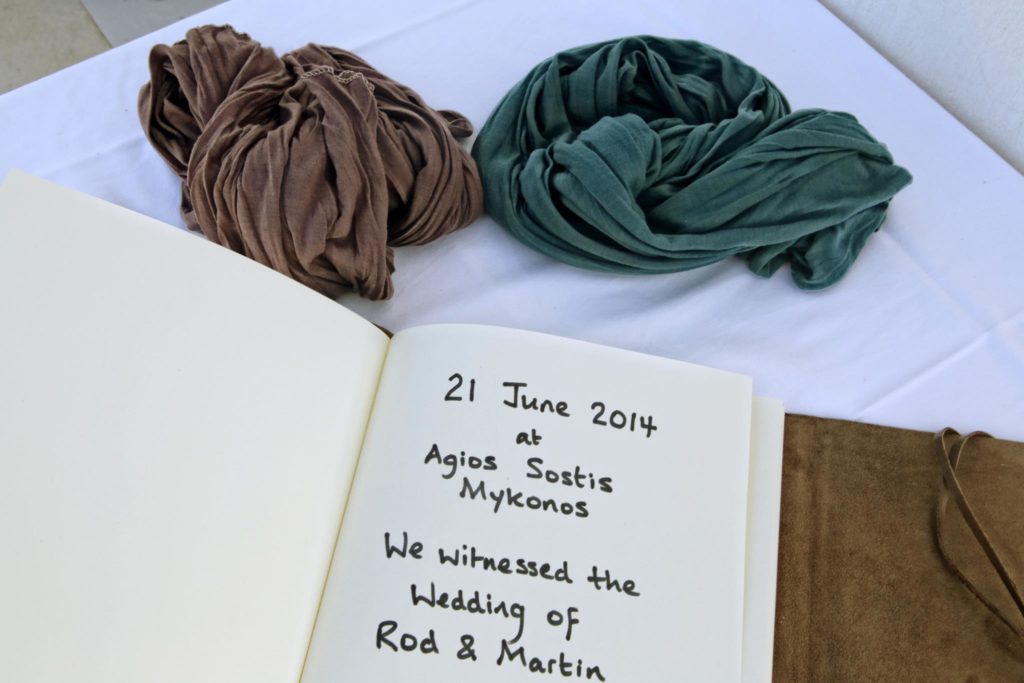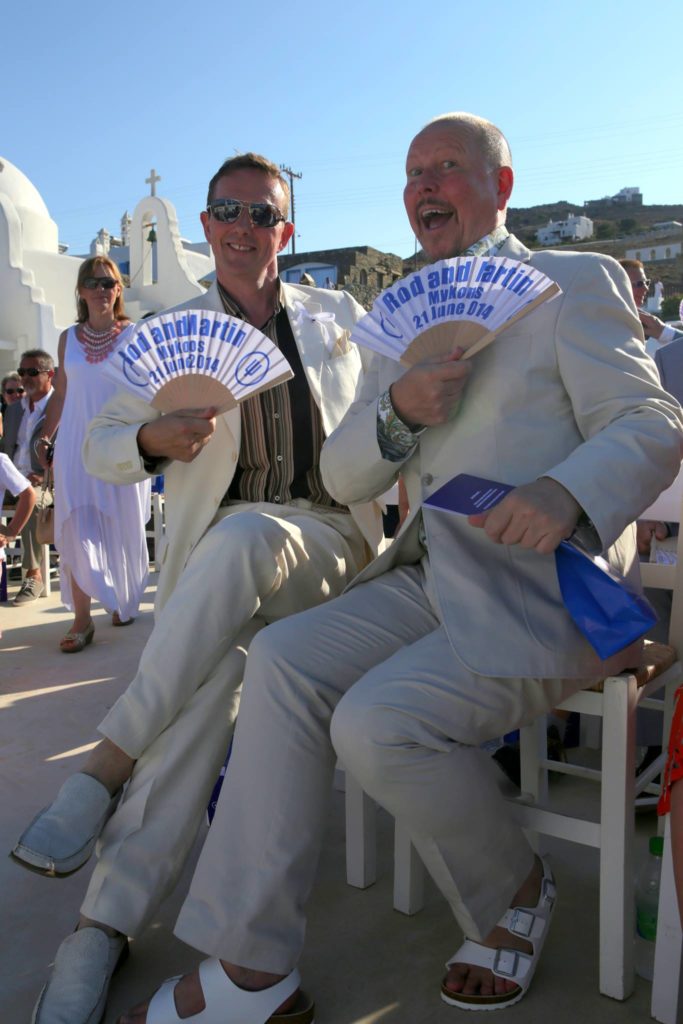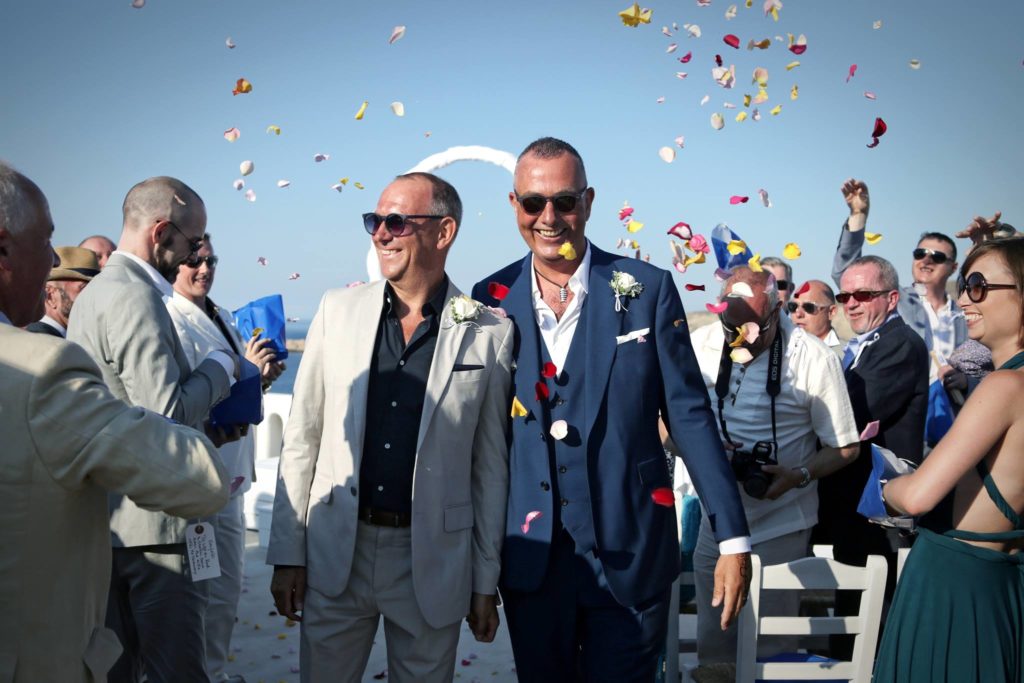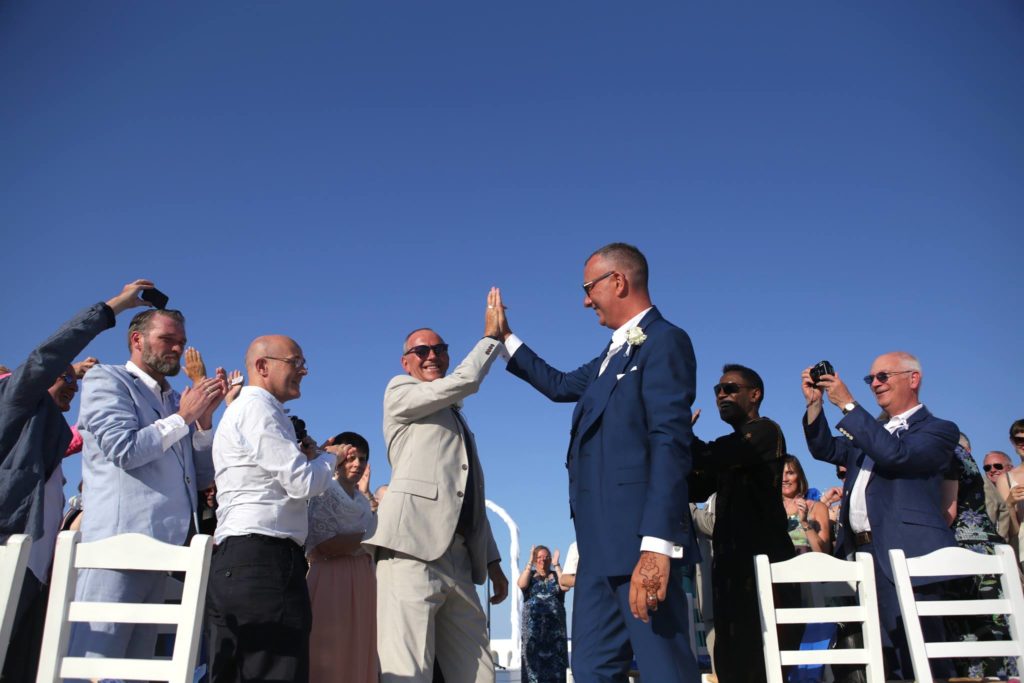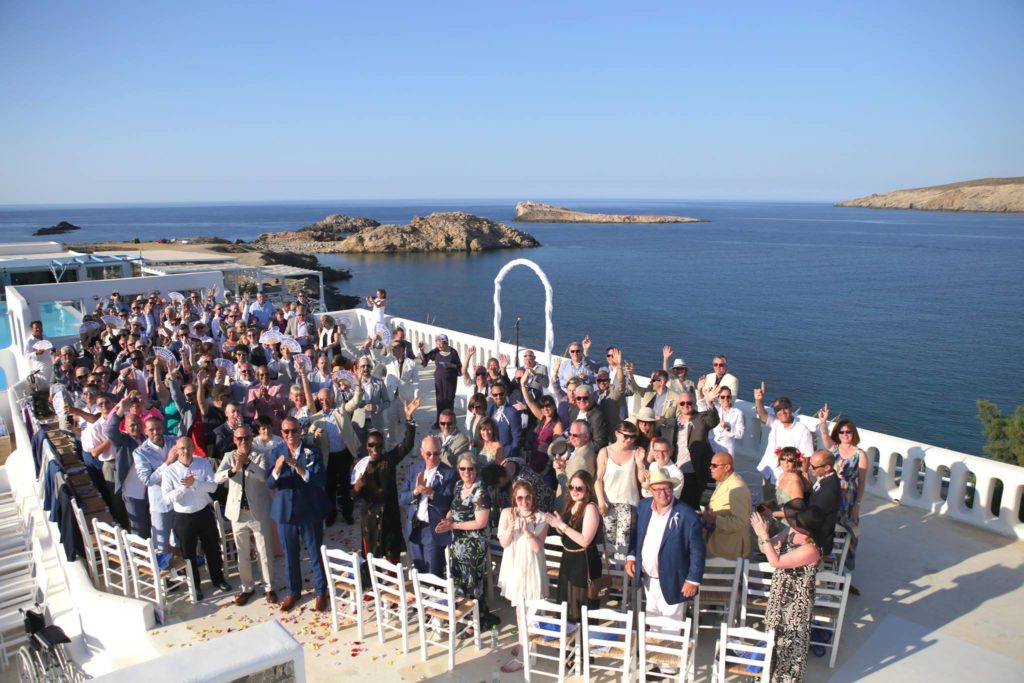 As an outsider looking in, one of the things that stands out so much about Martin and Rod's ceremony was that they got to be exactly themselves, as well as sharing their commitment and love for each other in front of a fantastic crowd of loved ones. Rod and Martin echo this, too.
One of the most memorable things about the ceremony, strangely enough, was probably our arrival! The two of us together, seeing the celebrant and guests assembled overlooking the sea – all for us. Everyone looked so fantastic. Once they'd sat down and we walked down the hill towards them, the sun setting behind us with Kylie Minogue singing "Over the Rainbow" and there was such a cheer from everyone – the realisation of what we were about to do and that they had all made such an effort to be there to witness and share – completely filled us both up.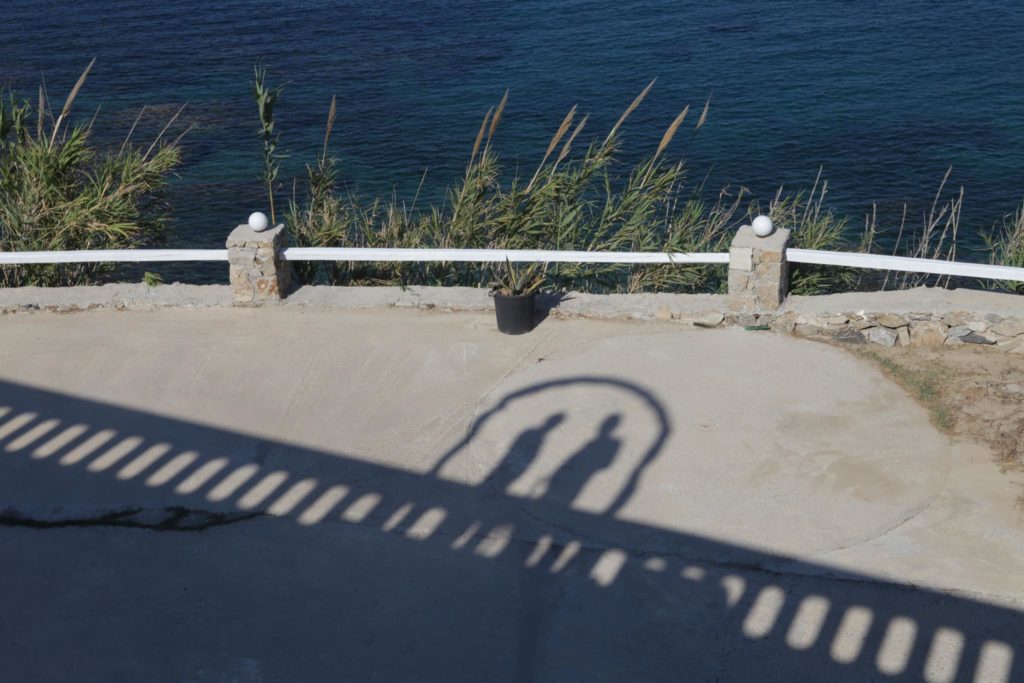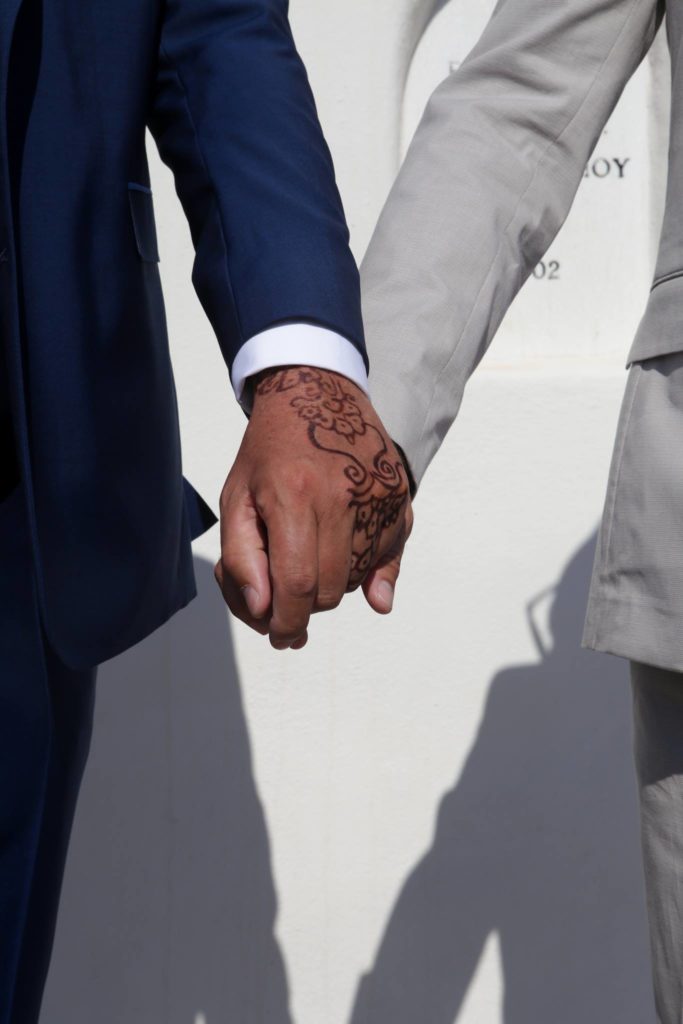 Looking back, for us the most important element for the ceremony was getting the right celebrant. From the moment we began to talk to ours, Ruby made everything such a pleasure and absolutely made our day for us. Its vital to have someone you can get on with and who is happy to listen and adapt the ceremony to make it perfect and Ruby did just that. – Rod and Martin
Doesn't this just make you wish you'd been there?
Mad love to;
Spyros Paloukis – Photographer
Takis and Paul from Ynot Events 
And to the gorgeous Rod and Martin for letting me share their beautiful ceremony and helping to inspire others to have their ceremony, their way!