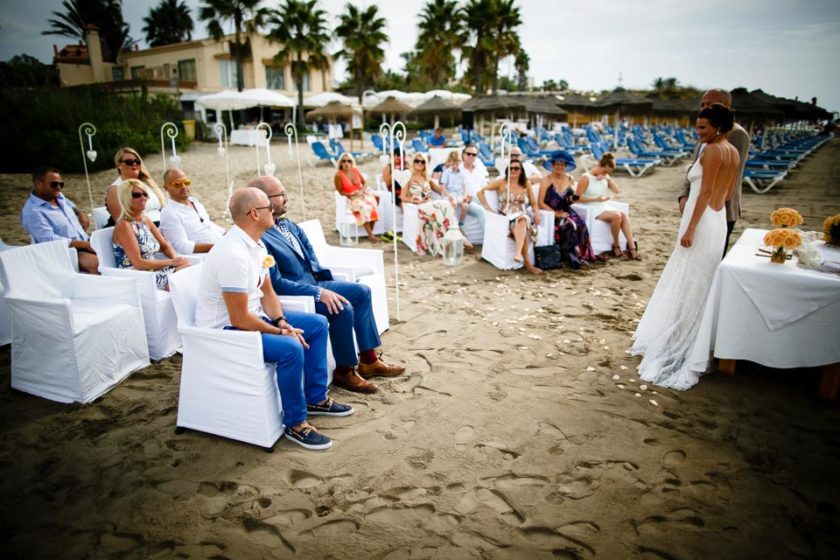 One thing that I absolutely love about being a wedding celebrant is not just what wisdoms I can share with couples to help them shape their ceremony in their way, but actually the new and exciting things that I learn from couples, things which are a first for me and which I find so inspiring!
Last year, I had the pleasure of working with gorgeous couple Faye and Lee on their very intimate beach wedding ceremony. They have a really close group of friends and family; people they respect, admire, trust and love and they wanted to do something during their ceremony to make their nearest and dearest a part of the ceremony and not just witnesses to it.
So they came up with this absolutely awesome idea of asking all of their wedding guests to think about love and marriage and to offer them some words of advice that they could take onboard for their own marriage, to be shared DURING the ceremony!
Oh my. You know how much I love stuff like this.
The practicalities
So what they did was prior to the ceremony, as in a few months/weeks beforehand, they let their guests know what the plan was. Always a good idea! Although, funnily enough some of the couples seemed to have not got the memo (I'll come to this!).
During the ceremony, I then introduced the idea of what Lee and Faye wanted to convey and then I invited their guests to share their pearls of wisdom.
The easiest way was to start at the front, at the end of the first row and let everyone take their turn, one by one, moving along the rows. Some people asked if I could come back to them (the ones who didn't get the memo!) and that in itself was really natural and received with laughter. And we did go back to them at the end, to give them a chance to put some quick thoughts together.
Nobody stood up. Everyone stayed in their seats, which helped to keep a relaxed environment and Lee and Faye, who previously had been standing facing each other and side on to their guests, turned so that they were fully facing everyone.
Everyone clapped after someone said their comment, which I thought was so lovely and so touching and very natural and spontaneous.
Because everyone is different, everyone had really varied things to say. All wonderful, all positive but done according to each person's style and personality. Some people took out sheets of paper from the purses (the women!), others ad libbed (the men!) and a few did some superb blagging. All in all, every comment contributed to an amazingly, loving and warm atmosphere with such an energetic vibe running throughout.
Why this is such a fab thing to do
For small weddings (Lee and Faye had twenty guests) this is such a wonderful way to include everyone and to create a warm and intimate atmosphere for the ceremony.
It was also hilarious seeing the faces of people who quite clearly did not do their homework, who seemed not to know that they had homework. However, by the time their turn came, some of their off the cuff, top of their head comments, were some of the loveliest comments of all!
It's such a wonderful way to have your nearest and dearest contribute to your ceremony. If you look around you at the people who surround you, you will probably find that between them all is hundreds of years of relationship experience. So why not call on them to offer up their goods, and let you in on their secrets?
One or two people are always going to say something really funny, a little bit naughty and maybe a bit un-PC, and this can be funny (well, I would find it funny, but that's me!) And it's always fun to inject a bit of humour into the ceremony.
It is also a wonderful gift from your wedding guests to you, to impart some knowledge, good wishes and great energy.
What kind of things did people say at faye and Lee's wedding?
Faye's mum said some beautiful things about what it means to be loved and to love, which I thought was very profound and very much like the kind of thing that mums would say.
Others told jokey anecdotes, others gave good wishes. One said she was only there for the free bar, which was hilarious and had everyone in stitches! And another said, 'marriage has lots of ups and downs, but hopefully all the ups and downs stay between the sheets', which again had everyone laughing and/or rolling their eyes!
Others read famous quotes and extracts from poems. Some reflected on their own relationships and passed on what they'd learnt.
Wonderful.
Variety is the spice of life, is it not?
When is it best not to do this?
Now you know I am a perpetual rule breaker and hate to set any boundaries, but I do think there are some ceremonies where this might not be as effective.
I would say that for weddings with over 50 guests, doing this could be a bit tricky, just because of the amount of time. If you really do love the idea, you could make it so that one person per pair speaks, so that you only have about 20-25 people speaking in total, which will make it more manageable. But if time is not an issue, Lee and Faye's guest contribution took about five minutes, then go for it.
Because your guests are engaging with you and sharing something lovely with you, you will probably find that you won't notice the time it takes. People do also seem to be good judges of how much they need to say, but you can also stress to them that it need only be a few lines.
Another reason why this worked for Faye and Lee's small group, is that they mostly all knew each other well or knew Faye and Lee extremely well. It might not be the best idea to do this when you have people who don't know you so well at your wedding, because sadly, some people for reasons out of their control, do have people at their wedding that they don't know very well. This kind of contribution probably comes best from those closest to you, which also means they are also more like to feel more comfortable contributing, which is the most important thing!
Don't do this if you don't like surprises and you don't like the idea of not knowing what people are going to say. Especially, if you have guests who you think might be too wild with their comments!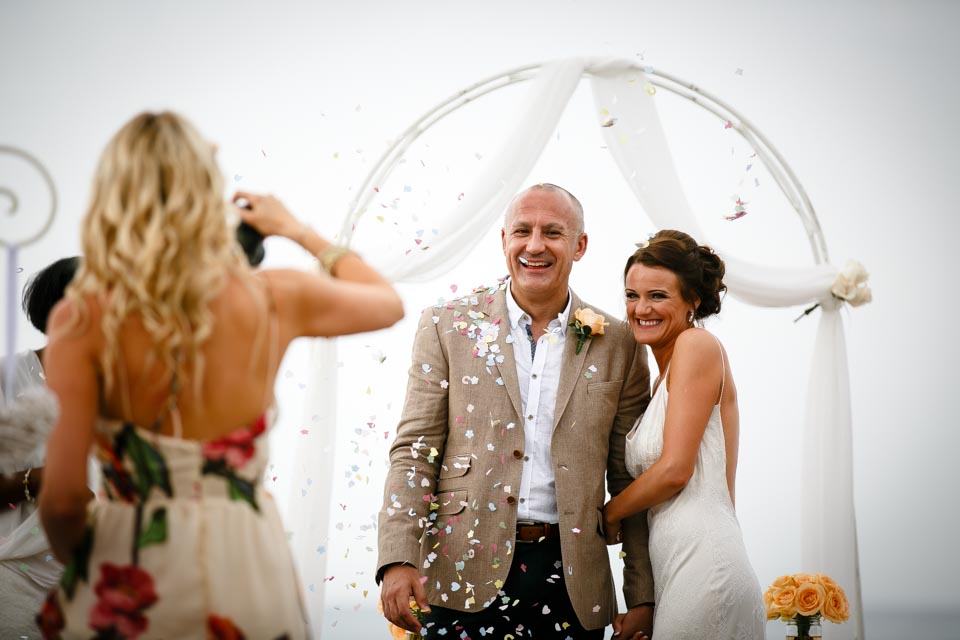 How to implement 'words of wisdom,' into your ceremony
-Send clear instructions to your guests well ahead of time, with maybe a reminder a few weeks before the ceremony.
-Set some boundaries (if you want). Ask them to keep it short, ask them to keep it clean. Ask them to be original.
-If you're a little worried by what people might say, you could vary it by asking them to recite a famous love quote instead.
-Let the person marrying you know your plans so that they can orchestrate it on the day and help keep the structure going.
-If you're not planning on filming your ceremony, you may want to ask your guests to write their comments on some card which you will collect up after the ceremony, as a keepsake.
What is not to love about this? It doesn't cost anything, it's easy to implement and it has the potential to be fun and inspirational. Love it!
Mad love to;
Gary Tapp – Your Wedding Moments for the images