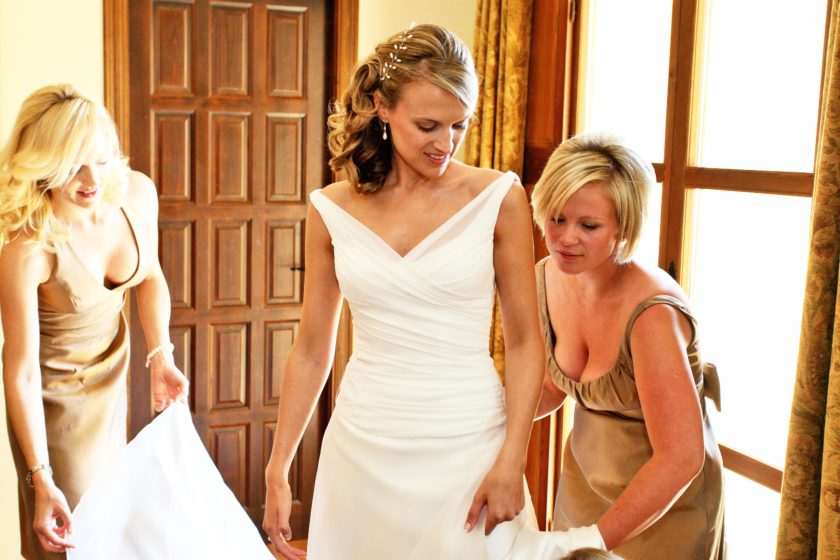 I'm quite a pragmatic person. If something doesn't have a practical use then I kind of think it's pointless. Depending on what day you catch me on, you may hear me talk about this in terms of a wedding party! I can hear your gasps from here!! I know! I know! As much as I love seeing the look of a wedding party, the total coolness and coordination of everyone, some days I wonder, what beyond that, do they do?
My best friend was my maid of honour and my husband's best friend was his best man. I think we had ushers. See, that's not good, is it? The fact that I can't remember. Did having them play their special roles make our wedding day what it was? No, I don't think so (as lovely as it was to have them by our sides). Would them not playing their special roles have affected our day? Definitely not! So, I ask myself then, what is the point of the wedding party?
I am now starting to see more and more ceremonies where there is no wedding party and I think it's kind of nice. Stripped back but still stunning.
So here's my take on the wedding party. What they are supposed to do and what they do do and whether we really need to have them at all!
The best man
In theory he is the groom's right hand man, supplier of jokes and alcohol, emotional crutch, keeper of the rings. The one who gets to go make the fun, memorable speech.
In practice he is as nervous, if not more nervous than the groom, supplies too many jokes and too much alcohol, is an emotional wreck, misplaces rings and makes a speech that is too long, slightly inappropriate and that unfortunately everyone will remember for the wrong reasons and because it's the last of the speeches!
The matron of honour
In theory, the matron of honour or maid of honour, if unmarried, is the bride's right hand woman. She helps her get changed, keeps her company during the bridal preparations and makes sure the bride is fed and watered suitably. Adjusts her trail if needed and holds her bouquet during the ceremony. She is in charge of the brides maids, if any.
In practice, she is busy getting herself to look as good as she can, the trail doesn't need adjusting because there isn't one and she has more champagne to drink than the bride. But she does hold the bouquet during the ceremony, as well as her own and bosses the brides maids around.
The ushers
In theory, they welcome and greet guests, showing them to their seats, answering any initial queries and directing people to where they need to go whether it's for a pre ceremony drink or for photographs.
In practice, they are as clueless as the guests despite being briefed, they sit people in the wrong places, and tend to have a drink way before any of the other guests do.
Flower girls
In theory, they are supposed to start the bridal procession down the aisle. Many are asked to scatter rose petals too, for the bride to walk on.
In practice, if you can coax them out of their stubborn refusal to a) walk down the aisle and b) scatter the roses, you may find that half way down they have become distracted by something else and take a seat in the aisle to relieve themselves of the boredom of such a long, slow walk. I once witnessed the cutest little flower girl tip the basket of petals over her head! Look what we do to them!
Page boys/ ring bearers
Same as above but just substitute flowers for rings and of course, his job is to present the rings not to scatter them down the aisle. The funniest ring bearer I ever saw, was very reluctant to approach with the rings. He was given a gentle nudge and then eventually threw handed over the rings. He then declared loudly, 'do I get my present now?' Brilliant.
Okay, so if you haven't noticed already, I have written this article in a slightly tongue-in-cheek fashion because I am still genuinely 100% undecided as to what I really think about the wedding party.
But I do know that I have seen brides stressing over who to have as brides maids, painstakingly trying to choose between closest friends, closest female relatives and also trying to accommodate her husband-to-be's female family members too. I see many more grooms choosing to have two and in some cases three best men because they can't decide who to appoint. Not to mention the plenty of children being made to be page boys and flower girls, who really really do not want to do what seems like a terrifying walk of death down a wedding aisle, with hundreds of faces staring at them! That would scare me if I was five.
So my point is, (I think I have one now) that if having a wedding party is not going to significantly add to your day, is going to give your more stress and additional costs than you need, and its only real value will be an aesthetic one, then don't have one. The groom can carry the rings, the bride can pass her bouquet to a friend, her girlfriends can still get ready in her room if she wants! You can have a good friend do a speech, or randomly select people's names from the hat, or maybe the bride may want to say something. Maybe everyone can be involved on a community level, rather than having set people carrying out supposed roles. Maybe people can just help out, without there being a need to allocate specific job titles. Your best girlfriends are still going to organise a killer hen do for you whether or not any of them have been labelled as a wedding party VIP!
Maybe not having a wedding party, will make all your guests feel responsible for you and make them all want to ensure that your big day runs smoothly. Just a thought!
What do you think? I'd love to know.