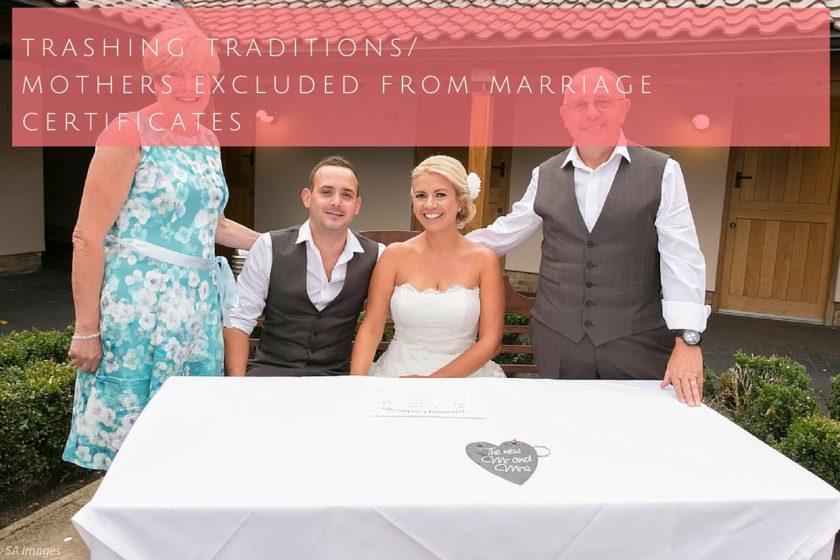 Of all of the Trashing Traditions posts that I have written, today's post is a biggie for me. A bit of a heavy-weight, if you will. It really does hurt my fingers to have to type that in 2015 the tradition still exists where only fathers names are required on their child's marriage certificate. Crazy, right? And what's even worse is that this tradition is still being kept alive and kicking by the law and the powers-that-be! Yes people, of all the new laws that are now in place to ensure gender equality, one of the oldest and unequal laws of all is still in place. Go figure! So let's get stuck into this and find out what the hell is going on.
Two years ago, a very wise woman called Ailsa Burkimsher Sadler decided to do something about the modern injustice of excluding our mothers from our marriage certificates and so she started an online petition to kick some serious government butts and to get those that can, to be those that do. She wanted to bring England and Wales in line with Scotland and Northern Ireland who already allow both parents to have their details submitted on their child's marriage certificate. In Ailsa's petition she clearly outlined all that is wrong with this archaic nonsense of a law and within a year the petition had already amassed 50,000 votes. Whoop!
Thanks to Ailsa's efforts and the pressure that 50,000 plus signatures can apply, the Home Office announced it would be considering the much-needed change. Okay, that's a start, right? It then seemed like the petition and all the noise surrounding it, was really gaining momentum. MPs were talking to other MPs about it and soon some real dialogue was happening, not just the empty chit-chat that MPs are usually so good at doing.
Then the biggie came. David Bloody Cameron himself announced that the Home Office had been instructed to start sorting out this marriage certificate mess and make it happen that mothers also played the role they should be rightfully playing in terms of being present on the marriage document AND that it would take effect as soon as possible. This was 2014 and now we're almost coming to the end of 2015, and guess what? Yep, that's right, shit all has been done.
So people we need to get our acts together, because I am fairly certain that there is not one of you reading this now who thinks it is okay that your mum is not going to feature on your marriage certificate. We got married in Mexico for goodness sake. One of the most macho, sexists countries on the planet, yet our marriage certificate contains the names and details of both sets of our parents. WTF! Had we not have gotten married in Mexico and back in England instead, it would have really hurt my bones to have not included my mum on our certificate. My mum is MY LIFE. I love my dad with all my heart too, but he didn't raise me every single day of my life, feed and clothe me and make me me, as much as my mum did. So she needs and deserves recognition of that fact. And hell, of course she wants the chance to give her legal support to the daughter that she raised! And what about the folks whose fathers have nothing to do with them at all? If Mexico can bloody well do it…
So, this is what needs to be done. NOW.
David Cameron needs to make good of his promises. Yes, he really does. And MP Caroline Lucas wants to see that he does, too. As political and legal language give me a headache (I have a law degree!), I'll keep it simple.
Click on this link http://www.parliament.uk/edm/2015-16/446. Read it and get your local MP to sign it. If you don't know who your MP is you can use this website and even better, email them directly from this website https://www.writetothem.com/ to tell them a) that they need to get on it and b)they need to write to the HO to find out what the hell is going on. I also recommend jumping over to Ailsa's original petition page, where she regularly updates on her petition's progress and gives much more detail about what you can do and say to your local MP to make this change.
Let's bloody well hope that this change can happen ASAP, so that for those of you getting married in the next year and beyond, you can proudly have your gorgeous mums taking their rightful places on your marriage certificate. It's the least we can do for them, surely?
And also, let's do it for Ailsa Burkimsher Sadler, the woman who selflessly kick-started this campaign, all by herself from what I can see and who managed to get the support of 70,000 other wonderful peeps. That is a beautiful thing to achieve and a powerful thing to do. Ailsa, I salute you.
Come on people, let's make this happen!