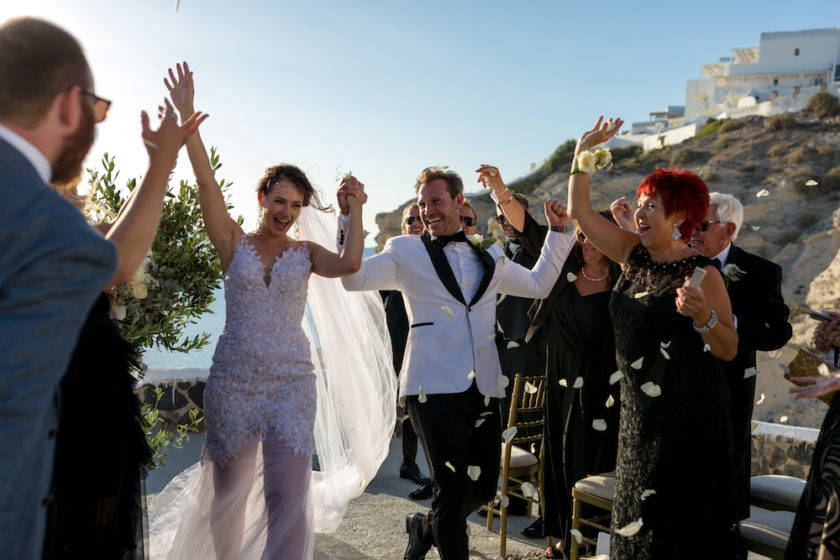 It's a mixed feeling I have when a gorgeous wedding ceremony lands in my inbox, especially in the middle of a dreary day. I go from swooning over incredible images to stomping my feet and demanding to be transported to that EXACT destination NOW. And so yes, it goes without saying that Kata and Warren Mc Aslan's stunning wedding in Santorini did just that! And I'm quite certain you will feel them same!
This gorgeous couple (look at those faces!) were introduced through a mutual friend via Facebook shortly before Kata's visit to Johannesburg, South Africa. (Kata is South African and Warren South-African-Scottish). Warren offered to pick Kata up from the airport and at first she said no (they'd only just been introduced via Facebook!), but after talking for a couple of days, when he asked again, she said 'ok,' but joked that she wanted a proper welcome with balloons, welcome sign etc. You know where this is going, right? As Kata landed, there Warren was, waiting for a women he had never met before, standing with a bunch of balloons and a sign saying ' welcome home Kata, sorry the brass band cancelled.' He was chatting to an older man and scanning his phone for her photo to make sure he picked up the right woman! Now, that is impressive, right?
And as you're about to find out, this became a bit of a theme, and seeing that their love story started in an airport, when it came to proposing Warren already knew what to do!  Kata was flying in to Capetown to join Warren and his family. As she made her way through the airport and walked out into the arrivals hall, really suspecting nothing other than to see the face of her love, there he was standing with about 60 balloons and a sign saying 'welcome home Kata.' As she walked towards him, Warren flipped the sign over and it said 'will you marry me?' Needless to say Kata burst into tears there and then (as one would!). Warren got down on one knee and proposed with a beauty of a ring!! And to top it all, his whole family was there too, filming the whole thing for them! Wow, oh wow!
And as you would expect, Kata and Warren's wedding day does their whole meeting, their engagement and relationship the justice it deserves. So let's get this wedding show on the road and jump over to see Kata and Warren's stunning and elegant black tie wedding day in Santorini, Greece. Kata takes up the story…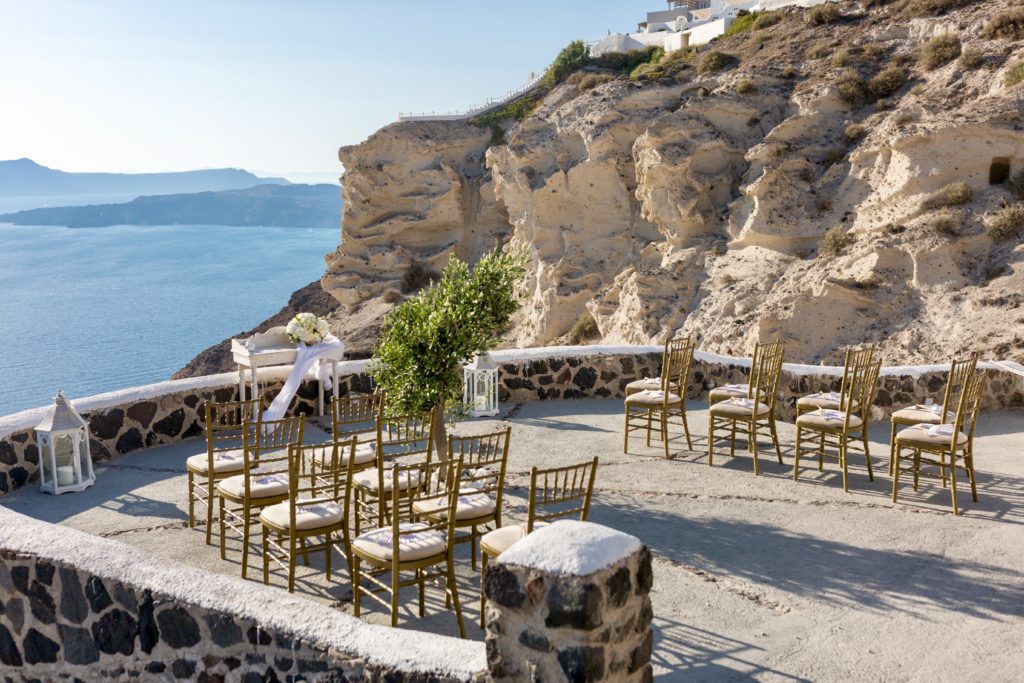 We wanted a small destination wedding, with only our closest friends and family and Warren came up with Santorini, as we wanted a destination that we could also combine with our honeymoon. We had 14 guests and it was perfect! I wanted to keep the decor simple and elegant as our wedding venue and setting was so unique and stunning, overlooking the Caldera (stunning submerged rock islands in the sea) and the Mediterranean. It was a black tie affair, using a colour scheme of white, black, green and gold. Keeping a slight Mediterranean feel to it.
Our ceremony took place in a new open outside terrace on the cliffs in Santorini, where the most magical sunsets take place. To start off the ceremony, our groomsmen walked in first one by one, followed by the groom, then my bridesmaids entered one by one, followed by my mom and I. We had both my brothers as groomsmen, with Warren's best friend as best man, with my sister and two best friends as brides maids and maid of honour. (Kata's mum got to put her own Celebrant hat down temporarily and swap roles to accompany her daughter down the aisle. )
The most memorable part of the ceremony was saying our vows in front of our nearest and dearest at the most beautiful setting. Our wedding planner Panos from LoveWed knew what our vision was from the start, as I did so much research, and he was always so helpful and assisted with all my questions and requests. He was a pleasure to work with!
After a warm introduction from their Celebrant John, Warren and Kata said their personal vows to each other, which they wrote separately and only heard what it each other said during the ceremony itself. So special.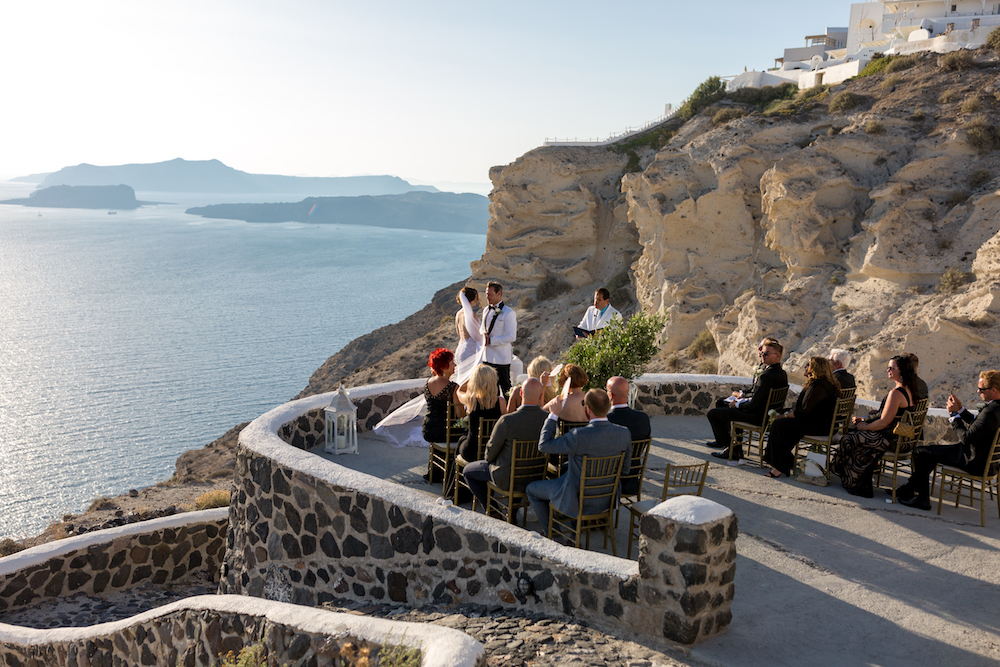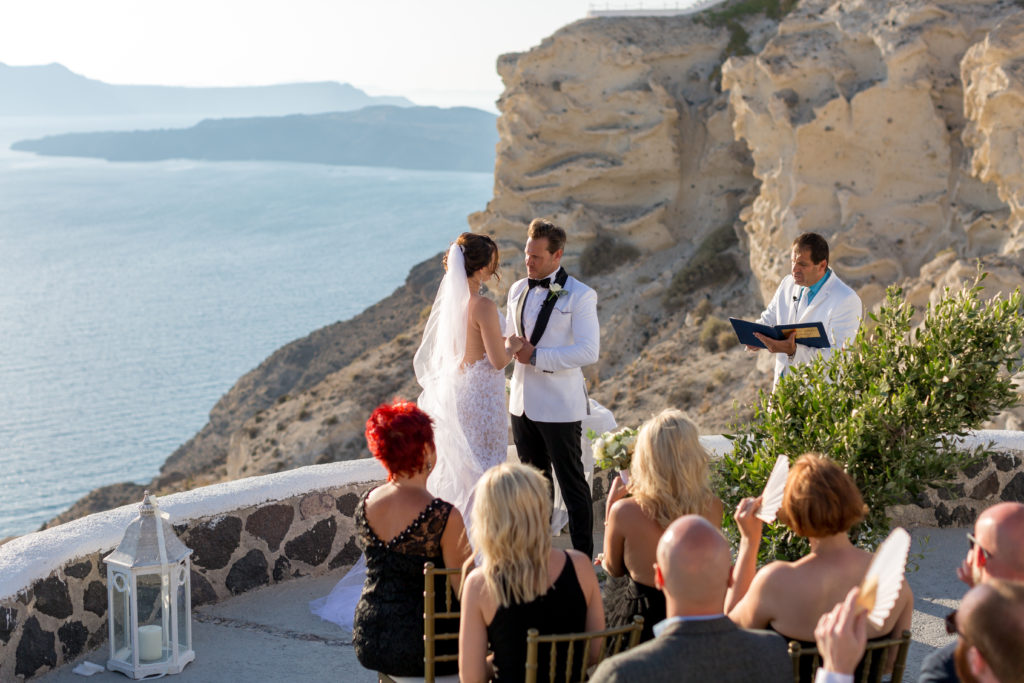 Their vows: (grab your tissues, you've been warned!)
Kata's vows –
My darling Warren…  2 years ago you captured my heart by being exactly who you are.  The sweetest, most loving, compassionate and sensitive person I have ever known.

You have been my best friend through good and bad.  You have been the reason I smile and have given comfort beyond measure when I have cried.

You have believed in me, when no one else would and you have shown me how to love with passion, purity and unconditional acceptance.

I am not sure a lifetime is long enough to return all you have given to me, but I promise the rest of my days, I'll spend by your side.  To laugh with you – and sometimes at you – cry with you, to believe in you, support you and to remember that your interests, desires and needs are just as important as mine.

In poverty I promise to do everything to make our love rich and in wealth to never let our love grow poor.

I promise to be true to you, to frustrate you, challenge you and share with you the beautiful moments of life.

I promise to remember that neither one of us is perfect, but I will strive to remind myself of ways that we are perfect for each other.

I look forward to grow old with you, getting to know the man you will become and fall in love with you a little more every day.

Together we are better than we could ever hope to be alone and today I give you my love, my trust and my fidelity forever.  

You will ALWAYS be the best part of my day!  

I love you.
Warren's vows –
Over the past two years we have shared many special moments,
– From our first date at Silver Mines, where you still claim I first "fell" for you
– Christmas eve where you cured my affliction of the common hiccup
– Our hours spent fine tuning your make up skills and transforming me into Mini-Me
– To our quiet intimate New Year's Eve spent filming out resolutions, and our hopes
and wishes for our future
And today as we stand here, all my hopes and wishes are coming true….
Today I make the BEST decision of my life – by choosing you.
My sweetheart, I cannot wait to start our new life and adventure together.
I know what a wonderful, amazing, strict, fun, loving and caring mother you will be to our
children and I promise to always try to be a supportive, caring, understanding and patient
husband and father.
Kata, I have always loved you
I do love you
And I will always love you, till death do us part.
How awesome, right? Heartfelt, emotional, fun and real. The perfect vow combination.
And Kata's advice to those of you soon to embark on your own glorious journey to marriage.
Keep it simple and personal to you as a couple. It's a day of celebrating you both and your new life together. Remember, it's your day, celebrating you, the couple. Don't let any drama take over, the day is over so quickly!! Make each moment count and memorable!!!
Yaas! Spot on!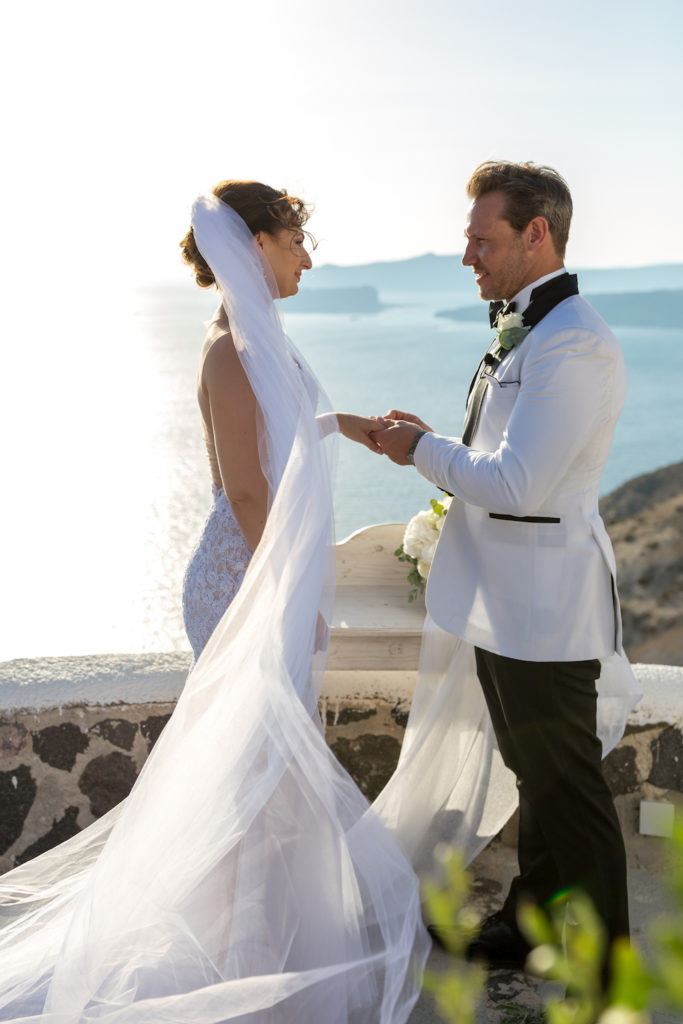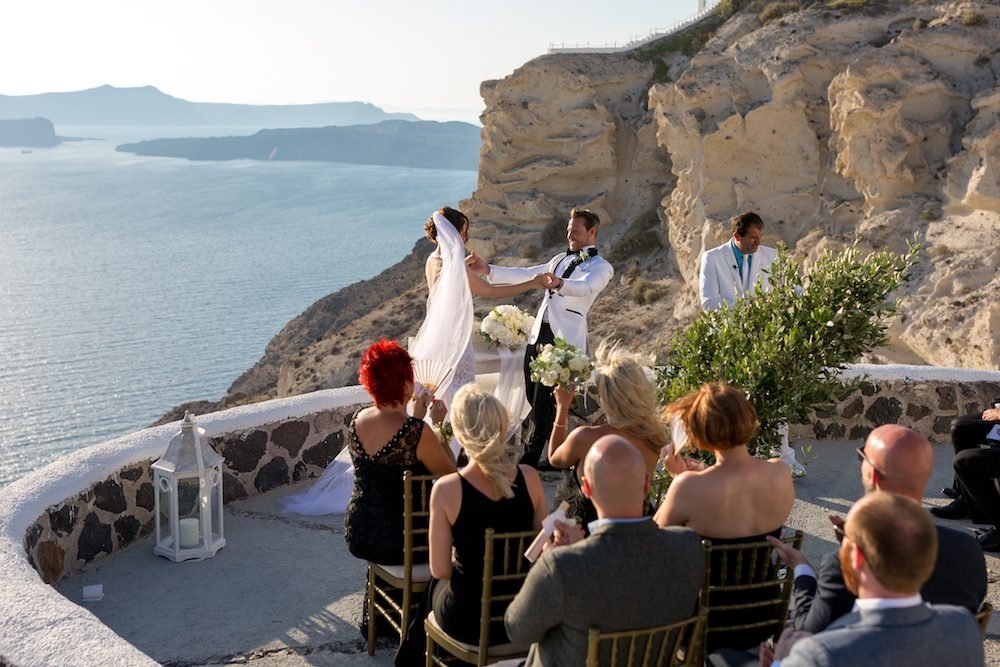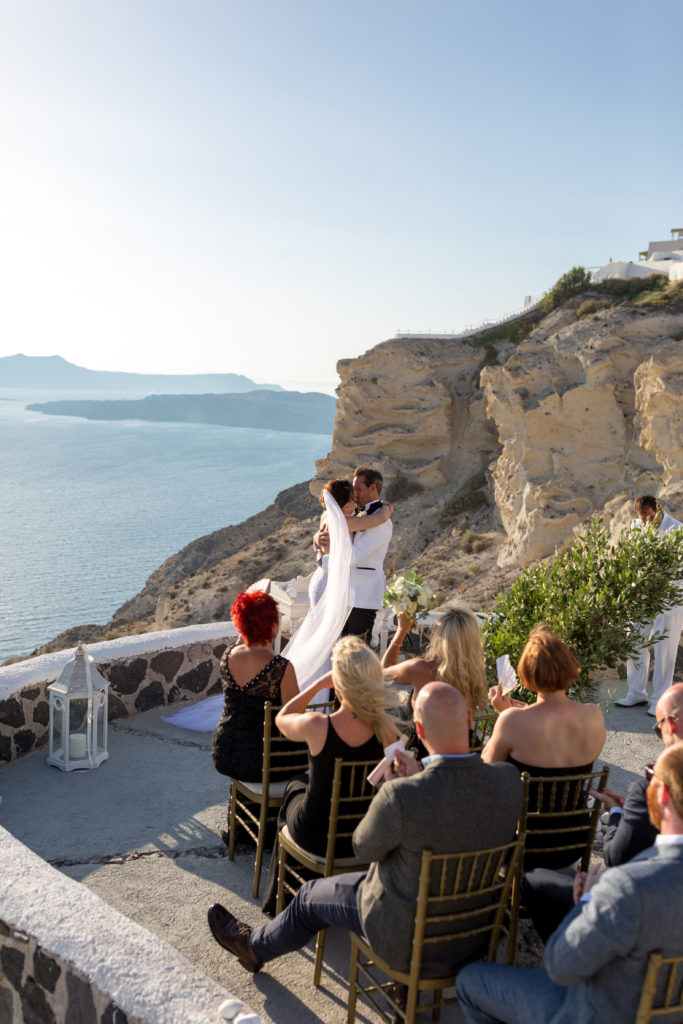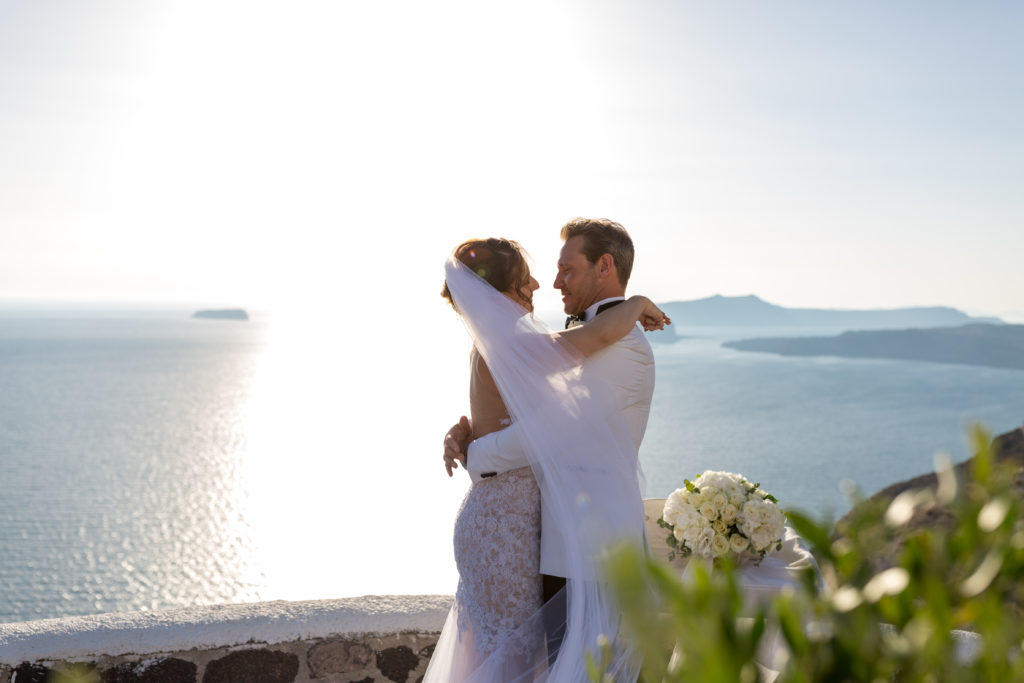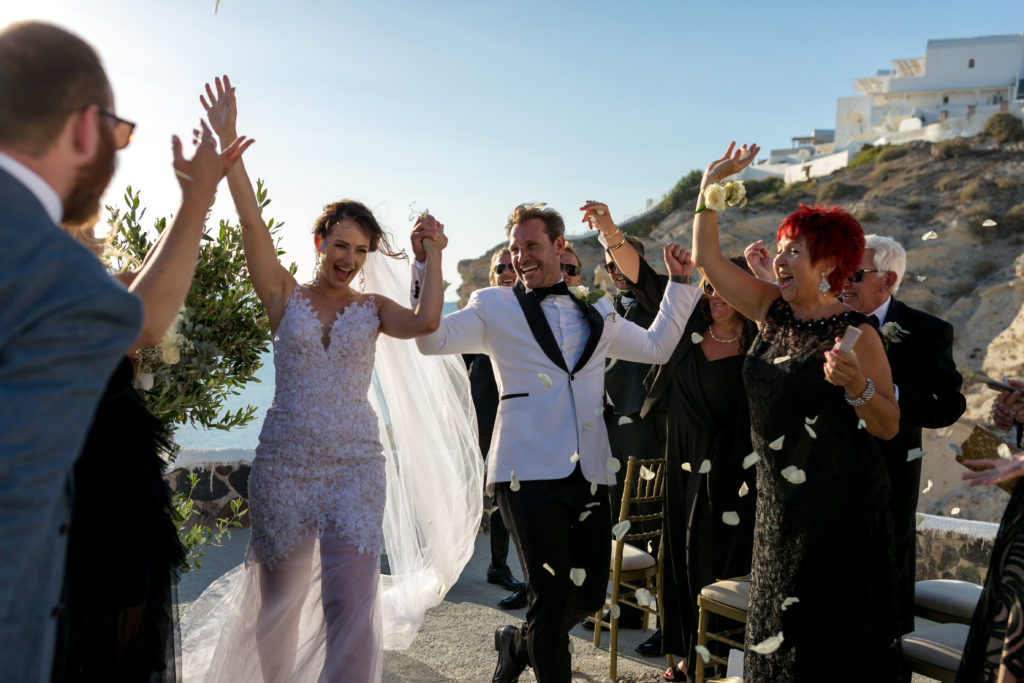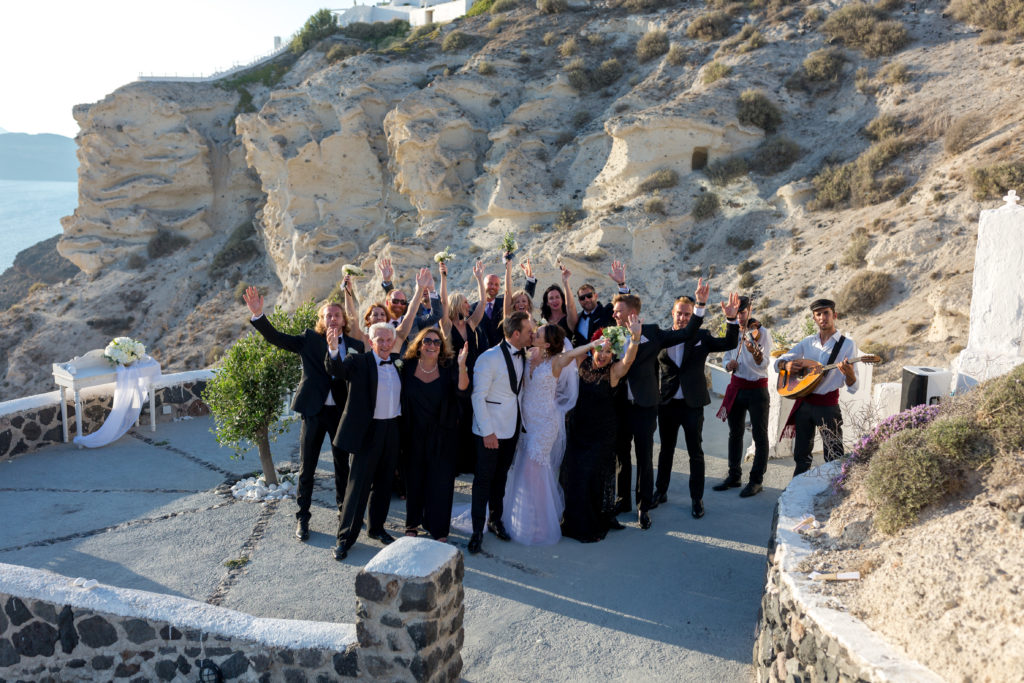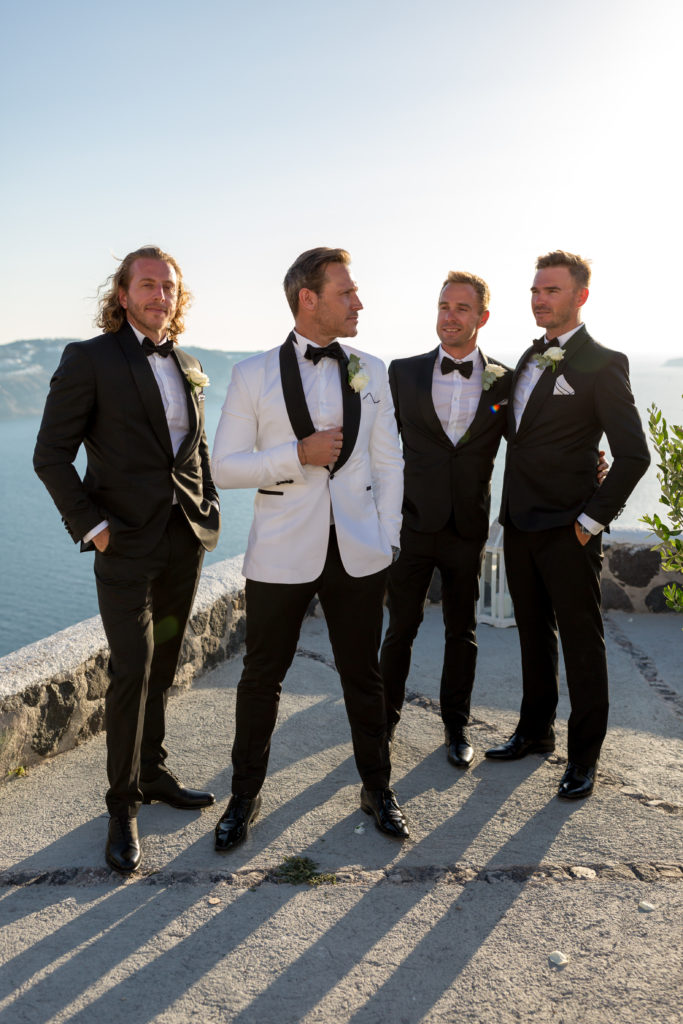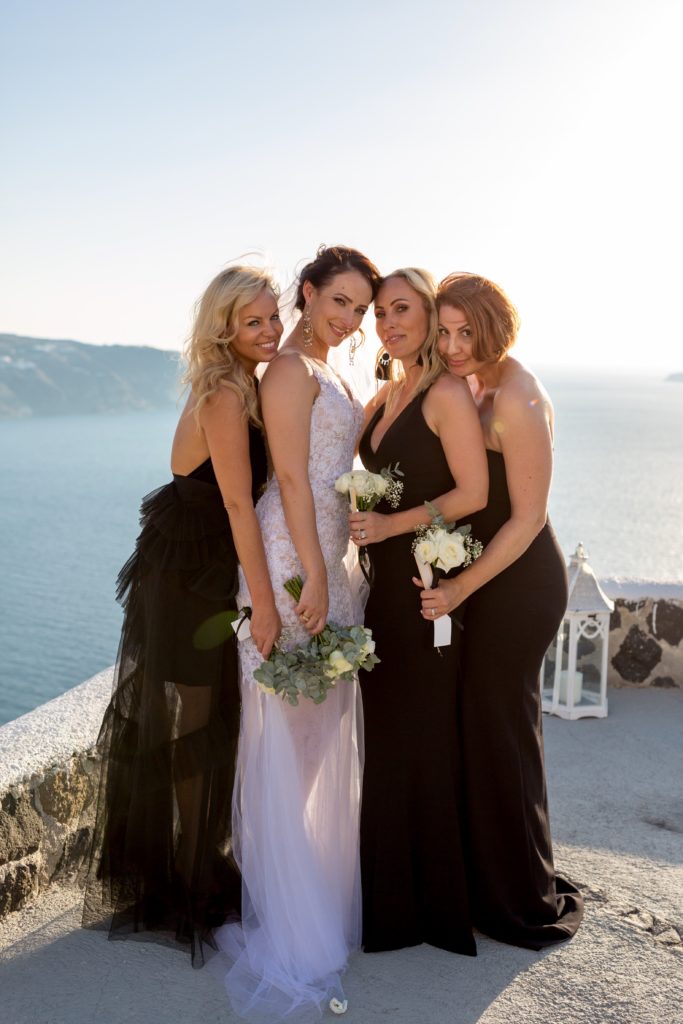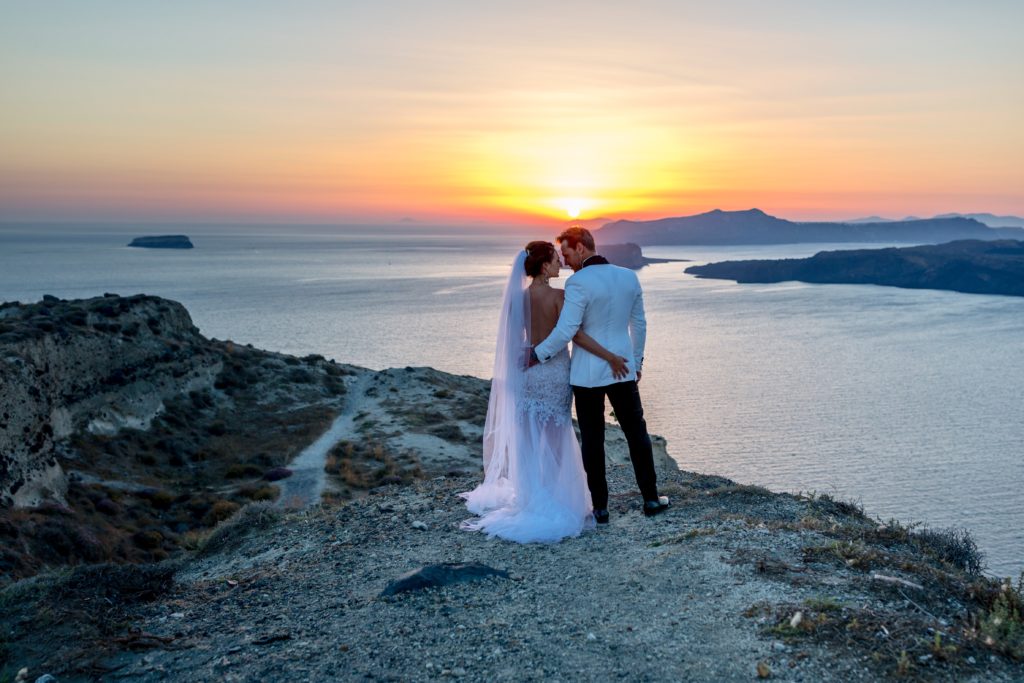 Wow! Anyone else feel like they've just witnessed an advertising campaign for Calvin Klein? What beauties! Inside and out! Thank you so much to Kata and Warren for sharing their beautiful wedding ceremony with Engaged and Ready and for showing how a simple heartfelt ceremony can pack a punch and be full of love and personality. Congratulations to you both. x
---
Wedding Credits:
Wedding Celebrant  – John Kavallaris – Official Santorini Celebrant
www.lovwed.com Wedding planner, Panos
www.kapetenakisstudios.com. Videography
www.dreamonphotography.gr Photography
www.thermesvillas.com. Wedding venue, ceremony and reception
www.bridalalchemy.co.za for Kata's stunning dress!
www.vuyovaroy.com for the grooms and groomsmen suites.