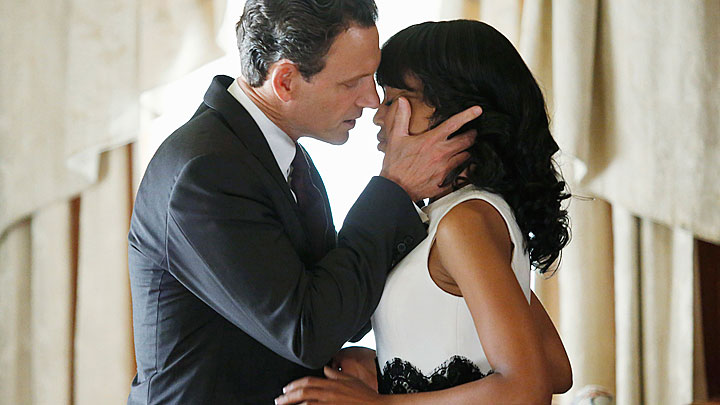 If this is the first ever post of mine that you're reading, you will not yet know that I am obsessed with tv shows. I LOVE tv shows. And when I say tv shows, I mean the likes of The Walking Dead, Game of Thrones, The Wire, The Sopranos, Boardwalk Empire, The Good Wife and Mad Men. YES, I could go on and on naming shows that I love. NO, this list is not in order, because that would be impossible and unfair.
So, you can imagine how much I really love it when I can combine a post about my two loves; weddings and tv shows! And today the tv show of choice is Scandal! Especially, now that we're not far off from the season four finale, why not celebrate another season of amazing script writing?
If you are not a Scandaladdict like me (what is wrong with you?) I will fill you in quickly. The basis premise of Scandal is that of the President of the United States (POTUS), Fitzgerald Grant III (Fitz) and his relationship with a woman, who he calls 'the love of my life', who also happens not to be his wife. This woman, Olivia Pope, is the most kick-ass, don't-mess-with crisis manager around, who handles the many salacious and scandalous problems that rich and high-profiled people seem to be constantly making for themselves. She used to be the President's campaign manager when he was a governor and vying for the White House. And that my friends, is how all this craziness got started!
Now I can see that it may be a little odd to write a post featuring love quotes from characters who are deeply flawed, indulging in unpalatable extra marital affairs and who sometimes are very very unlikeable. However, sometimes no matter how wrong and flawed a situation or a person can be, in some cases the depth of the emotion that comes from them cannot be denied. And to add to that, the writers of this show, sure do know how to give these flawed characters some of the best lines in tv EVER. Seriously. That said, I don't necessarily agree with all of the quotes but I know that when I heard them, they made for very powerful statements of expression.
And so now to prove my point.

I may not do it well, but I will do my best to be your someone. — Cyrus Beene, White House Chief of Staff

My whole life is you. I can't breathe because I'm waiting for you. You own me. You control me. I belong to you. –Olivia Pope

I love you. I am in love with you. My every feeling is controlled by the look on your face. I can't breathe without you. I can't sleep without you. I watch for you. I wait for you. I exist for you. –Fitz

I don't want normal and simple and easy. I want painful, difficult, devastating, life-changing, extraordinary love. –Olivia Pope

Something happens and you are the only one I want to talk to. –Fitz

I've seen you two together. You breathe in sync. – Verna Thornton, Supreme Court Justice

Normal is overrated. –Olivia Pope

I think that love, at the end of the day, is stronger than some mistakes that somebody made. –Fitz

 I could never hate you. –Olivia Pope
There is nothing you could do that I wouldn't forgive. Not a thing.  –Fitz
Oh my goodness, I just love a good Scandal quote.
Love quotes at weddings
If you find yourself, loving any of these quotes or any other love quotes that you come across there are so many ways that you can use them on your wedding day. You can;
-use them to annotate your order of service progammes, with a selection of quotes scattered throughout. I could definitely see the 'normal is overrated,' quote gracing the front of an order of service guide.
have your favourite quotes printed and framed and placed on tables for your wedding meal, or used as decoration around your venue or wedding area.
Long quotes can be printed out and hung around your wedding venue.
Quotes are so versatile and so damn cool. If you want some more quote inspiration check out this post of famous love quotes.
What will you choose, when those so much to choose from?