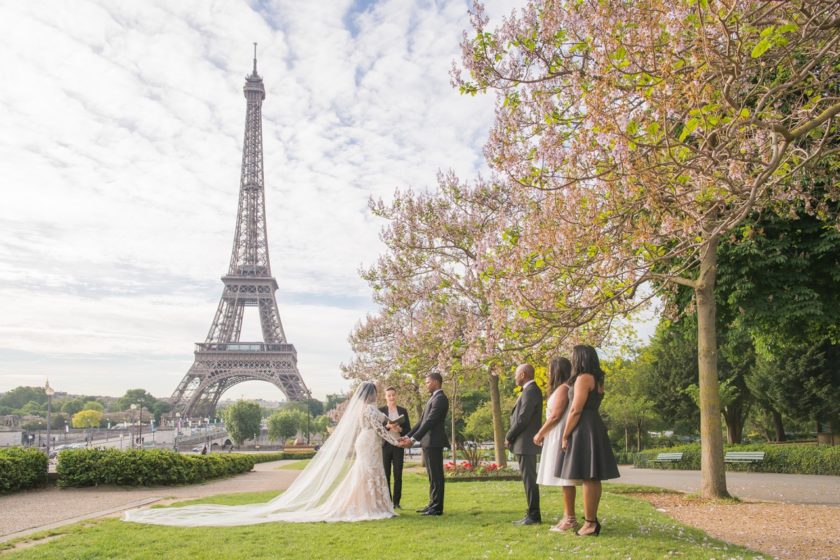 We are heading to Paris today, not literally, but kind of, as I've been chatting to wedding celebrant and officiant Laura Montorio about her love of languages and also the love she has for her beautiful Paris.
As a wedding officiant in Paris, Laura spends her days carrying out the most amazing wedding ceremonies at the most stunning, iconic and historical landmarks from the Eiffel Tower to ceremonies along the Seine. Annoying, right? Just kidding!
I'm not jealous.
Is there anything about your previous job/career/life experiences that is relevant to you being a wedding officiant or helps you now as an officiant?
I worked as a journalist (foreign policy & economy). Journalism taught me how to write, research and lead an interview and my languages help me to celebrate ceremonies for intercultural couples. When I was at university I had a side job as tour guide and I learned to speak in front of lots of people and how to use my voice correctly.
What has been the highlight of your wedding career so far?
There is not ONE highlight – I love the variety! So many different couples from all over the world with such different backgrounds come to Paris/Europe to celebrate their love in many different ways. Here a few highlights: A wedding ceremony in the ruins of an ancient chapel, an intercultural French-Afghan wedding ceremony, a commitment ceremony in a lavender field in Provence, a sunrise Eiffel Tower ceremony and many more – how could I decide on one! 😉
What has being a wedding Celebrant taught you about life and people?
We are all the same: We are searching for love, recognition and a safe place. We long for a person to belong to and share our dreams and fears, our success and failures with. Yet we are all so different: Luckily nowadays couples can decide how and with whom they want to live their relationship. The definition of what love and marriage means for my couples can vary significantly. Therefore also the way they celebrate their wedding, elopement or vow renewal can be very different. And I think this is wonderful!

What advice would you give to couples getting married now? What mistakes could they do with avoiding?
Your wedding or elopement is about the two of you! Sometimes couples feel under a lot of pressure when planning their wedding. Family and also friends think they all have a say in it. I don't simply say: don't care about others and do it your way. But first and foremost the two of you should discuss and be sure about what you really want: what is most important and where you are you flexible? Then let in your family and friends and listen to what they have to say. After that consider where you could maybe do a little compromise so that your family and friends feel included and where you need to do it your way. And then go for it – you cannot please everybody!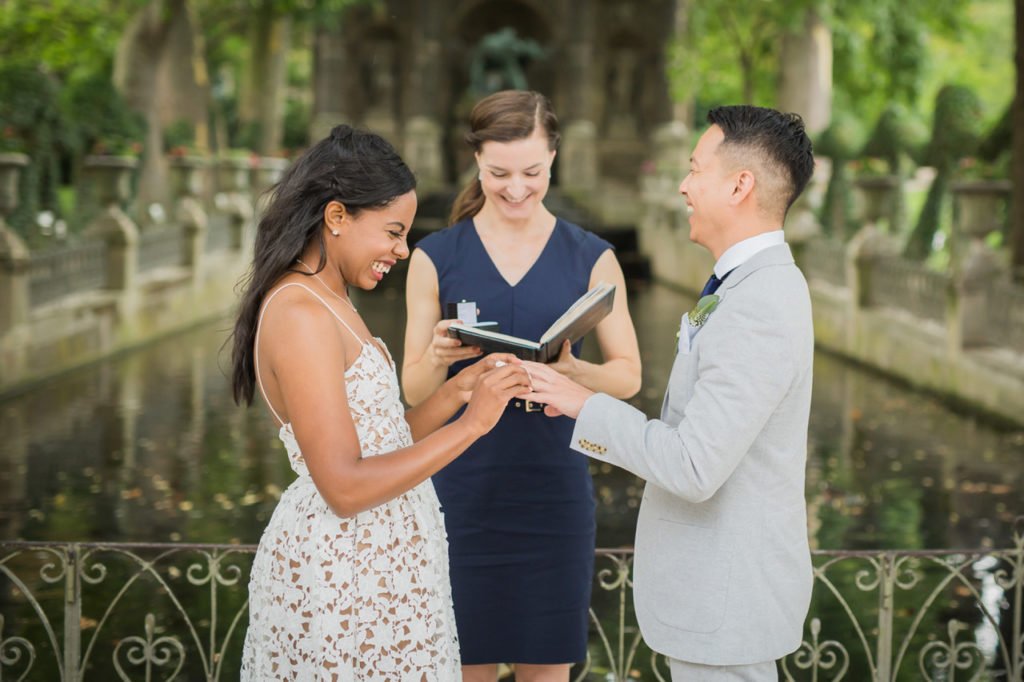 What do you love about being a wedding Celebrant?
I love creating a ceremony together with the couple that is totally them and it fulfills me to celebrate their love with them and their guests on their wedding day. The job of a wedding celebrant is not just about reading something from a paper. It is about creating this memorable moment which marks a transition and consciously celebrates a life changing decision. I love this feeling after a ceremony when I realize that I was able to reach the couple and their guests emotionally.
What aspect of your job as a wedding Celebrant gives you the most satisfaction?
I love performing the ceremony and feeling the excitement and joy on the wedding day.
What are your favourite types of wedding ceremonies?
I love intercultural or bilingual wedding ceremonies because I come from a similar background and can resonate well. I love elopements or vow renewals with only the couple because they are very intimate and focused.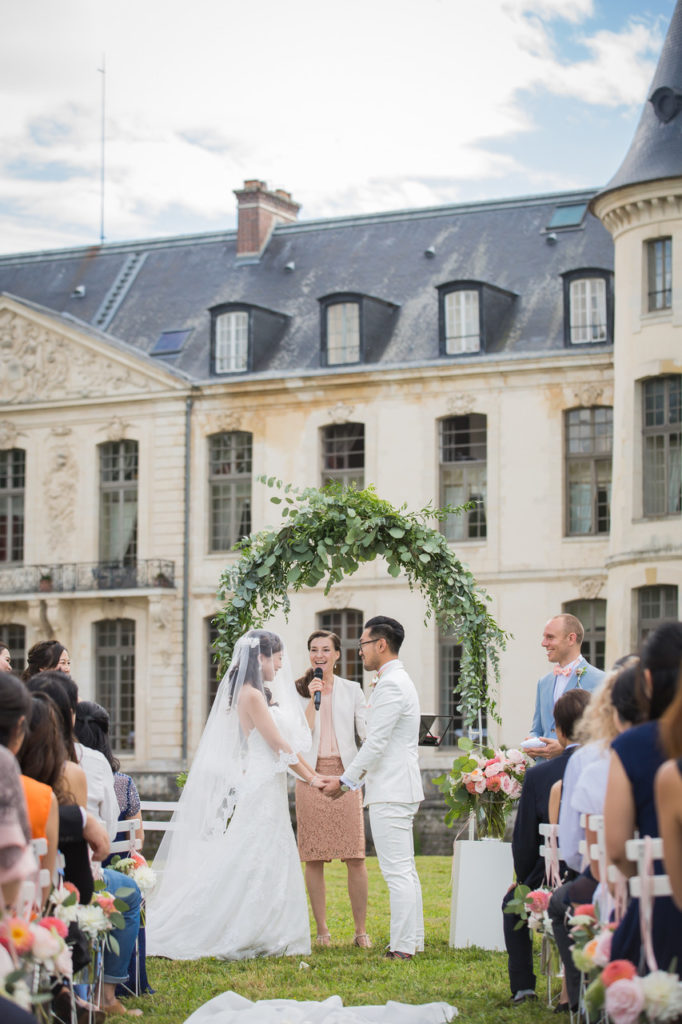 If you had to sum yourself up in three words, what would they be?
I am well-organized, empathetic and creative.
What's your favourite symbolic ritual, and why?
The time capsule ritual! The couple puts items e.g. wine bottle, love letters, wedding flowers, notes of their guests into a box, seal the box during the ceremony and promise to only open it on their 1st/5th/10th anniversary. I love that it can be so well personalized depending on which items the couple chooses. And I also like that the ritual reaches out into the future and gives the couple another change to celebrate later on when they open the box again.
What would be a dream ceremony for you?
A themed ceremony in which everything turns around one specific topic and also everyone including me is wearing costumes. 😉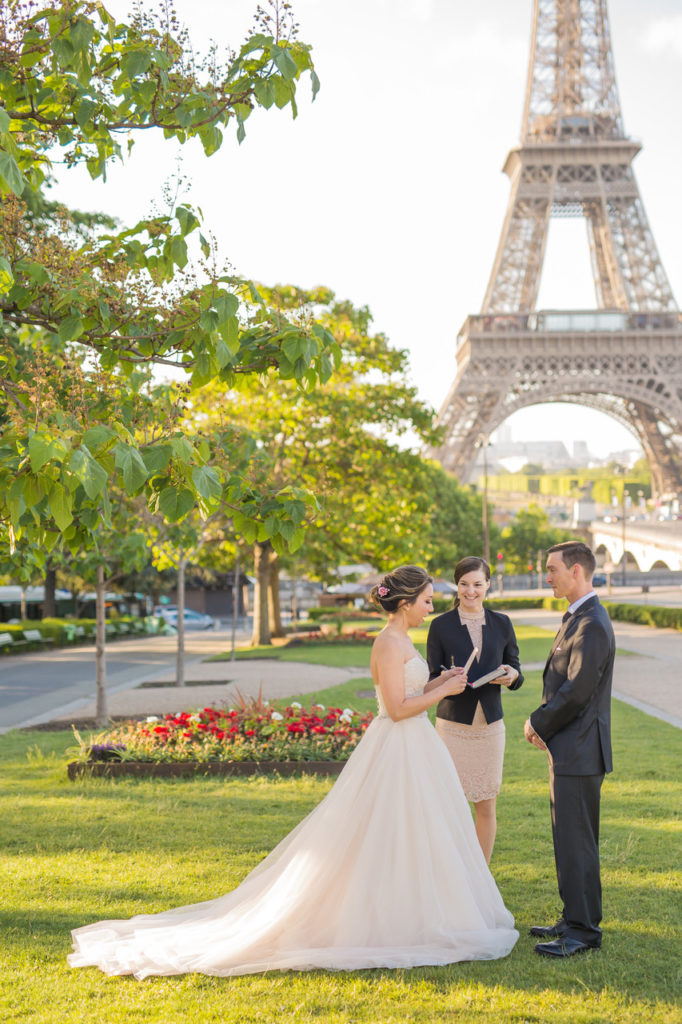 How would you say the wedding industry has changed in the last fifteen years?
I think couples are moving away from doing it the traditional and standard way. Instead they will decide on a wedding that is more personal and represents them better.
What kind of couples do you enjoy working with?
Luckily so far I have enjoyed working with most of my couples! The relation aspect is very important to me: I feel blessed to connect, to get to know every single couple and enjoy that we are creating and celebrating something awesome together! So I would more put it the other way round: I don't enjoy working with couples who don't even bother remembering my name. 😉
Tell us about a funny/hair-raising/near-miss wedding experience that you've had as a Paris officiant?
I officiated an elopement close to a fountain. In the middle of the ceremony when I was holding and blessing the rings I made a little step aside, got my heel stuck in a grid stumbled and almost fell backwards into the fountain – with the rings in my hand. Luckily I got my balance back but only just! The groom joked that he would have jumped into the water if I had fallen inside been – at least to save the rings! 😉 We all had a big laugh and then finished the ceremony.
What are your favourite types of venues/spaces for weddings in Paris1?
I love quiet outdoor spaces for ceremonies and officiate most of my elopements in Paris outdoors at sunrise – the atmosphere is just magical.
When you're not busy being a Celebrant what do you love doing?
I am a bookworm and write myself. I am a Yogi, runner and Kung Fu Fighter. I love music and play some instruments. I find culture inspiring and Paris has a lot to offer in this regard. So I try to go as often as possible to concerts, exhibitions, theatres.
Isn't Laura wonderful? Can you feel the romance of a Parisian wedding ceremony flowing from these pages? I can! If you'd love a beautifully crafted, heartfelt ceremony in Paris, then YOU MUST get in touch with Laura.http://www.theparisofficiant.com/
Photos by Paris Photographer Pierre: http://paris-photographer.net/ Shanta Delaunay: https://www.shanthadelaunay.com/ Skiss: https://www.skiss.fr/