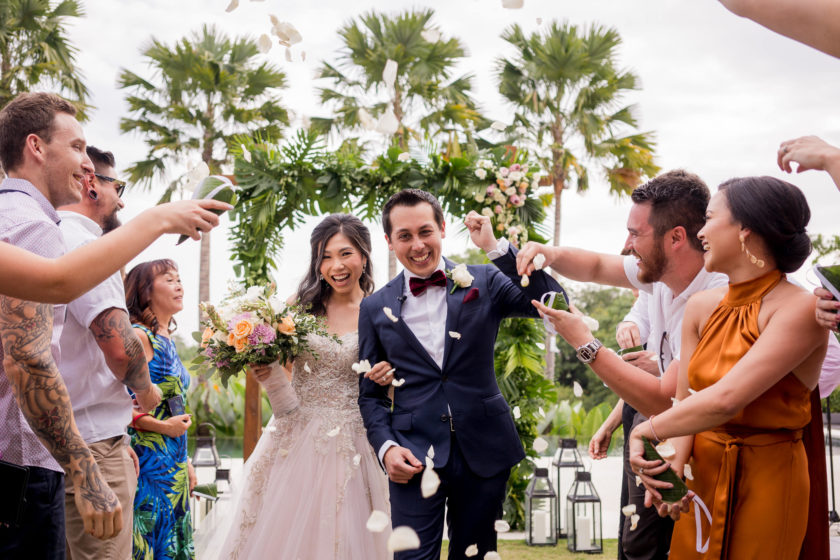 From a Venice proposal to a Bali wedding day, Patricia and Tommy have many awesome stories to tell. But as jetsetting and grand as their marriage adventures may seem, this laidback couple actually were all about keeping it simple, shunning formality and creating an awesome celebratory space for their nearest and dearest.
They met online, as many couples do nowadays, but just for fun, they quite like making-up ridiculous stories about how they met to shock or dazzle those who ask! From Tommy rescuing Patricia form a burning building, rescuing her cat or Patricia helping Tommy up from a clumsy fall, basically whatever movie storyline is, they've used it as the story of how they met! Lol!
Their proposal story is very much real though! After a romantic trip to Venice and in the midst of a gondola ride, Tommy nervously proposed. Nervous not just from the very normal proposal nerves but from the fact that the gondola was not as stable as he had hoped for, or initially believed it would be, and rather than getting into position on to one knee (as planned), he remained glued next to Patricia for fear of tipping the boat. He held the ring in his hand and after several nudges to get her attention (she was WAY too busy sight-seeing) she finally took notice and looked at his outstretched hand!
After lots of shrieking and disbelief, Tommy asked Patricia what her answer was, and she replied that he'd never actually asked the question! Because sometimes that is just how it all happens in all the excitement of proposing and being proposed to! And so of course, Tommy eventually asked and Patricia said yes!
So let's fast forward to their beautiful Balinese wedding day, where Tommy takes up their story. And can I just say, because Tommy doesn't mention this himself, I love that he wrote Patricia a letter to read before the ceremony. Oh my days. Just lovely. And now for Tommy…
"We both love travel, and we both felt a destination wedding was what suited us best. I grew up in Sydney, so I knew I didn't want to do what most around me have done and hosted a wedding there. For the money that it costs, we knew we could do better elsewhere. We thought about many countries, talked to numerous venues, and discovered that we could really piece our own celebration together!
We both also knew that it couldn't be too formal, as that just really didn't match who we were as people, and how people knew us. But we do still enjoy a little bit of fancy. So what we put together we felt really represented who we were!"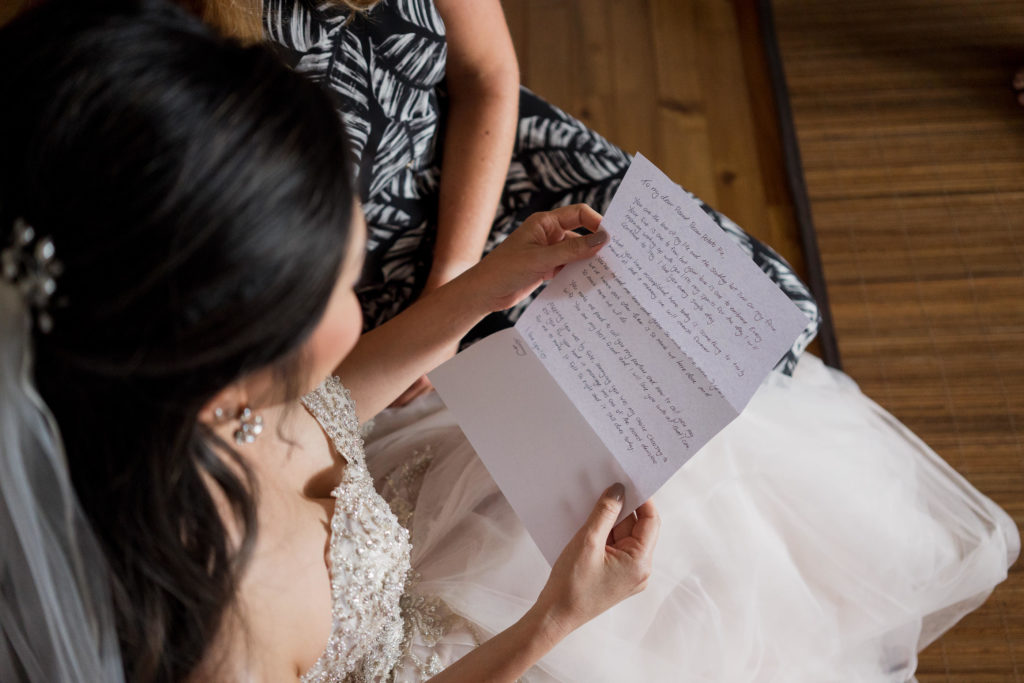 For our ceremony, we felt that we wanted it to be more of a casual and fun ceremony than a long-winded formal occasion filled with speeches, readings, and religious texts. We also knew it was going to be quite hot during the actual ceremony and didn't want our guests (or ourselves) to suffer the heat for too long!

We always wanted to write our own vows, and we didn't want to have too much else being said at the altar to drown that out. So we shortened a lot of the ceremony and kept it to a minimum, all while still maintaining a good level of joy, romance, and love in the moment! We didn't want to lose anyone's attention!
Our celebrant, Heather from the Bali Celebrant, helped us by providing a large number of example readings, vows, and poems. She did not ever pressure us in to having anything her way, and was always happy and willing to do as we wished. With us not wanting much in the ceremony at all, she was quite happy and welcoming with the idea as it put more spotlight on us, instead of other fluffy things being said.

I would loved to have entered the ceremony by helicopter! That was a dream of mine, but alas there was not enough space for one. We had the ceremony in the villa in which we were staying in. Conveniently the two main bedrooms were opposite facing each other across the main lawn! So I was able to move down to the main lawn without crossing her path. She walked the aisle by herself (she don't need no man!) while I stood by myself at the altar with Heather the celebrant.
Patricia entered to "I Will Spend My Whole Life Loving You" sung and played by a friend of ours and we excited to Toploader's –"Dancing In The Moonlight."
We feel that our most favourite moment of the day, be it as cliché as it may seem, was the ceremony and Patricia walking down the aisle.

For her it was the part that she was most worried about, especially entering and walking down by herself. But she says at the moment that she saw everybody there and me at the other end that all her concerns disappeared. She was brought right in to that moment, and that's a feeling she'll never forget.

For me, it was seeing her in the dress for the first time. I could not contain myself and my emotions got the better of me and I started crying. She radiated absolute perfection; everything about her was pure grace and beauty.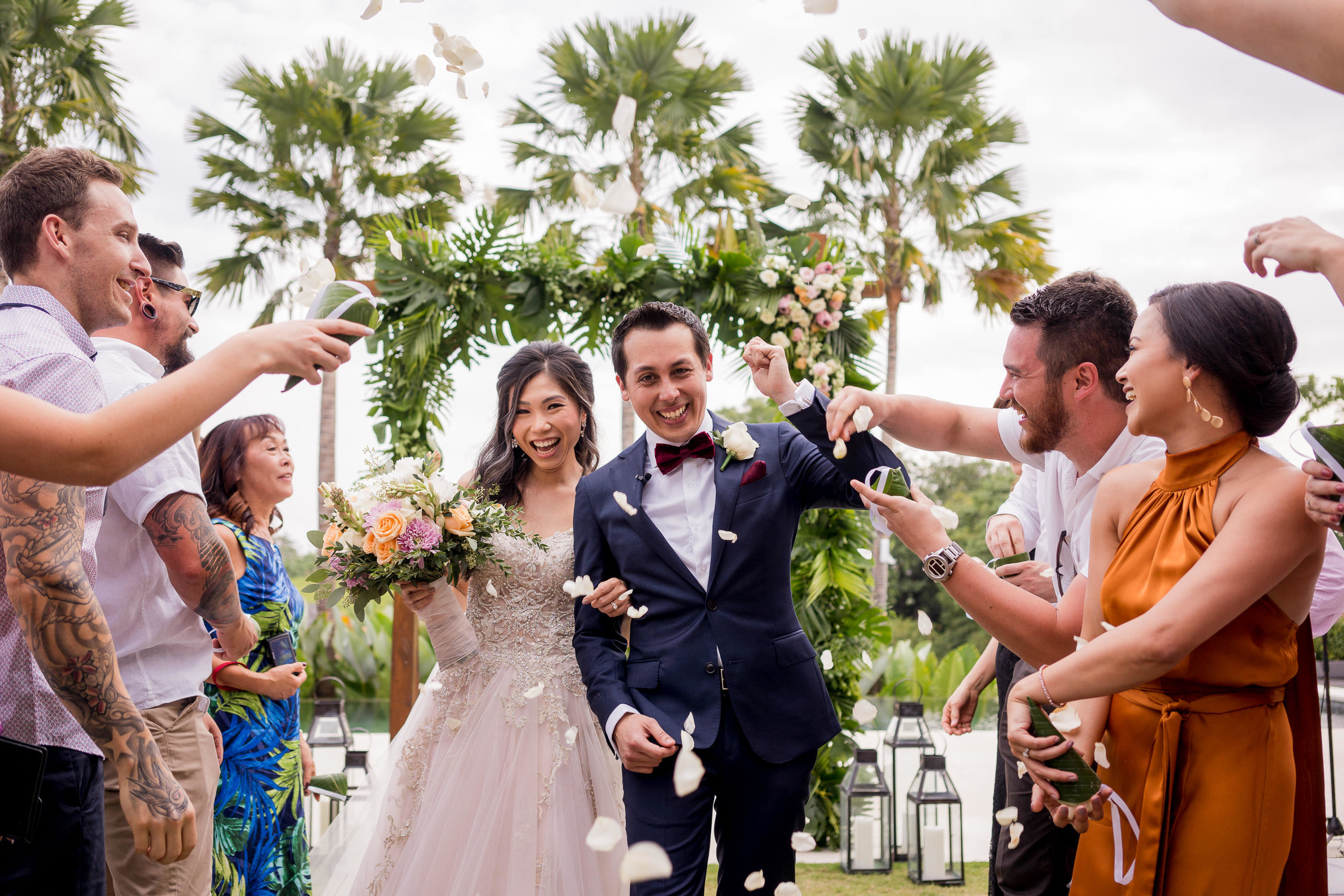 Final thoughts from Tommy and Patricia
"Our advice to couples is that they should always remember that the day is about them. That it should be as large or as small of an event as you, the couple, wish to have. Too often I hear and see other couples pressured by those around them to turn the event in to something they never wanted, or include things that are against their wishes.

We took control of the finances and the guest list, because we didn't want it to snowball in to something that we didn't intend it to be!

The day is about you two, and to be shared with those with whom you wish to share it with. Not the other way around! It's the beginning of your new life together, start it off right!"

Could not have said it better myself! So lovely to hear how Patricia and Tommy got married in their way, just as they wanted! Awesome!
The Wedding Crew
Wedding Celebrant: Heather from Bali Wedding Celebrant
Wedding Photographer: Gold Hat Photography https://goldhatphotography.com/tweed-coast-wedding-photographer/
Wedding feature: BWedding Invitations https://www.bweddinginvitations.com/
Wedding Invitations: Invitations were via email and designed/coded by Tommy. http://www.creativebytommy.com.au/
Wedding Venue: The Palm House Villa Canggu, Bali
Wedding day Co-ordinator – Bali Villa Lifestyle
Dress: Kenneth Winston (purchased from Perfect Day Bridal https://perfectdaybridal.com.au/)
Makeup:  Windy Mulia
Hair: Windy Mulia
Shoes: Marie Claire
Accessories: Etsy
Grooms Suit: MJ Bale https://www.mjbale.com
Food: The Palm House Villa, Canggu, Bali
Flowers: WiB Flowers
Photobooth – Bali Snapz Photobooth
Caricature – Bali Karikatur
Videographer – Bali Light Cinema
Wedding day Co-ordinator – Bali Villa Lifestyle