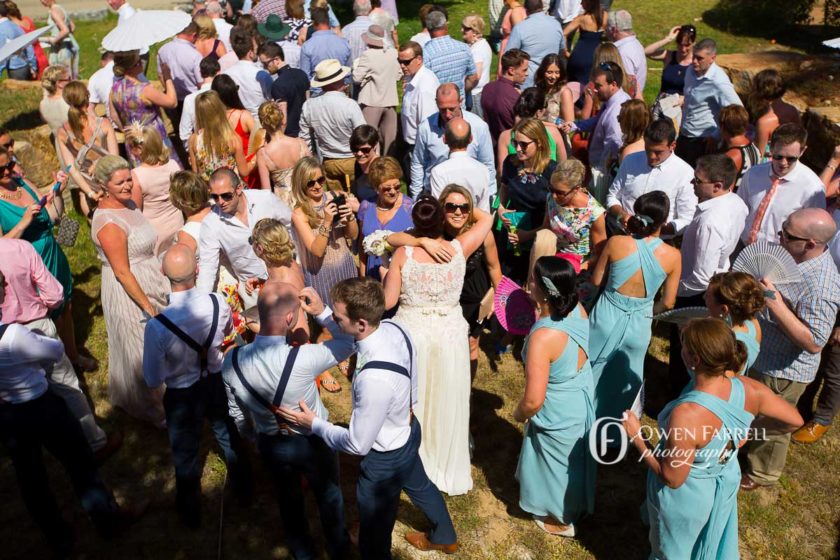 How to get married in exactly the way that you want without the restrictions of a legal ceremony
Hold on to your wedding hats folks, I'm going to get all controversial on you all! Today, I'm starting my new campaign to get couples thinking of their wedding ceremonies in a completely different way. To tear up all those myths and misconceptions about wedding ceremonies and to shed light on all the amazing possibilities out there for couples who want to be married in their own way. To make your ceremony dream become a practical reality and to not let the legalities of marriage scupper all your amazing ideas for your ceremony. Okay, now I've got your attention, I'll calm myself down (a little).
Dream a little dream
How many of you have a favourite spot, a place that melts your heart and gives you a sense of inner peace and tranquility like no other, a place where if you could, you would get married at tomorrow? Your grandfather's apple orchard? The beach where you first kissed each other? Your favourite pub? Your own back garden? By the river where you love to walk?
Now let me burst that lovely little wedding bubble of yours. The sad fact is that in many countries, particularly in the UK, you would not be able to be legally married in the place of your dreams. Currently, legal ceremonies can only take place in a registry office, a licenced venue ie some hotels and stately/manor homes and some religious institutions. The UK sadly, is not a place where licensed registrars can marry you wherever and however you wish and many licensed buildings come with their own restrictions. For example, in many registry offices you are not even allowed to throw confetti because of Health and Safety reasons. What the hell!
So this is where I get controversial, people. This is where if I wasn't married already I would stand up and say 'stuff you civil ceremony, I'm doing my own thing.'
Free yourself from the legalities
If I've been a bit waffly before, this is where I'm going to get real concise. If you've done your homework and it does seem to be the case that the legal ceremony cannot be done where, when and how you want it to be, then all you have to do is to free yourself of the legalities. It's as simple as that.

First of all, shed your mind of the misconception that the legalities of a marriage have to take place at the same time as your marriage ceremony. THEY DO NOT! (Yes, I am shouting!) The minute you can separate the two, this will be the very minute that you can see the wonderful possibilities for your ceremony. Here's what to do;

Book yourself into your nearest registry office to carry out the marriage contract. Go in your jeans, take two friends and a pen. Seriously, that is all you need. If you explain to your registry office that you are having what you consider to be you 'spiritual/symbolic' ceremony elsewhere, they will just let you take care of the paperwork in one of their offices and will not go through any pomp and circ. They will just keep it real, keep it simple and make it as no-frills as possible. Doing it like this, helps to make your real wedding ceremony even more special. This folks, is what then makes you legally married in the eyes of the law. Now let's look at making you married in eyes of your family and friends.

Ask a professional lay celebrant, someone like me!, a family member or best friend to conduct your ceremony for you. Many people love the idea of someone close to them conducting their ceremony, others prefer the idea of having a neutral person who can bring with them some formality and experience to the proceedings. Whatever your preference, go for it. There are plenty of resources, like the one you're looking at now, to get you started!!

Now, you can go about having the ceremony that you want, where you want, with no restrictions. Now you can be married on that beach where you first kissed, your favourite pub where you have lunch at every Sunday, alongside the river where you love to walk*. Now, you can say the vows you want to say, have your dogs as ring bearers, get your friends to sing a song and have your guests throw rice and confetti at you. So now you can climb back into your wonderful little ceremony bubble of yours and carry on your dream of getting married in exactly the way you want. Genius or genius?
The end! A happy end!
*Ps folks, for marriage ceremonies in public spaces, do please check that you are allowed to congregate en mass in such places. A public park may want you to pay a small fee, your local beach authorities may just want to know what you're up to! So do check out all the nitty gritty elements too.