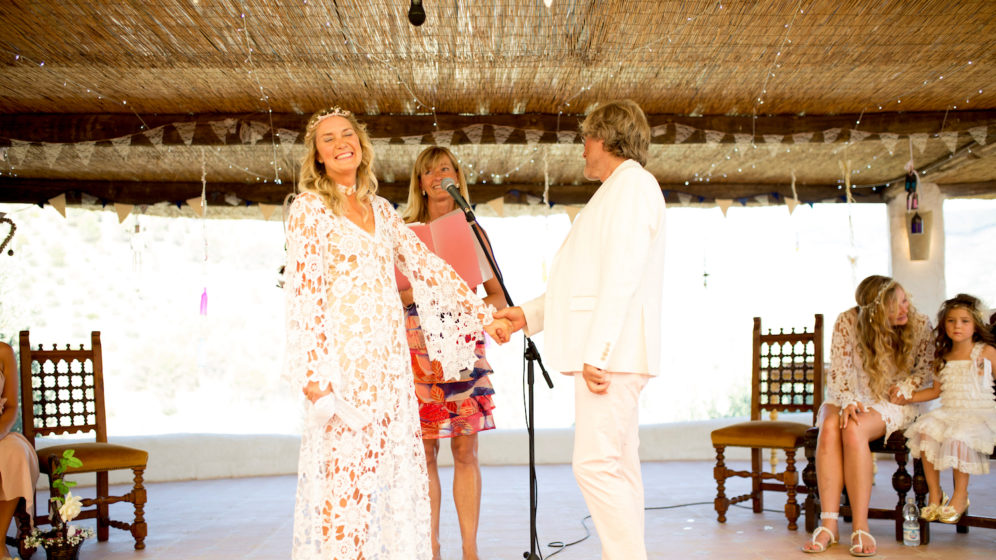 Spain is not just known for its sunshine, paella and sangria, amongst so much more, but it's also fast becoming known for being home to a fantastically talented bunch of wedding celebrants.
Wedding Celebrant Debbie Skyrme has made Spain her home for almost a decade. Her previous role as a wedding registrar in the UK, has led her now to use those experiences and continue her passion for championing love and helping couples to celebrate their marriage around southern Spain's Costa Tropical and Costa del Sol.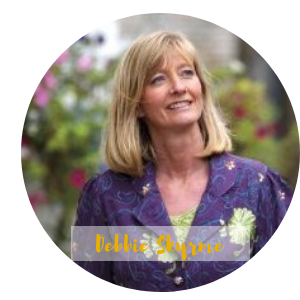 So let's hear from Debbie about her love for what she does and how she adds her magic to it.
What has been the highlight of your wedding career so far?
Without question the greatest honour was being wedding celebrant to two of my greatest friends, surrounded by their families at their incredible home in Jaen province. The day was filled with so much love, happiness and laughter I just wanted to go pop! However I jumped in the pool instead!
What advice would you give to couples getting married now? What mistakes could they do with avoiding?
The best advice is to listen, really listen to each other. And remember that you cannot change someone else, you can only change yourself.
What has being a wedding celebrant taught you about life and people?
Being a wedding celebrant has taught me that absolutely 100% without question that the cliche "there is someone for everyone" is TRUE! I am a big believer in modern day marriage in all its varying shapes and guises
What do you love about being a wedding celebrant?
Being a wedding celebrant is possibly the one job where it is almost obligatory to have a glass of champagne (or Cava here in Andalucia). What's not to love?!
What aspect of your job as a wedding celebrant gives you the most satisfaction?
Job satisfaction for me is listening to my couple, crafting their perfect ceremony, gently guiding them through their celebrations and seeing their utter joy and happiness as I declare them joined as one – I helped do that! Me! What an enormous honour and privilege.
What are your favourite types of wedding ceremonies?
Without question, my favourite types of wedding ceremonies are for older couples who may be marrying for a second time or have found love late in life. They bring such an intensity to their ceremony, yes the bridal party looks beautiful and the setting is breathtaking but it is the emotion and meaning that an older couple brings to saying their vows (or renewing them) …. everyone can feel it.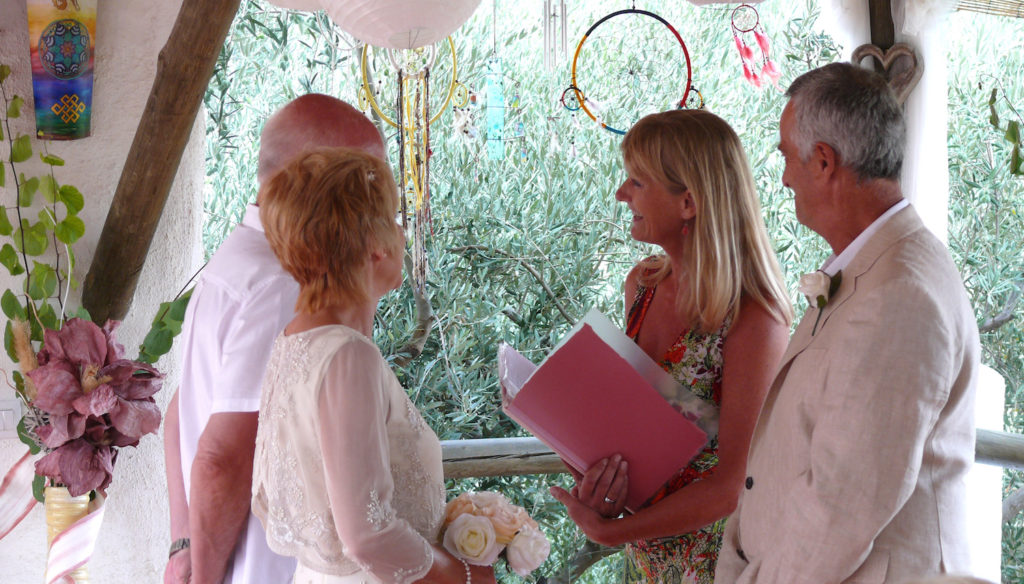 What's your favourite symbolic ritual, and why?
Simple answer to the question of my favourite symbolic ritual is the traditional giving and receiving of rings. Rings are worn as a constant reminder of the bond shared between the couple and to physically symbolize the marriage to the outside world, a connection between two people for all to see.
If you had to sum yourself up in three words, what would they be?
In three words, I am smiley, reliable and understanding
What would be a dream ceremony for you?
My dream ceremony is soon going to become a reality actually. A couple coming over from Belgium for their vow renewal after 30 years together will have a sunrise ceremony. She will wear her dream dress, the rings are made from the melted down rings of the couple's grandmothers and the ceremony will be at the most amazing abandoned Moorish watchtower, breathtakingly high above the Mediterranean. There have already been lots of happy tears in the writing of the script. The day itself will be super-charged with emotion.
How would you say the wedding industry has changed in the last fifteen years?
In my personal experience, the wedding industry has changed for the good in recent times. It is far more relaxed. It is inclusive of modern marriages in all of their different forms and far more open to alternative ways of celebrating the official union of two people.
What kind of couples do you enjoy working with?
I particularly like working with older couples as they show such an honest intensity of what is before them. But I embrace individuality of personality and thought of all my couples.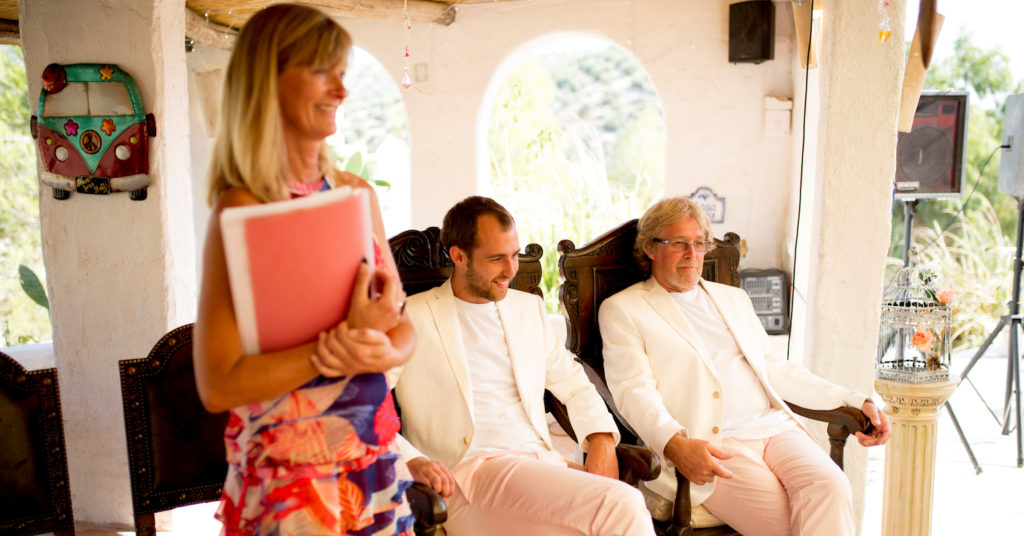 What are your favourite types of venues/spaces for weddings?
Well I admit to being a bit of a traditionalist when it comes to venues, simply because of the practicalities. A beautiful restaurant with a breathtaking view or setting is superb for photos…. there is electricity for my PA system… there is usually a wet-weather contingency… granny can have a chair to sit down…. food and drink appears like magic… and many of the guests will be staying locally so the party can continue long after the ceremony has finished to prolong the couple's day. Though I have got a wedding booked at the top of the sierra for two mountaineers soon, so I will let you know how it goes!
Tell us about a funny/hair-raising/near-miss wedding experience that you've had as a celebrant.
My trickiest moment as a celebrant was actually as a Deputy Superintendent Registrar when it became obvious that the two families did not think it a good idea for the couple to be getting married – and one guest pulled a knife on another! Luckily my colleague was an ex policeman and stepped in. I'm just glad it wasn't a shot-gun wedding!!!!
When you're not busy being a celebrant what do you love doing?
I do yoga every day and am super lucky to have a beach class in the sunshine most weeks, just breathing in that sea air calms me. I live right on the coast but also walk my dog daily in the avocado and mango orchards on the sierra behind our house. And I am a granny! I Skype my grandchildren every weekend which means I can help get them dressed, play jigsaws with them and read them stories almost as if I was there – they call me "Granny Spain" 🙂
Isn't wedding celebrant Debbie wonderful? Can you picture her leading your wedding ceremony in the sun? You can contact Debbie via her Engaged and Ready Celebrant profile here. Or visit her website.
Main image photo by Anif Larom https://anif-larom.artelista.com