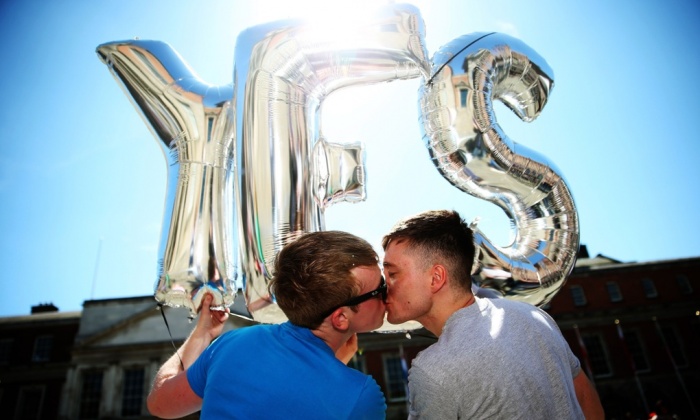 It seems crazy to think that we're still living in a time where in many countries and cities, couples of the same sex are still unable to enjoy the same marriage rights as heterosexual couples. It's ludicrous, in fact.
To think that depending on where you live, your beautiful, committed relationship cannot be legally validated, because you happen to be the same sex as your life partner, is so wrong and as much a form of discrimination as racism or sexism is.
So it warms the heart and brings tears to my eyes when a country like Ireland can start to break down those barriers and allow couples to celebrate their love legally, if they choose to do so.
LOVE is such a powerful thing. It is so special and such a wonderful thing to be in possession of. Being loved and loving someone in return is a fortunate position to be in.
So to deny people who are in this position, the opportunity to seal that love with a legal bind, is _________________ (fill in the blank with any negative word of your choosing).
As over the moon as I am with Ireland's fab result and momentous changes, I am not so naive to think that this is going to change the plight of ALL gay couples around the world.
I mean can you believe that there are still countries where being gay is a criminal offence? In fact, Ireland may now be a game-changer but it was only in 1993 that homosexuality was decriminalised there. In countries where gay people live in fear of their sexuality being discovered, the thought of being in an openly gay relationship AND even being able to get married to a same-sex partner, must only exist in a dream for them, if at all.
Every year, I conduct lots of same sex weddings, I can honestly say that some of the vows I am privileged to hear are some of the deepest, most profound sentiments, I've ever heard. I think this is down to the fact that when your relationship challenges what is seen as the norm, has had obstacles to get over or has been on the receiving end of the worst kind of prejudice and discrimination, when you get past all of this and are freely able to vocalise and celebrate your love for someone else, this inspires the strongest of feelings and emotions.
One of my ceremonies last year, was an absolute shining example of that. The couple, not only said vows which touched everyone's hearts in the most beautiful of ways, but they were selfless enough to take a moment during their ceremony to remember and show support for other gay couples around the world who were not fortunate to enjoy marriage equality or sadly, to even live their lives as they people they are. They wrote a speech highlighting these issues, which their friend read on their behalf. Check it out below.
We are all happy and excited to be here to celebrate this marriage of two people that are special and important to us all. It's such a gay affair!
I know both Becci and Melanie feel it is important for us to take a few minutes to recognise that this celebration that many take for granted would not be possible if we were living in another time or place.

Prior to 1967, and thanks to our old Queen (Victoria), it was not recognised or considered possible that two women could have a romantic relationship. However, it was against the law in England for two men to be romantically involved. Since de-criminalisation in the late 60s the battle has been ongoing with regards to equal rights both in the UK and around the world. It may seem impossible to believe that in over 80 countries around the world, falling in love with someone of the same sex is still against the law. In some countries, people are punished with isolation, ridicule, a life of hard labour, or even death.

Coming back to our home country, the United Kingdom, prior to 2005 Melanie and Becci would not have been able to have their love legally recognised. When this recognition did come into effect in 2005 it was with Civil Partnerships rather than Marriage. So although they may have been afforded the same legal rights as their heterosexual counterparts, they still wouldn't have been treated equally, because their union was given a different name, further singling them out as 'different'.

It's worth noting that this beautiful country we celebrate in today (Spain) led the way in Europe by becoming one of the first countries to allow equal marriage. We're PROUD (ha!) of how far we've come. We're grateful to society for allowing its own shift in view. By allowing us equality, the world has witnessed that the sun still rises everyday, and no-one has broken out in unsightly skin diseases. You don't wake up with frogs in your bed because two women got married. The world and life just goes on. Though we won't mention the floods which spread across the south of England that were of course (according to a clever UKIP counsellor) the result of equal marriage.

So although this is truly a celebration, not just of love but of a step towards equal rights, let us not forget the difficult journey it has taken to get here and let us not forget those who still live with fear of violence or criminalisation. Let us remember the individuals who are not so lucky to be able to share and celebrate their love safely and equally, supported by their friends and families, as Becci and Melanie are here today.
WOW! Inspiring or inspiring?
Please do read Rebecca and Melanie's gorgeous love story here for more details of what they did for their ceremony.
So, well done Ireland for showing your courage, your convictions and your determination to provide equality to ALL people, regardless of their sexuality and I really, really, really hope that one day everyone in the world can be legally married, whether they are in a same sex relationship or not.
The end.