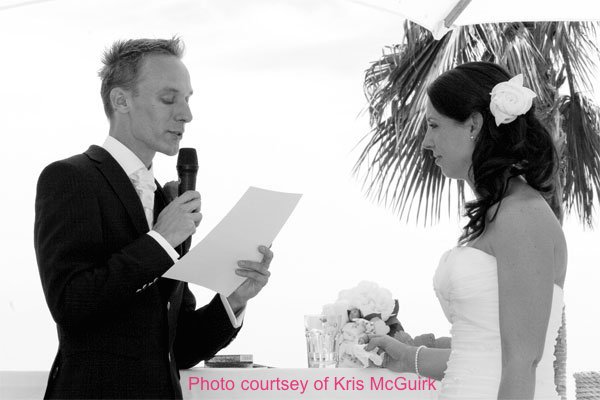 Your date is set. You've booked a venue that will take your guests' breath away, a photographer who'll capture your dreams and you've planned a day that no-one will forget. The invitations have been sent and your dress is locked away in your wardrobe. So it's safe to say that you've taken full ownership of your wedding day.
But what about your ceremony and the exchange of your vows – the actual reason for your celebrations? Hands up those of you who have given it as much thought and attention, as the rest of your day? Don't worry if you didn't raise your hand, you're probably not alone. The good news is, there is still time, whether your wedding is a month or a year away.
Your day, your way
More and more couples are realising they can have just as much control over their ceremony, as with the rest of their wedding. Your ceremony is your declaration of your love and commitment to your partner, so why not take the opportunity to say the vows you want to say and to celebrate your union in the way that you want? – Whatever type of ceremony you have.
I married Pauline and Sean in Nerja in the summer of 2009. They knew instantly what type of venue and reception they wanted, but they had no idea they could make important decisions about their ceremony, too. After some research they decided on a Humanist ceremony because they believed it best fit their idea of marriage. They were surprised by how much of a say they could have and were especially pleased they could choose their own vows.
'We're weren't confident enough to write our own vows but we didn't want any old vow being said to us, so we were happy that Natasha gave us some suggestions and let us know that we didn't just have to stick to the norm,' Pauline said.
Putting the wow into your vow
Some people still like the idea of saying 'I do' in response to a vow read by a celebrant or minister. This doesn't mean however, that you can't choose the vow you're being asked or at the very least know what it is you'll be promising to beforehand!
For couples who want to break away from tradition, the next and possibly the most romantic way to personalise your ceremony is to write your own vows, and you really don't have to have Shakespeare's skills to do it, either. There is nothing more special than knowing your vows will never be said to, or by, another person ever again – they are truly unique.
There is also now a growing trend for couples to say 'I do' to a question vow and then pledge their personal vows to each other – a mix of the old and the new.
'Christine and Andrew married in Antequera in September 2012. They wanted a very personal ceremony and after some encouragement from me they decided to write their own vows.
'I will never forget that feeling of saying my vows to Andrew and him saying his to me. I can't imagine what our ceremony would have been like if we didn't write our vows. It made it even more special to know that we were saying things straight from the heart,' Christine said.
I do, I do, I do
So you've now got your pen at the ready and are raring to go. What's your next step? Any good celebrant or minister should not only accommodate your wishes but help you to produce intimate and meaningful vows– just ask! And don't forget your good old friend the internet is also a fantastic resource, not just for vows but ideas for music and readings that you may want to use in your ceremony. Check out this post on how to write your wedding vows.
There is just one more piece of advice; remind your guests to bring some tissues, as there won't be a dry eye in the house. Yours included.
P.S To the couples I am marrying, don't forget to have a good look at the vow guide and samples that I have sent you and do get in touch with any questions!