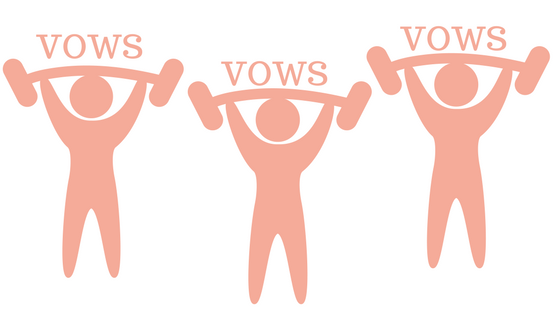 How is it Thursday already. Where did this week go!? So not only have you got the weekend to look forward to but also the third and final day of the boot camp challenge. If you've not read day one and day two of the challenge, then make sure that you catch up with them first, so that this last post make sense to you.
So over the course of the week, I've given you a major crash course in laying the preparations for your wedding vows. We've looked at all the things that you need to think about and take into account when writing or choosing your vows.  We've looked at the need for both of you to be onboard with it, right through to how to actually deliver your vows and how your vows should be presented i.e. Not on your mobile phone. Nope.
We also went on a mammoth myth-busting session too, to eliminate all of those harmful ideas that people assume are what you should and shouldn't do regarding your wedding vows. And the general conclusion is, you do what the hell you like.
So now that we've covered those bases, the time has come to take the next step and to decide on what you are going to do for your vows. And what I mean is, are you going to write them from scratch, write them from an already existing template or choose a pre-existing vow.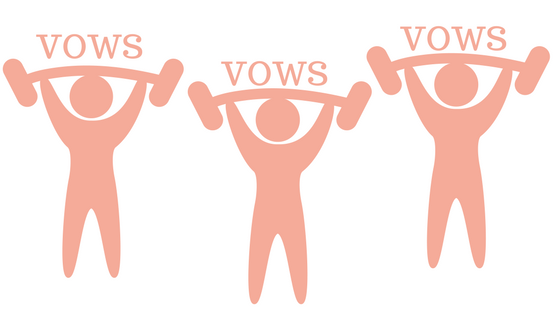 So let me start by saying, of all of those three examples that I mentioned above, none is more special or more important than the other. Whether you write your vows from scratch, use a template or pick a pre-written vow, you are marking your personality, your style, and your feelings and emotions on to those vows. This is what is most important.
It has become a bit of a 'thing,' that personal vows written from scratch are the be all and end all of vows. Some think that if you're going to include personal vows in your ceremony, then this is the only worthwhile way of doing it, and this simply is not true. A pre-written vow that resonates with you and says every single word that you would say yourself, is just as powerful and valid as a vow that has been written by you from scratch. It's important to remember this. There are no second and third options, all options are winning ones.
How do you decide?
As with most things in life, I always advise that you go with your gut. Be realistic and think about what type of vow will work for you. Some people have a strong 100% gut feeling that they will write their own vows. They can't think of using any other words, but their own words to use to express themselves. And that's great if you have this confidence, passion and determination.
If you don't, you don't need to be disheartened, you simply just need to look at the other options.
Writing from a template
I've been in this business for ten whole years. I have heard so many wonderful vows of all shapes and sizes, styles, formats and lengths, all now firmly stored in my head. My party trick is to create vows off the top of my head for my friends, because I can! I love it and the technique comes easily to me because I've been around love for a long time! So with all of this in mind, I've created an absolute foolproof vow template technique which will give you the most awesome set of funny/romantic personal vows.
The great thing about the template is that you complete it with your own sentences and phrases, which apply to you, which will guaranteed give you the perfect set of personalised vows. If ten people were to complete the same template, you would have ten completely different vows, but which all share the same format. Honestly, it's genius, even if I say so myself.
And don't take my word for it, here's some reviews from couples who have used my awesome vow template.
I am in complete amazement! Before reading the 15 Minute vow guide, I sat down and attempted to come up with a couple of lines which might resemble a loving and heartfelt vow. As I'm not really one for words, that piece of paper remains empty, oops. After reading the 15MVG, wow just wow, I cannot believe how simple and easy it is to do! I can't wait to get my pen to paper now 🙂 A very well written and structured guide, that I would recommend to anyone and everyone wanting to write the perfect vows. – Poppy L
Wow! I've been putting off starting to write my vows for quite a while now; every time I went to start them it just felt like it was going to be way too difficult! Natasha's got it spot on with this; simple but so effective. My vows are now complete and I can't wait to share them on our wedding day!  – Sophie B
If you feel like this is the route for you, do please check out my awesome e-book –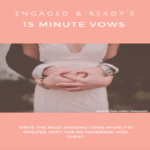 15 minute vows. I called it this, because the template makes it so easy that you could literally write your vows in fifteen minutes. (NB: If you are a wedding client of mine, you already have access to this e-book in the Malaga Minister couple zone.)
This book will be your best friend in the upcoming months if you know that personal vows are what you want, but you really want a guideline and template to help you write the perfect vows for you. The usual price is 20 Euros, I know! 20 Euros for the most awesome wedding vows ever! And because I'm super nice and you've stuck with the vow boot camp for the whole week, you can get a 10% discount off of the original price. So what are you waiting for? And I promise you, if you cannot write your own perfect vows from this template, I will give you your money back! Yes, you read that correctly. Just add this code er15vows to the basket, for your well deserved discount.
Choosing your perfect set of vows
Sometimes someone says or writes something which you nod in agreement to, for every single word and this often is the case with wedding vows. At the end of the day, love is a universal thing, so it is not uncommon that someone can express the same or similar thoughts that you have about love.
I had the time of my life writing and designing these 30 Awesome Wedding Vows and actually I'm a little bit worried that they are all so good, you won't know which one to choose. But hey, they can't be a bad thing can it? From traditional, to modern, to funny and romantic, there is a vow in here for everyone, no matter your style, humour or personality.
Here's what some other happy clients said;
What a brilliant idea!! My partner and I have been discussing what vows to have for our wedding but we simply didn't know where to start. 30 Awesome Vows has finally given us a starting point. There really are vows in here for everyone and if you are thinking of writing your own vows, this gives you the base with where to start. A great selection of vows and well worth the money!  – Lindsey
Writing our vows for our wedding in June has been something we have probably been putting off for a while now. 30 Awesome Vows was a huge help to us and actually made the process extremely enjoyable. We followed the instructions in the book which helped break it down into manageable chunks. We both really enjoyed going through the vows and finding out what we did and didn't want for our own but most of all we had fun while writing them! There are vows to suit everyone and in the end we decided on 14 and 20 for our own. Thank you Natasha for taking the stress out of the this task! – Gemma H
(NB: If you are a wedding client of mine, you already have access to this e-book in the Malaga Minister couple zone.)
As with the 15 Minute vow book, 30 Awesome Wedding Vows is priced ay 20 Euros, but if you purchase it between now and May 5th, you will get a 10% discount.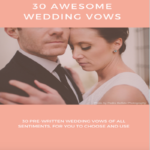 Just add er30vows to your basket. And I stand by my word, if you cannot find a perfect vow in here to use on your wedding day or a vow which with a couple of tweaks could be your perfect vow, I will give you your money back!
So the choice is now yours; an awesome template to help you get the best of you into your vows, or take your pick of 30 incredible wedding vows?
I feel for you, it's not an easy decision but I'm sure whatever you decide will be the right choice. And don't forget there's also loads more on the blog to help you with your vows too.
Have a fabulous weekend and I hope that some of it involves pouring through one of these e-books and getting your perfect vows in order!
Have a good one.