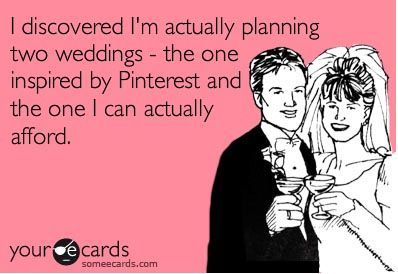 The other day when I was pinning the hell out of my boards on my Pinterest, I came across this wedding e-card, which had me in hysterics. Actually, they all do, but this one in particular really had me in fits of laughter. Who makes these things up? They're bloody genius.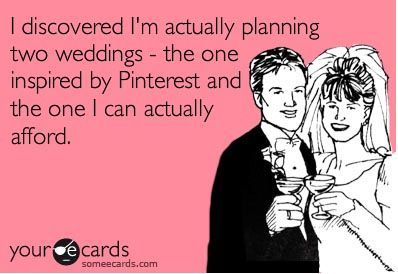 So, after I stopped laughing my head off, I did actually come to realise that behind this funny as hell message, there is actually a lot of truth.
No matter what kind of person you are, whether you're a laid back wedding type person, or the kind who has been dreaming about your wedding day since in the womb, from the minute you get engaged your mind starts to take you to a wedding paradise. Some may arrive there faster than others, but trust me, we all get there! And now thanks to Pinterest that paradise gets to be as real and as immediate, as ever.
There is nothing wrong with overindulging in the fantasy side to wedding planning. From fantasies come inspiration and from inspiration comes the ideas that will eventually help to shape your wedding day. The problem is when the dreaming is so far into fantasy mode that you have trouble keeping it real.
Don't forget what is important
Now before I start being a party pooper, let me just state for the record that I for one love a bit of planning and daydreaming. Pinterest allows me to fantasise about all the amazing home projects we're going to do, the amazing food I'm going to cook and the jaw-dropping craft projects I'm going to make. Those things that exist on a virtual board but not yet in reality (probably never!).
For our vow renewal, which also still only currently exists in Pinterest form, I have spent a lot of time dreaming of ideas for our big day and pinning lovely looking pins, when really I should have been doing many other ACTUAL important things, like feeding my son! I would even go so far as saying that I've probably spent too much, more-than-is-healthy time on Pinterest! And I know I'm not alone.
Maybe, when it comes to weddings, there are too many of you, spending time getting lost in the minute details, when the one thing that is really the most important thing, your commitment to one another, is the thing that needs all of your thoughts, effort, energy and consideration.
One of my good friends, used to be a wedding planner. Yes, that is right. She used to be a wedding planner. An hour long conversation with a bride about the depth of sand required to fill the glass centre pieces for the reception tables, dashed any notions she had about staying in this industry! It sounds funny, but it actually makes me feel a tiny bit sad.
So does it when I hear about people maxing out their credit cards, remortgaging houses or taking out loans to pay for their weddings.
So does it when I hear about brides having panic attacks or being on the verge of breakdowns because all the minute plans for their big day are just getting to be too much.
Or when couples are so lost in what they think they ought to do for their wedding day, that they end up not doing what they want to do – the stuff that really matters.
It's not just about having a wedding that you can't financially afford, it's also about having a wedding that your mind can't afford. If any aspect of your wedding planning is making you lose your mind, you need to cut that crap out immediately, think of the bigger picture and get back to reality.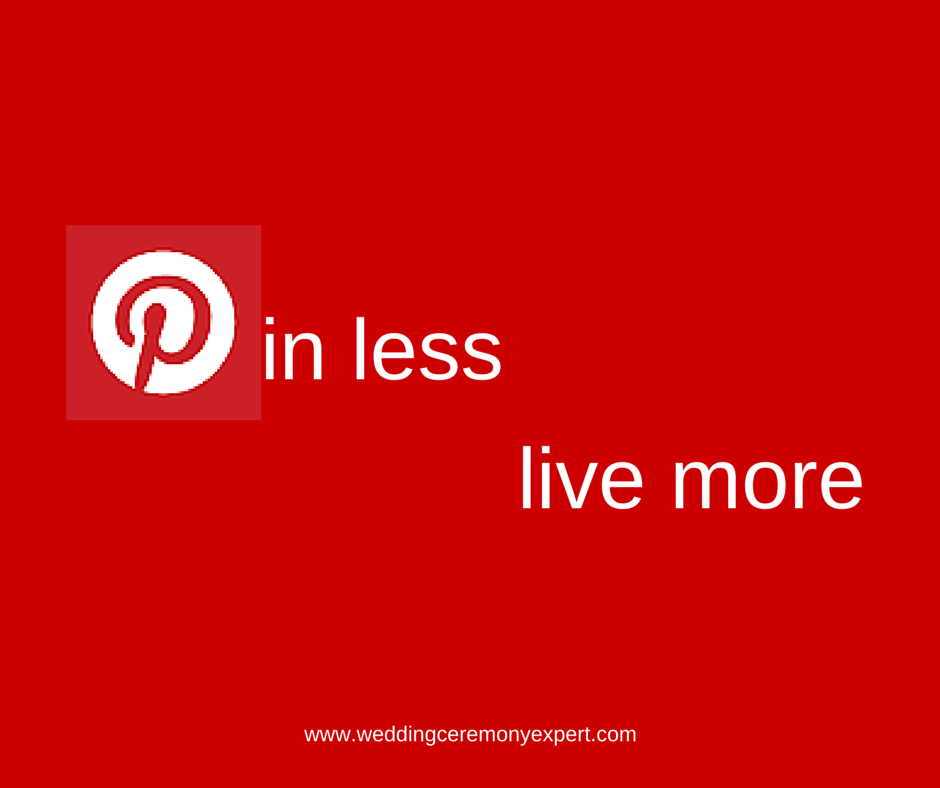 Your big day boils down to one thing and one thing only; you are marrying the love of your life.
Yes, of course, it is wonderful to have a wedding day is in an amazing place, with stunning decoration and wonderful personal touches but at the end of the day, no one is going to remember or care that you served them champagne in a vintage tea cup or that the handmade lace that you had made especially for your dress took one woman two months to sew. Nor will anyone care if your wedding doesn't have a theme or what depth the sand was in your table centre piece.
Let me just be clear, about a few things here.
I love Pinterest.
I love beautifully styled weddings
I love vintage tea cups.
I love bow ties and braces.
And I do not think it wrong to have ALL of this and more on your wedding day. But I do think something is grossly wrong when all of your efforts and energy go into making this part of your wedding the great show that you want it to be, at the expense of the real reason that the show is even taking place.
Do you love Sex and the City as much as I do? Right, so take a leaf out of Carrie Bradshaw's book, if not mine. Remember when her first wedding to Mr Big got ridiculously out of hand? Where the two piece simple wedding suit upgraded to a Vera Wang? (Okay, there is nothing wrong there!!) But when everything that started off being just about the two of them, suddenly became about everything but them and catapulted out of control, leaving them both (well, Big) knocked off his feet by a wedding avalanche.
This, people, is my point. Pin your life away on Pinterest. Read wedding blogs and magazines until your eyes want to implode. Plan and fantasise as much as your heart is content. And order those vintage cups to match your wedding theme.
But never let these things diminish what the two of you set about to achieve in the first place and that is the beautiful act of 'getting married.'
Keep it real, people. Keep it real.