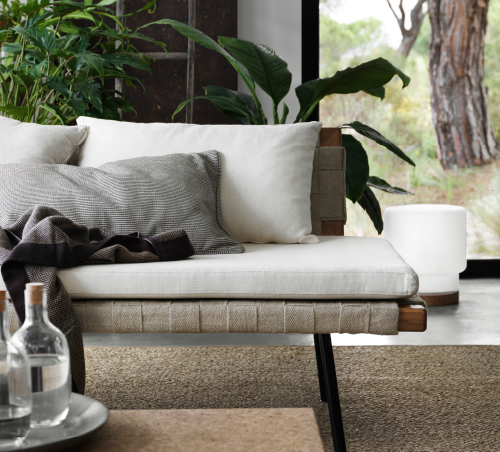 I'm going to let you into a little secret. If you've ever received an email from me, where I describe being 'out of the office', what I really mean is that I am not at home, and not working from around the dining room table where quite possibly I would be in my pyjamas. Because as truthful as it is, that doesn't sound as professional as 'out of the office,' does it?
When we moved to our house it was always our plan to make an office area in our den area, but it never ever happened and I think the reason for it is because we really like having a den area. It's a really tough call to turn a chill out room into a room of work, routine and sometimes stress, so you can see why it never really happened. However, now more than ever we have realised that I (we) need an office. A whole entire room dedicated to the pursuit of weddings, blogging and other business shenanigans.
The deal breaker came this Christmas gone, when I spent almost four hours (I kid you not) returning our dining room into an actual dining room in order to have Christmas dinner with all the family. It was not fun removing piles of lever arch folders, putting stuff away in cupboards, finding a new temporary home for the printer and making the dining room table not only visible but giving it back its original purpose of being a place to eat. Luckily, we have got another dining table in our living room that we use to eat on and thankfully for that table it's too small to use as my office space!
Nor after Christmas was it fun getting those lever arch files back out from cupboards, and setting the dining room table back up with all of my crap necessary office materials. To this day, I am still missing some post-it notes with important messages on and my favourite black Parker pen is nowhere to be seen. Ridiculous.
I need an office. I need space. I need my stuff to be accessible all the time! I am very old school. I like technology software and digital gadgets but I like moleskin journals and Cross fountain pens more. I like Filofaxes (thanks mother in law for my new leather bound Filofax this christmas!), hard copy diaries and scraps of paper with scribbles on them. I like real calculators with buttons that beep when I press them and colourful staplers and paperclips and multicoloured post-it notes. I love cork boards and glass pins and whiteboards and the smell of whiteboard pens.
And for all of this, you need space.
Ta-dah. So we are now making ourselves the space that we need. Let me introduce to you, my Pinterest board for our shipping container office space, which is coming to our garden very very soon!

Things I'm excited about in getting a new office
I am going to look really forward to leaving the house. Okay, I know I'm just going to be walking across the garden but it still is a nice feeling.
Having a separate office space will put me in the 'right' frame of mind for work. Some days I am very disciplined but other days I am not. Those are the days (usually in the winter) when I watch re-runs of Scandal back to back and stay in my pyjamas for far too long. Going into an office space, will hopefully still feel like I am working from home but not physically working in the house with its many distractions.
I cannot wait for my stuff to have a proper permanent home.  A home for my files, for my things for my stationery. And space!
I am looking forward to having a space where my wedding couples can come to and we can drink tea and talk wedding things in a nice, cosy professional environment. Or for Skype chats and video calls, I will have a really nice background for couples to look at rather than the plain white drab walls of my dining room.
I like the idea that I will have to leave the office space to go and make lunch. So this will make me take breaks and enjoy some garden space and fresh air before locking myself away again. Something I do not do enough.
The plan
So the idea is that I will have one rectangular shipping unit, not sure of the size yet. I like the idea of having one wall completely glass-fronted to take in all of the views and for maximum sunlight and heat! At end of the container will be my office area, with desk/tables, shelving units etc and the other end will be a seating area with armchair /sofa and a coffee table to create a chillout/inspiration/meeting area.
Very exciting.
I'm thinking greys. I'm thinking industrial, rustic. Reclaimed woods, cork boards, natural fibres and lovely green plants. I'm probably getting a little bit carried away. Here's a little mood board, I put together. Coming to think of it, if I've got a mood board, I've definitely got more than carried away!
Some of my favourite looks from Pinterest
I can see how as a bride you can get obsessed a little carried away with Pinterest! I have spent hours on there already, pinning away looks and themes for my new office. If my new office does not turn out to look like my Pinterest board I will not be impressed. At all.
I have learnt that it doesn't matter how passionate you are about what you do, if your work space does not let you get productive with your passions, then your passions are not going to get you anywhere!
So watch this space, as I keep you updated with my office plans. I'll be spending another month or so doing some research (pinning stuff on Pinterest) and then the next step will be to visit the handy boating yard, ten minutes from our house which is full to the rafter with ex shipping containers.
Very exciting.
Until then, my lovely dining room will have to wait just a little bit longer to become a full-time dining room again.