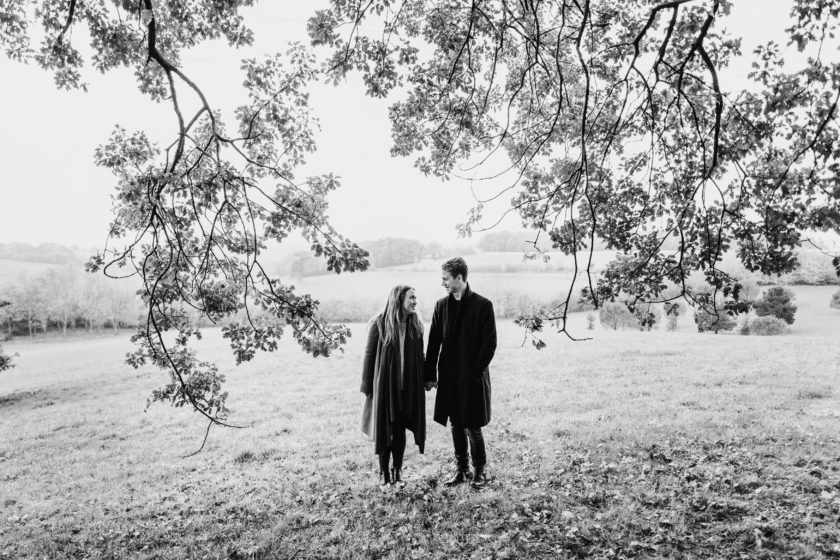 It is no secret between my regular readers among you that Harry and Meghan are fast becoming my favourite Royal couple ever. And for those of you joining me in this merry obsession, those of you doing a last minute shop for your Royal wedding party or even possibly, those of you who are setting up camp outside Windsor Castle as I type, we are sure ready for their big day TOMORROW, aren't we? That's me screaming. Yes, it is that exciting!
However, as excited as I am by their love affair, the way that the world's media have been carrying on since they announced their engagement, you'd think they were the ONLY lovebirds tying the knot tomorrow.
They most certainly are not.
And so this is why, I've been on a global hunt for other awesome couples who will also be getting married on the same day as Harry and Meghan, this Saturday 19th May, those who also deserve to have their big day bigged up and cheered on! And just because one couple are truly Royal, it doesn't mean that there aren't other couples out there who are royal in their own lovely, special way.
So do join me in celebrating all the royal couples out there, who'll be getting hitched on this special, historic day, including this glorious bunch below who have kindly shared their wedding stories.
Ruth and Simon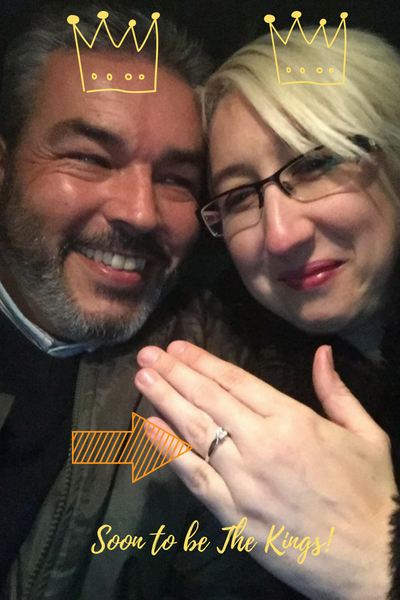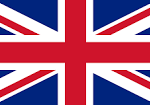 Ruth and Simon have been together for four years and met via a mutual friend in a pub. Their wedding is taken place in a village hall near Hastings, and to really get into the swing of it, they're having a royal theme. Awesome, right?
"We decided to embrace the royal theme and are having a red, white and blue theme as we feel we are our own royal couple. We are having traditional fish and chips and ice cream for our wedding breakfast and we have a traditional post box for cards and gifts and lots of Union Jack bunting!"
Along with the wedding Celebrant, Kate Dyer from Kate and Kate Celebrants, they have created a special bespoke wedding ceremony. They said, "we have personalised our vows along with Kate's help. We are including our children within the ceremony, we have chosen special music for us and are having a poem by Bob Marley."
And if they couldn't get any more royal, their names after their wedding will be Mr and Mrs King. Isn't that superb!
All rise for the Kings.
---
Jenna and Garrett
Jenna and Garrett's love story just cannot get any cuter. They met at a college bus stop, when Jenna's umbrella caused rain to drip all over Garrett. Isn't that the cutest? Like a love scene straight out of a film. And now four years later, they get to celebrate their love with a beautiful ceremony and wedding in Forsyth Park, Savannah, Georgia.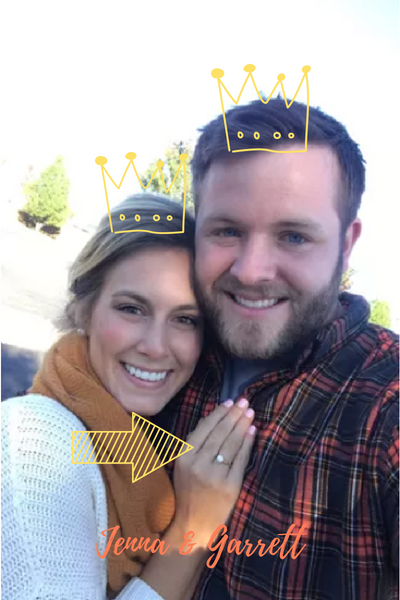 With their Officiant Tracy Brisson of Savannah Custom Weddings, they have planned a stunning and intimate ceremony. They've written their own personal vows, and will have a violinist play music throughout their ceremony and they'll be carrying out a tree-planting ceremony too. How wonderful! And these guys are super excited too, as their wedding is a destination wedding for them, as they're travelling from West Virginia for their big day in Savannah.
Jenna and Garrett were also keen to point out that they choose May 19th before Harry and Meghan, so it is in fact Harry and Meghan who is marrying on Jenna and Garrett's wedding day and not the other way around!
They said, 'It's an exciting feeling! As much as the glitz and glamour of a Royal family is captivating, we couldn't be more thrilled, or feel more royal ourselves, to be celebrating our own wedding!"
Here, here!
---
Stuart and Derek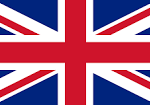 This music-loving pair met at a music gig two and a half years ago. For their wedding, which they always wanted to be held in Spring, they're holding it in a village hall in rural Leicestershire. They're having a 1940s theme with a Goth twist and Stuart's band – FIRST WAVE – will be playing, too!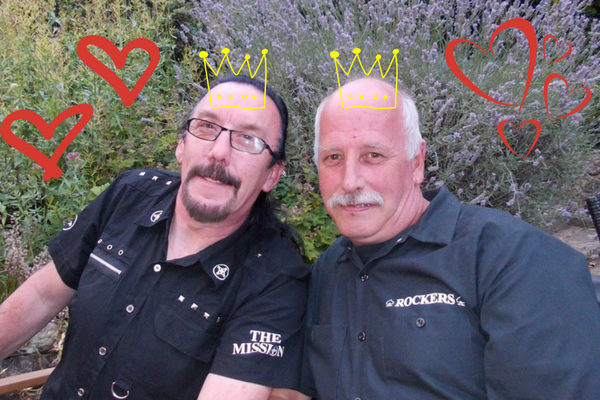 For their ceremony, which will be led by Celebrant Helen Walter from Shires Ceremonies, they'll be saying their own personal vows and lighting a unity candle.
When asked about sharing their big day with Harry and Meghan, they said, 'We're not bothered about it as it is OUR special day too!"
And quite right!
---
Kathryn and Jamie
Kathryn and Jamie first met at school aged seven, and became an item aged 12. They've been together for 15 whole years already and they're not even in their thirties yet. How awesome is that? They most certainly are the definition of childhood
sweethearts. For their big day and celebration of love, they'll be celebrating their marriage at the stunning Chateau de Lartigolle in Pessan, France – a venue they fell in love with at first site. Their intimate and bespoke ceremony will be led by Celebrant Diane Smith, from SW France Celebrant.
"We have special music for our entrance and exit as well as our own personal vows. We're also having a Wine Ceremony, too. As well as, of course it's spiritual meaning, we're both very partial to a drink and what better place for wine than the South of France!"
And this lovely pair are pretty excited to be sharing their wedding date with the Royals, as our their friends and family.
"We've had all the jokes that people "had to turn them down" in order to attend our wedding. We've decided to use #TheRealRoyalWedding as a hashtag for the day. It also helps that we won't ever forget our anniversary!"
Photo by Darek Smietana
---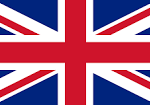 Emily and Sean
Emily and Sean met back in 2012 through friends at The Great British Beer Festival in London and they're having their wedding in stunning Polzeath, Cornwall. Their fabulous ceremony led by Denise Whitehair of Cornish Celebrants, will be on the beach. They're writing their own vows, having friends and family do two readings (one from Bob Marley, one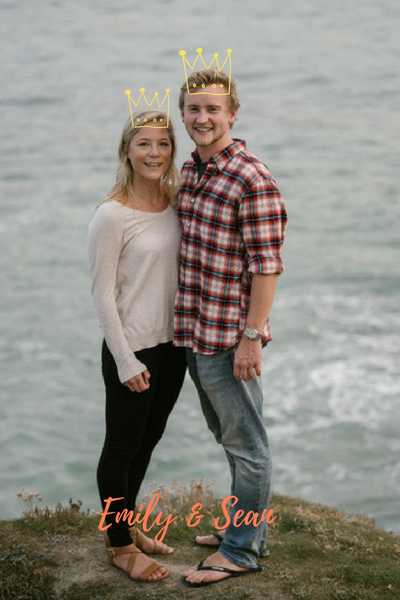 from The Hobbit), and finishing with a Cornish well wishing. Sounds amazing, right?
And although Emily and Sean are excited about sharing their wedding date with Harry and Meghan, they do think something fishy is going on with those Royals.
'We found out the Royal Family kept stealing our ideas. They're having Cornish Camel Valley Champagne, they're asking for charity donations instead of a gift list, not to mention the same date!'
Yes, that does sound very fishy, indeed!
Photo by Nick Walker Photography
---
Nicola and Martin
Irish couple, Nicola and Martin have been together for ten years and were only engaged for a short time before setting their May date.
"We just got engaged a few months ago and hoped to have a short engagement before we tied the knot. We fell in love with the venue and when they had a Saturday in May free, we jumped at the chance. We didn't even realise it was the same date as Harry and Meghan!"
Nicola and Martin have a fab ceremony in store at Clonabreany House in Kells, Co. Meath, which will be led by their wedding Celebrant Yvonne Cassidy. They'll be choosing their own vows and Yvonne will perform a blessing of the hands, and their bridesmaid, Amy, will be singing a song for them during the ceremony. How lovely is that? And Nicola and Martin are also thrilled that their children, Lily and Harry, will also get to be a big part of their special day, too and they can't wait for them to be involved.
Someone get me some tissues, please.
---
Jo and Will
Jo and Will are our second couple to have met at a beer festival! They met in October 2011 through mutual friends at the Robin Hood beer festival! They're tying the knot in Cambridge and have got what sounds like an awesome ceremony awaiting them. Led by Celebrant Michelle Taylor, Jo's Mum and Grandma will be walking in first, followed by bridesmaids, then Jo and her Dad will walk in to 'You Are My Sunshine,' which is a very special song to Jo and her family. They'll also be having personal vows, some readings from friends and lighting candles.
When asked about sharing their wedding with Megs and Haz, this couple weren't too fussed.
"It really doesn't matter to us – we chose the date in January last year, as it was the last date in May that the venue had left, so it's just funny how it's all come about really!"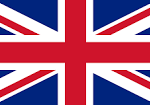 ---
Gail and Theodore
Now if there was an award for originality of a wedding venue then it would most certainly have to go to Gail and Theodore who, wait for it – are getting married in a football stadium. Yup, you read that right. Their ceremony is being held on top of the Florida State University football stadium overlooking the field because Gail and Theodore are lifelong FSU football fans!
For their ceremony which is being led by Officiant Amanda Reeves from A Beautiful Wedding in Florida, they are doing a unity sand ceremony with the sands coloured in the FSU garnet and gold. The "sand" is actually special glass that after the ceremony they will ship to an artist who will be blowing it into an art piece for them to keep displayed in their home. Wow, oh wow!
And like many other couples who chose their date a long time ago, way before it was even a thought in Meghan and Harry's minds, they think it's kind of magical to be sharing the date with the Royals.
---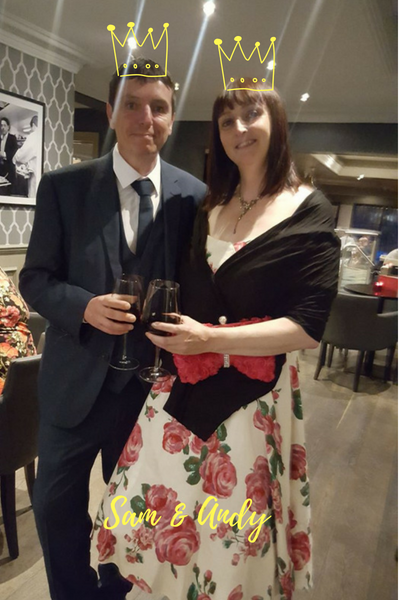 Sam and Andy
Sam and Andy met six years ago on a blind date in a pub. They're very excited to be having their ceremony in the grounds of Sherwood Forest and it's now even more special to them since finding out that weddings will no longer take place there and theirs will be one of the last.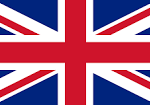 Along with their Celebrant Gaynor Stickels, they're going to have an outdoor hand-fasting ceremony.
"We will arrive together to walk through an arch of family and friends holding flowers/greenery with a flower girl walking ahead. Our celebrant is a Druid and will bless the circle and acknowledge the elements and four quarters and place first four ribbons and then family members will place their personalised ribbons. We will drink from the loving cup before jumping the broom."
Doesn't that sound wonderful?
When asked about the Royal wedding, this fun couple said, 'We think our faces will look just as good on commemorative cups.'
Here, here!
---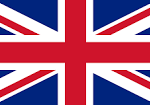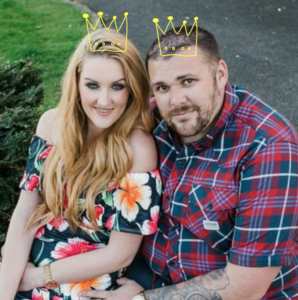 Michaela and Alex
Michaela and Alex met three years ago at work. They got engaged on May 1st, so wanted to get married in the same month too, and May 19th was the date they decided to set. They're having a civil ceremony in a country hotel in Boston, Lincolnshire. They've really put some thought into their celebration and at their reception they're going to have a psychic medium to give personal readings to our guest
When asked how they feel about their Royal Wedding, Michaela said,
"We are over the moon. I can't wait to be getting ready on the day with my bridesmaids and watching the royal wedding on the tv, too. It has made our day extra special!'
How lovely!
---
Dee and Ian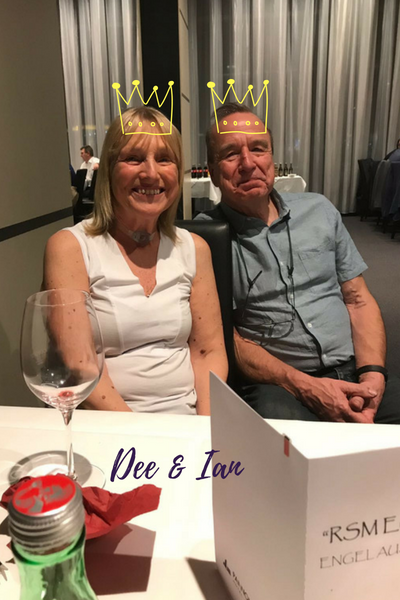 Dee and Ian met five years ago on the internet and are having their wedding ceremony in a little chapel on the Derbyshire Dales. As planned and created with their wedding Celebrant Ruby Beech, they're going to have readings by a family member and friend and the groom. Family members are going to sign their wedding certificate, two little family members are going to be ring bearers and they'll have a Hand-fasting, which will be led by Ruby too. Smashing!!
Asked about the Royal Wedding, Dee and Ian said,
"We've not really given it much thought. We don't watch television, so haven't heard much about it, however as they are getting married at 12pm, we might just watch it on the tv. All our friends are saying they are going to their own royal wedding, anyway!"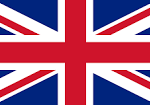 ---
Harriet and Alex
And last, but not least, is my very own gorgeous couple, Harriet and Alex, who met on a film set in Morocco, where they both work in film and tv. They're getting married in Cortijo Rosa Blanca – a stunning Andalusian hideaway.
For their ceremony, Harriet's sister is going to do a reading and this fun-loving couple will get their guests singing along to not one, but two group songs! Tiny Dancer by Elton John and Can't buy me love by the Beatles! Cannot wait!
Harriet and Alex share their thoughts on the Royal wedding.
"I guess it's something we haven't overly thought about, especially as we are getting married outside of the UK! Perhaps it'll help remind us of our anniversary date in the future!"
---
Thank you so much to all of these awesome couples who have shared their ceremony stories with us and given us a little insight into how they're going to be spending their special day. I'm sending out all the love and jubilant vibes to these wonderful couples, and ALL other couples who'll be having their wedding celebrations on May 19th. Have a good one!