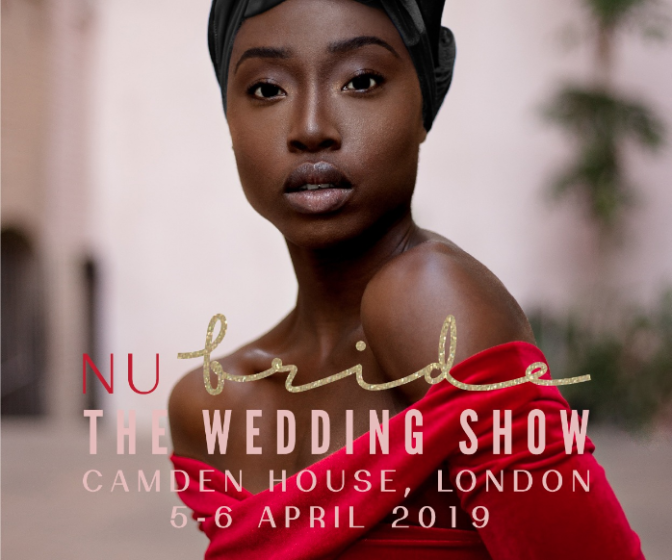 If you are in the UK, and you're getting married any day soon, you will want to get yourself over to Nu Bride the wedding show, the UK's first wedding show dedicated to wedding diversity and the modern millennial couple.
Not only will the show take place in one of North London's coolest new wedding venues but it will feature everything you need to plan your wedding day and ever after.
From visual inspiration to inspire your styling, food from the former head chef from Harrods, expert panel discussions, workshops and tips from the experts, including important budgeting & planning advice, blending cultures together, vow writing workshops to how to make your marriage work. Wow!
You can expect access to quality, equality-minded suppliers hand-picked by Nu Bride, stunning fashion and beauty, show stopping entertainment and much more. Plus the show will feature dedicated services helping you not only plan for marriage, but life beyond your wedding day.
Nu Bride the wedding show is yet another amazing venture brought to you from Nova Reid, the super talented founder of the Nu Bride wedding blog, in her drive to diversify the wedding industry and make every face, skin colour, body size, shape and gender count.
So I caught up with the lovely Nova to find out more about her upcoming wedding show, and oh my days, does it sound amazing.
What made you want produce your own wedding show?
The show was inspired by my readers. Nu Bride The Wedding Show is an extension of my blog. Much like wedding magazines, couples felt that wedding shows were typically only appealing to either very one dimensional couples. Or found that shows were very segregated ('quintessentially' white British, Asian wedding shows, or African/Caribbean wedding shows). But what if you are one of the growing couples who are blending cultures together. Where do you go for inspiration?
I run regular surveys to understand who my readers are and what they need to help them with their planning and I also ask them what frustrates them about the planning process. I ran a survey which was published in 2018 that revealed 94% of those who attended wedding shows felt they were outdated, not current, not representative of modern couples who want something different, and definitely not representative of culture, or of couples blending cultures together. Nu Bride The Wedding Show aims to address this and more.


Tell us more about the show and what you hope to achieve?
Immersion, inclusion and a whole lot of inspiration from equality-minded wedding pros – who are often hard to find, ALL under one roof. Hosted at Camden House, this a chic contemporary luxury venue in North London features the ex-food and beverage team from Harrods and is host to world class events for brands including MTV. This brand new wedding venue is stunning and like nothing else in London and will have our guests at hello.
This will not be a show where couples are aggressively sold to, but an immersive experience with inspiration installations, expert talks, panel discussion on everything from tips on budgeting, interior design, managing family guest list politics, vow writing workshops, styling, beauty, wedding fashion and of course, Nu Bride will also be making an appearance. The show will give couples not only visual inspiration but access to leading equality-minded wedding experts, practical advice and services to help them make headway with their plans.
What message do you hope your wedding show will send to the wider industry?
Couples deserve more than resting on laurels. It's time to change it up, do things differently and add more value, choice and more inclusive services for couples planning their wedding, whatever their background or personal taste, we don't all want to marry in a tux and tails and at a stately home.
What's your top advice for couples getting married?
Remember your why. In the haze of wedding details and planning it can be easy to forget. That's one of the reasons we are adding our Ever After show feature. Helping couples not only plan for their wedding day, but for a happy and healthy marriage.
---
Nu Bride the wedding show is on 5th and 6th April 2019 at Camden House, Chalk Farm Road, North London. Tickets cost 20 UK pounds. For more information and tickets sales visit www.nubride.com