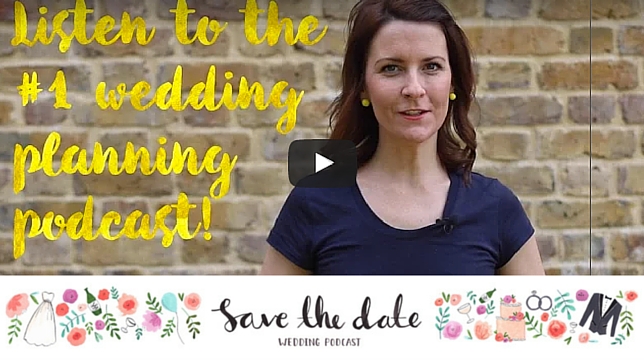 When I got married (twelve years ago this year, thank you very much!) all there was in terms of wedding inspiration were bridal magazines. Bridal magazines which from my point of view I felt I had absolutely nothing in common with.
I did not look like the women in them, what I wanted for my wedding day did not resonate with what they presented and most importantly our wedding budget was nowhere near in the same league of the types of weddings that they featured. You know the ones that I mean, where the budget for a bride's dress is equivalent to your whole wedding budget. Yep, those kinds. Back then, wedding magazines were kind of like the Pinterest of today; the place where you cut out snippets of fantasy weddings that you are never going to have, or afford to have!
So I can't even begin to tell you how lucky you peeps getting married in this day and age are. YOU ARE LUCKY! The amount of wedding resources out there waiting to inspire your heads off, is enough to make your laptops, tablets, and phones implode with megabyte overload, and that's just the digital stuff, not to even mention the old school bridal magazines and books!
With thousands of wedding blogs aimed at every type of couple, covering just about every style of wedding theme, concept and idea, budget and tastes, if you were a same sex, vegan, eco-friendly, cycling enthusiast couple, you would find a wedding blog just for you, seriously. I'm not even joking.
But one of my new favourite types of wedding inspiration is not a book, magazine or blog, it's not in the written form at all, but in the form of a podcast. For those of you who don't know, a podcast is a little bite-sized audio programme, like a radio programme, which you can download and listen to whenever and wherever you like, which is exactly what I do with the awesome Save the Date wedding podcast. Although, I have recently learned that it's maybe not best to listen to it when I am at the doctors's because doctors' clinics really are not the place to be howling with laughter and making other people question if it is your head that needs seeing to! Don't say I didn't warn you.
So what's the Save the Date Podcast all about?
Founded and hosted by fabulous London based Aussie comic and presenter, Aleisha McCormack, the Save the Date podcast is pure genius. PURE GODDAMNED GENUIS and you know when I have to write something in capitals, it's because I really bloody mean it.
Regular readers of my posts will know that I am all about keeping it real. I am the queen of the 'bin the bullshit' campaign, trasher of tradition and warrior of doing what the hell you want on your wedding day without trading in any of yourself in return. Well, the Save the Date podcast is all of that and more.
You know how wedding resources can just be a little bit too squeaky clean. Everything's a bit too polished, a bit too prim and proper. There's lots of perfection and very little room for anything that falls below that and sometimes the wedding world just takes it self way too seriously. Well, the Save the Date podcast is the most perfect antidote to all of that.
There is a serious skill in negotiating the wedding world with a sense of humour and an open mind intact. It takes a very clever person to open up the world to scrutiny, to shake a satirical stick at it and add a bit of rib-poking to help others see clearly and to focus on what really matters. And Aleisha is one very clever sausage. And she likes to swear. Whoop!
Don't let me mislead you though. The podcast is not about simply taking the piss out of everything wedding related, oh no sister, it is also full of really good, solid advice, from wedding experts from around the world to bridechillas (Aleisha's term for a bride who is chilled) who also share their top tips and wedding hacks to help others have a stress-free and most importantly, fun time planning such a kick ass event. Because let's face it, there is far too much pressure to have a PERFECT wedding day, rather than just having a great day that's right for you and your love bunny.
Here's a little intro from the podcast Queen herself.
What's more, the Save the Date podcasts are real. And by this I mean, real. Aleisha deals with proper real topics that can affect couples, things that some wedding resources stray away from and don't want to talk about and her Q&A sessions are so bloody useful.
Some of my favourite podcasts include;
Ditching all the bridal bullshit with the wonderful Nova from Nu Bride
Managing Inspo overload with awesome Clare from Bridal Musings
And an awesome Q&A session with my favourite girl crush, blogging hero, Meg from A Practical Wedding, an awesome wedding blog where incidentally I have a post being featured on next week, yikes!!! Will keep you posted.
And these don't even touch the absolute mass of available podcasts that Aleisha has hosted which deal with everything from straightening out your wedding budget to dealing with jealous girlfriends and of course a lot of help for those suffering with the terrible affliction of a nightmare mother-in-law.
What I also love about this podcast, is the actual fact that it is something great that you can listen to. No reading involved, which for some people is really handy. When you stare all day at a computer screen for work, I totally get that it might not be what you want to do in your leisure. You can have it on when you're doing your horrible train or tube commute, or like me, whilst I'm driving (although I'm not sure how much longer this will be a good idea for me, as I tend to take my hands off the wheel when I crack up laughing!). Whenever and wherever you choose.
In the pursuit of fairness, it does seem right to mention that there are other wedding podcasts out there, but a) I don't know what they are and b) I don't know how good they are. You see, in my books, when you've found something that kicks-ass and is just your cup of tea, there doesn't seem any point looking elsewhere. But that's just me.
So girlfriends, I'll leave it with you. If you're looking for some new and refreshing wedding resources, especially in the form of a brilliant, virtual-bridesmaid-cum-bestfriend who tells it as it is, then the Save the Date podcast is definitely for you! And jeez, I forgot to mention it's totally, absolutely free, whoop whoop!
Can I just finish off by saying this is NOT a sponsored post. Nobody has paid me to say this. I'm sharing this because as you well know, I love sharing stuff that I am passionate about, and this people, is one of them!
Enjoy.
Ps. You may get to hear little ol' me on a Save the Date podcast one day soon! But that's another story all by itself.