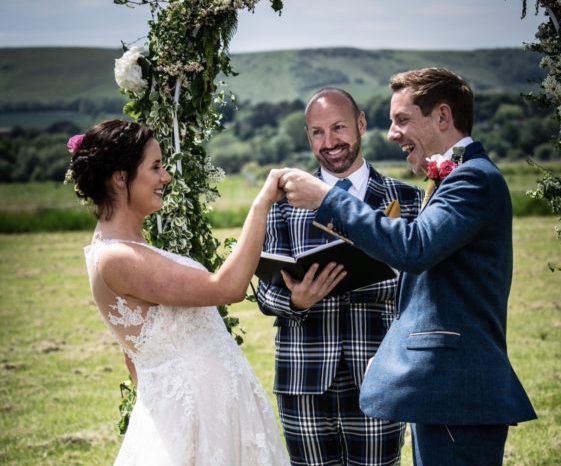 Excellent words of wisdom by wedding celebrant Stewart O'Sullivan as he explains how the role of your wedding celebrant goes far beyond just being a wedding celebrant. He shares his top tips on how celebrants can help you to juggle complicated dynamics which can overwhelm your wedding plans and can stop you from having the wedding ceremony that you want.
So much of what we offer and invest in our couples links directly to what you might expect from a very expensive counsellor!
Except there is no chair placed in the corner of a room next to an oversized pot plant!
We SUPPORT our couples and their vision for their BIG DAY right from the very beginning and the reason we have to be very intuitive and listen is because everybody's vision is comparable to the issues one might expect to share in a counselling session. They're different and unique to them.
Sometimes we need to 'peel back the layers' to achieve that perfect ceremony and a good celebrant will always get you there!
Celebrants help you not to be people pleasers
One of the most common things we come up against is couples who are trying to please everybody.
Believe me from experience when I tell you that in your quest to please EVERYBODY you will please NOBODY!
Just because Aunty Joan doesn't believe in a celebrant-led wedding or your second cousin Bill twice removed is a devout Christian, you do not have to follow suit!
AUNTY JOAN AND COUSIN BILL HAVE (PROBABLY) HAD THEIR WEDDINGS…THIS IS YOUR TIME!
It is so important that you remain true to yourself in creating the day that you want.
If you do and that makes you happy…the people who love you will then in turn – also be happy!
Put simply by Leo Tolstoy….If you want to be happy, be!
Celebrants help you to say no to religion if it's not what you want
The next thing that pops up every now and again is religion.
Change is afoot and weddings are becoming 'more social, less sacred'
Did you know that statistically in the UK we have hit a record low as little as 25% of marriages are religious ceremonies.
If individuals don't go to church for most of their lives, they wonder whether its necessary to have a church wedding.
However if one person in the relationship is 'religious' and the other simply isn't – your celebrant can find lots of sensitive ways to give a 'nod' to that religion, often fulfilling the religious element desired without getting the bible out!
A fine example of this is by including a unity candle ceremony in your wedding day!
Traditionally a Catholic ritual, it can be modernised by inviting the mothers of the 'to-be-weds' to come forward and light the separate candles – representing the beginning of their lives and also the flame symbolising the spark that attracted them to each other in the first place!
Later in the ceremony the couple would light a centre candle with the flame from their two separate ones symbolising their unity and in the words of the Spice Girls…'Two Become One!'
Religious nod, tick
Modernised ritual, tick
Celebrants help you find harmony with your vows
We get a very privileged insight into our couples relationships and one particular area this is very evident in is when we work with them on their wedding vows.
I always encourage my couples to write 'secret vows' whereby they are written privately and sent to me and only shared and heard for the first time on the wedding day!
This is truly the most romantic element of my ceremonies.
The only trouble is that sometimes you get a groom who has written two sentences and a bride who has written 7 pages!
Cue counsellor who mediates between them both, encouraging one to search deeper for a bit more whilst editing the 7 pages down to an acceptable level that isn't going to have your guests nodding off to sleep!
Did you ever realise that a celebrant would be SO involved?
Our role is so much more than 'DO YOU' 'I DO' 'DO YOU' 'I DO'
Our role is to listen, to create and to support…your very own version of a ceremony counsellor of sorts!
By the time we get to your wedding day, we will know each other so well that you should feel that the person who is carrying out your ceremony is really like an old friend and we will never have to sit in that chair in the corner with the oversized potted plant for company!
Main photo image by @tonytrussler