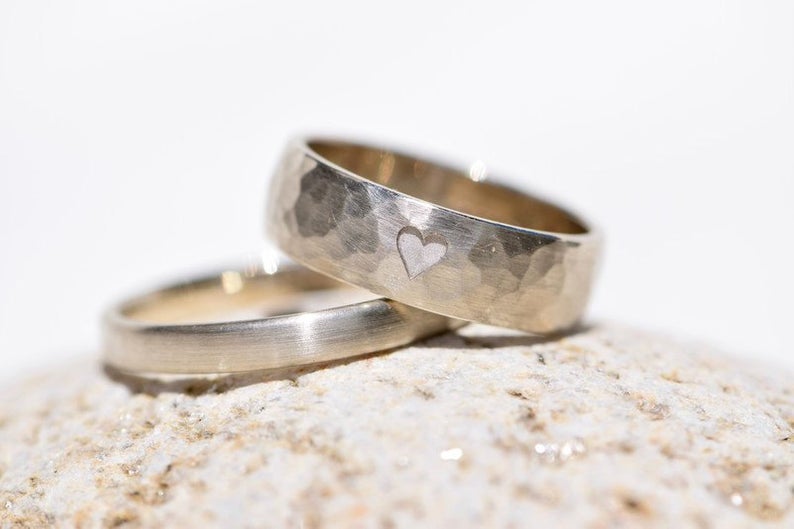 I have been lucky enough over the years to see the most stunning wedding rings ever. But not just beautiful bling bling wedding rings, but wedding rings that were plainer, more symbolic and had stories of their own. Handmade wedding rings made from grandparents weddings rings, weddings rings made of unusual materials, bone, stone and wood. Wedding rings which cost very little, but meant a hell of a lot.
In the same way that your wedding ceremony and your wedding day should be 100% reflective of you, your wedding rings can be too. And just like with your wedding, there are no rules! Your wedding ring can be whatever you want it to be; whatever material, stone or no stone, engraved or not. Whatever you want!
As an Esty obsesionado, I have gone through their wedding ring department and have picked out my top ten favourites rings and wedding bands. These wedding rings have been handmade by goldsmiths and artisans who pour their love and passion into what they do, which is why I love supporting Etsy creatives. And what's more, I love that these rings are totally affordable and do not burn a hole into your bank account! Yes please, and thank you very much!
Enjoy my selection. Which would you go for?
1. Palladium hand-shaped wedding band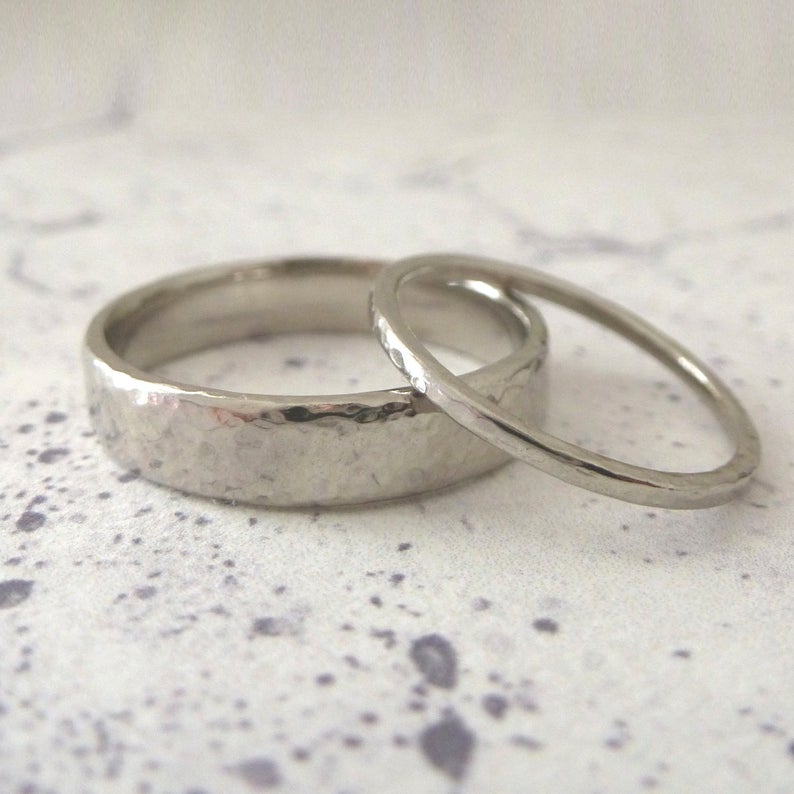 These are stunning, right? And I love this hammered finish which I think is hugely symbolic. It's like saying that marriage is beautiful, but it's not always smooth, there can be bumps along the way, but we've got it covered. Love it. You can check out these rings in more detail here.
2. Distressed silver wedding bands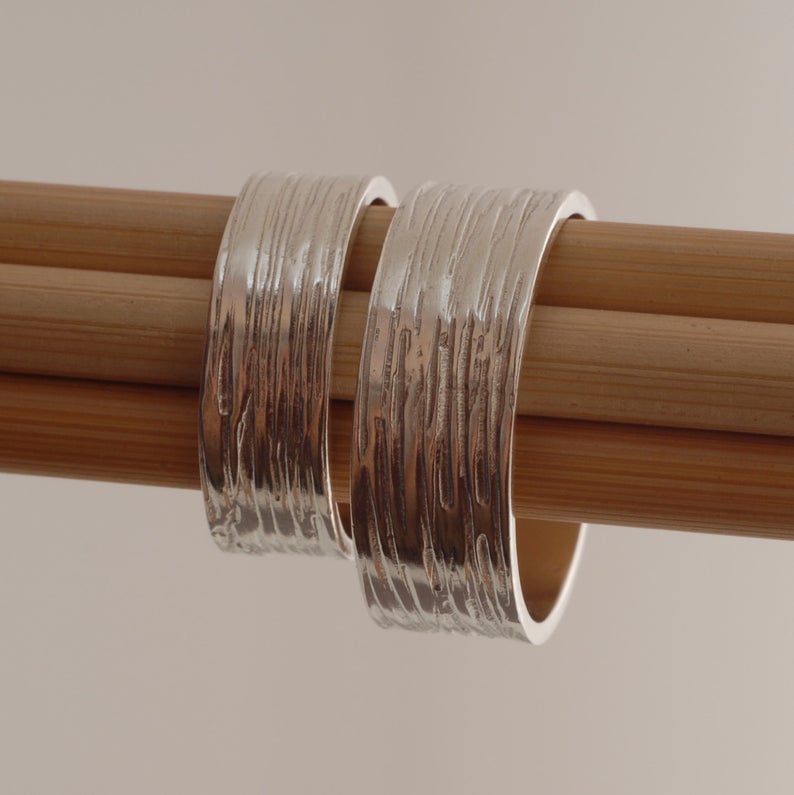 I absolutely love the simplicity of these matching wedding bands. Plain but stunning. Simple but with depth. These are the perfect handmade wedding rings for couples who want to step away from the normal plain wedding bands by adding a bit of character to their rings. You can view these beauties here.
3. Ultra thin diamond wedding ring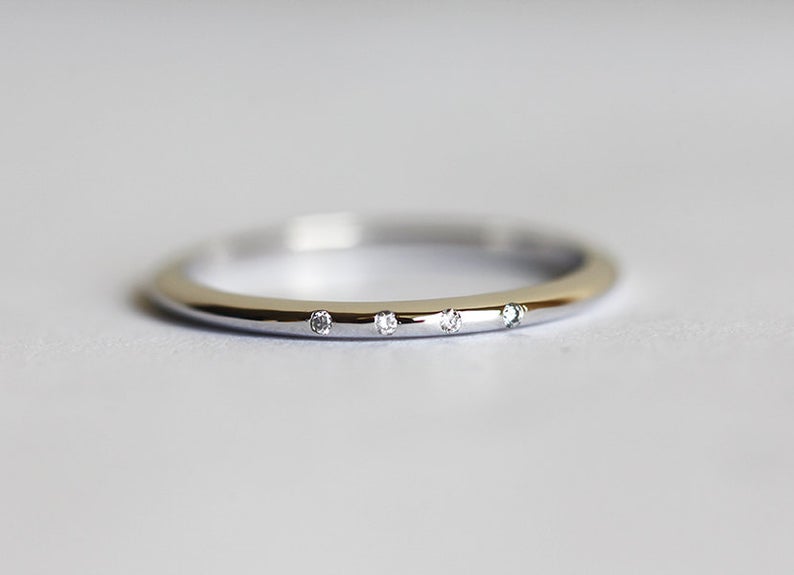 I am absolutely loving this ultra thin wedding ring. Simple, elegant and chic. What a stunning piece of jewellery. You can shop it here.
4. Stunning yellow gold wedding bands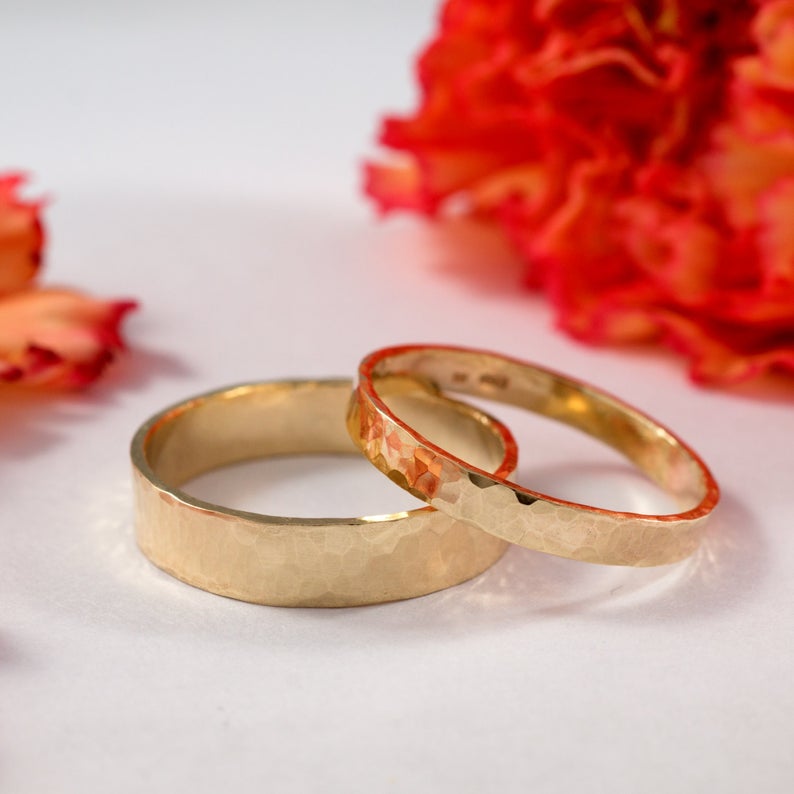 Okay, so I think I've got a bit of a think for hammered handmade wedding rings, and these gorgeous hand made pair are no exception. You can find out more about them here.
5. White gold diamond wedding band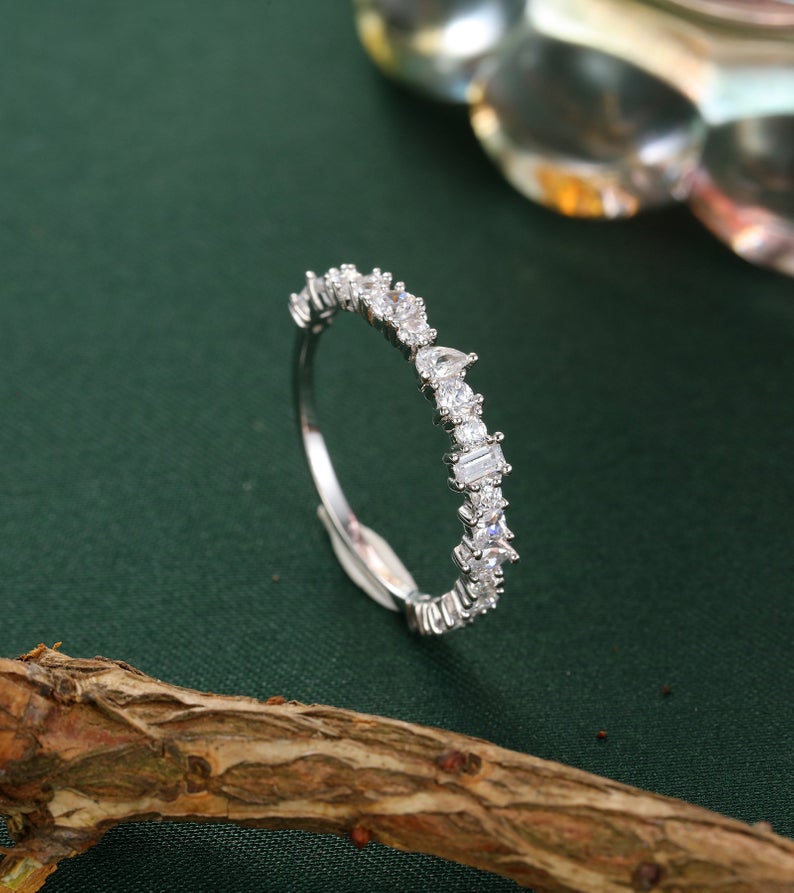 Go big or go home, they say! Well, if you're looking for something blingique – bling and unique, then I think this ticks all the boxes, doesn't it? Unusual, unique and gorgeous. You can find out more about this stunning handmade wedding ring, here.
6. Silver engraved matching wedding bands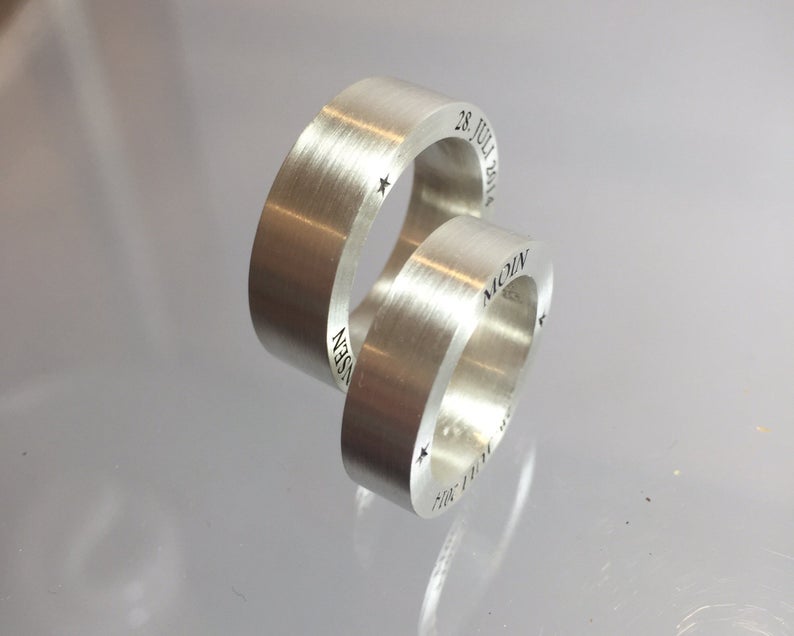 I love the chunkiness of these wedding rings. They mean business! And I absolutely love that you can have them engraved with your wedding date or your names or a special message. Love it. Find out more here about these gorgeous handmade wedding rings.
7. A rose gold wedding ring of dreams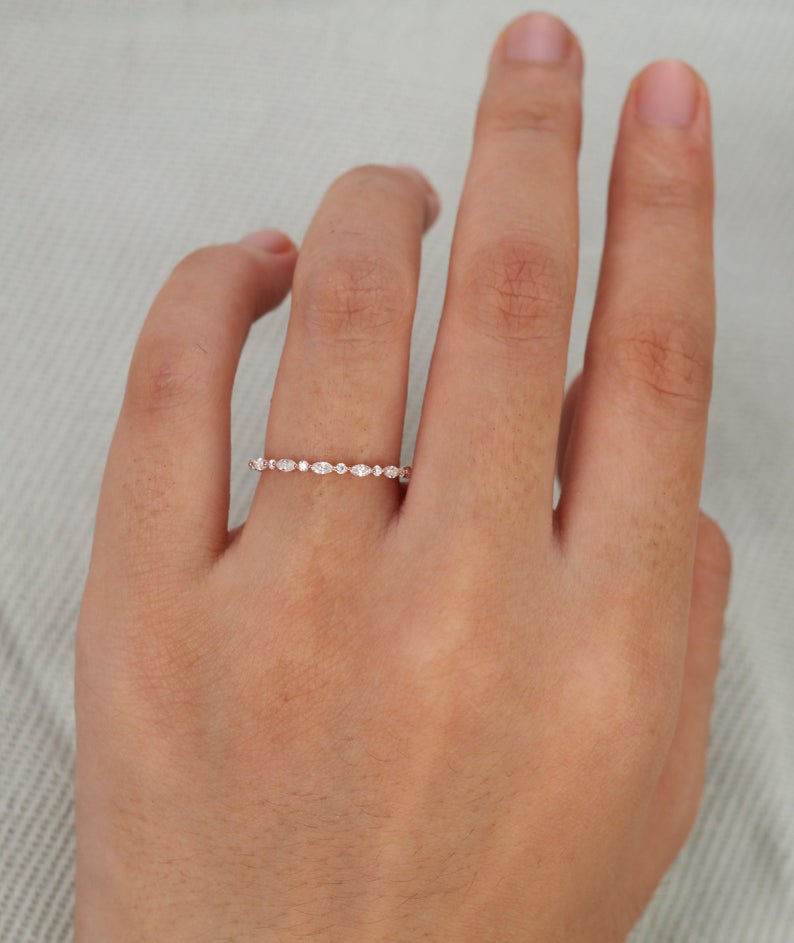 Look at this delicate pretty little number. So perfect for women who want a stunning yet fuss-free wedding band. Love it! You can find out more about this beauty, here.
8. Black Zirconium wedding band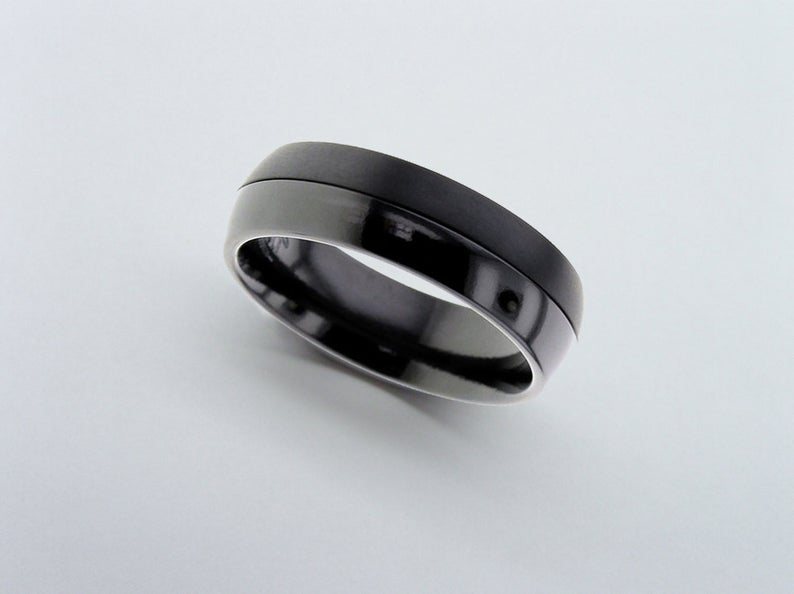 Now this is unique! A black handmade wedding ring. So powerful but elegant too. A really strong, bold wedding band that packs a punch. Read more about it here.
9. White gold rings with a heart!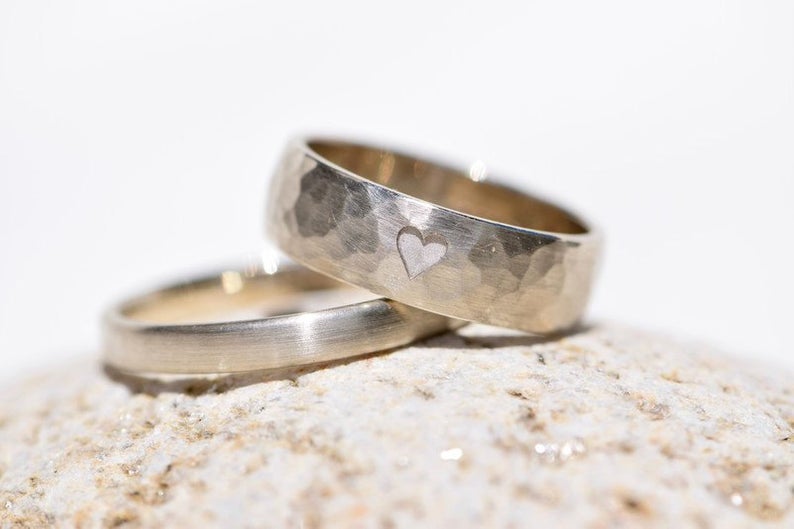 These rings have got a heart on them, I repeat, these ring have got a heart on them. I mean, how more symbolic can you get than that? And I know I'm going mad with my hammered ring choices, but you can have these ones matte too! Check out these stunners here.
10. 18k gold ethical wedding band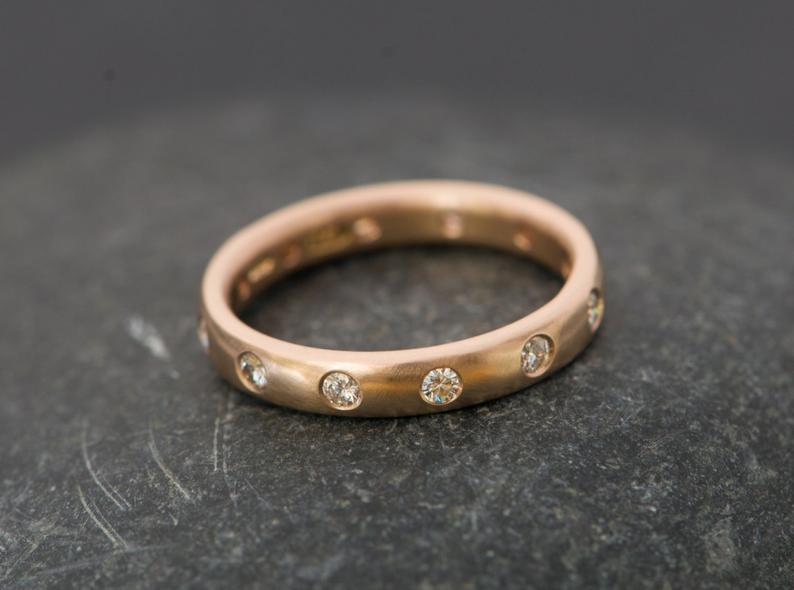 There is something very Game of Thrones about this wedding band, so of course I bloody well love it. But look at it, isn't it absolutely stunning? Am I picturing it on my finger right now? Yes, I am. Get the lowdown on this beaut, right here.
And once you've got your rings, check out these AWESOME geometric wedding ring boxes or for wood lovers, these wooden wedding ring boxes and for a little bit of everything these totally unique ring boxes!
Which wedding ring has got you sold? Let me know in the comments below.
---
Please note: I am an ETSY affiliate. This means if you purchase any item on this page I will receive a small commission at no extra cost to you. But rest assured even if I weren't an affiliate, I'd still be pushing you in the direction of these amazing handmade crafters. I bloody love ETSY.