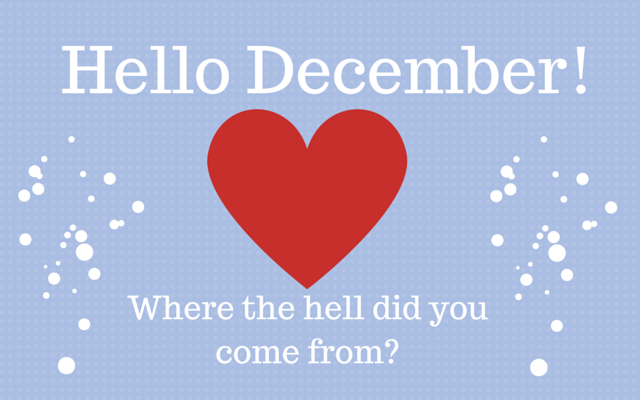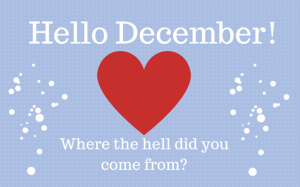 As this image quite rightly points out, I'm not quite sure how we have arrived in December already. And so I will ask, as we ask every year, 'where has this year gone?'
December is a special time of the year. For me, along with February, which is the month of love of course, (Valentine's Day!) I think December is also a month that is bursting to the seams with love.

First of, we have World Aids Day on December first (also my birthday) which is a wonderful time to take a moment to consider the impact that HIV and AIDs still have on our society and to be grateful to all of the individuals and groups who work so tirelessly to educate and support, not only HIV sufferers but non sufferers alike. I think the fact that World Aids Day takes place in December is also very poignant, as we get to think about the issues surrounding HIV/AIDs and how it affects not just individuals but their families too, especially at this time of year when thoughts of love and family are most prevalent. I am very proud to share my birthday with this special day.
And now we are just a few weeks away from Christmas…
Christmas time, especially in my household, signals family time, togetherness, being merry (wine!) and being thankful for what we have and getting to express all of this whilst be surrounded by your nearest and dearest. This really is such a beautiful thing. But as the adverts rage through our tv sets, it is so easy to get completely lost in all of the nonsense. We really don't need to be going crazy at Christmas, spending a ton of money and buying into the sickening commerciality of it all. You can celebrate Christmas in so many wonderful and fun ways, without needing to buy stuff that, if you are really honest, no one really needs. 'Want', my friends, is very different to 'need'.
This year I am looking forward to making a few homemade gifts for family, such as bottled chilli oils and I'll also be supporting some local business people by buying homemade pickles and chutneys as presents and of course for our fat faces! We are also going to either sponsor a child or make a donation to a wildlife or children's charity, because we 'need' absolutely nothing, but there are so many that need so much.
Our little boy will have a small stocking of things and lots of love, fun and hugs. As well as endless games and Christmas movies. And we will eat and drink (not the boy!) until we feel sick. And that will be our Christmas. Can't wait.
The world's best love letter
I'm probably the last person in the world to have seen this but I am going to share it anyway. A love letter to beat all love letters and guess what? It's written by a four year old!
Thanks and gratitude
I have been so overwhelmed by the number of people who have voted for my little blog's nomination in the Bloggers Lounge Awards. And not just for the votes, but the well wishes too and the lovely compliments about my blog, too. As I have said from the beginning, I am so happy just to be nominated and shortlisted from hundreds of blogs and also to be in the same category as the blog monster Rocknroll Bride.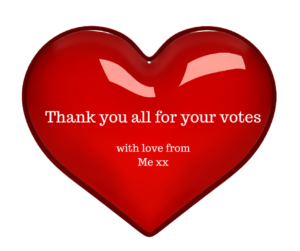 If you haven't voted for me yet and would very much like to, you have until December 16th to do so. I promise to send you karmatic vibes, if you do! You can read more about it and vote here.
Weddings are a coming
December is also an amazing and perhaps terrifying month for those of you who are getting married in 2015! This is the last month of the year, meaning that very soon we will be in the same year as your wedding day! Yikes!!! This is also the time of the year when people who are getting married in the following year, all of a sudden seem to remember that fact and start panicking to book all the suppliers that they thought they had all the time in the world to book! I hope that's not you! I am really looking forward to all of my weddings next year. Once again, I am so lucky to be chosen by some fantastic couples, who are so excited and enthusiastic about their wedding ceremonies. Can't wait to seem them come to fruition!
Random thought
I just realised that this blog series 'My kind of love,' is also the name of an Emelie Sandé song. I love Emelie Sandé, so maybe that is where I got the name from without even realising it. So in case you ever wondered, now you know. I'm now going to make sure that every time I write a post for this series, I will have this song thumping away in the background, if only in my head. And whilst we're talking of love, what beautiful lyrics are these that can sum up what love between lovers can be.
Cause when you've given up.
When no matter what you do it's never good enough.
When you never thought that it could ever get this tough,
That's when you feel my kind of love.
And since we're getting all lovey and Christmassy and all, I just had to share this lovely version of the Christmas carol Silent Night (yes, you can be a Humanist and still love Christmas themed songs!!).
What a lovely way to finish off. Sniff, sniff.
Okay, that's me until next week. Live, love and hug the hell out of each other. x