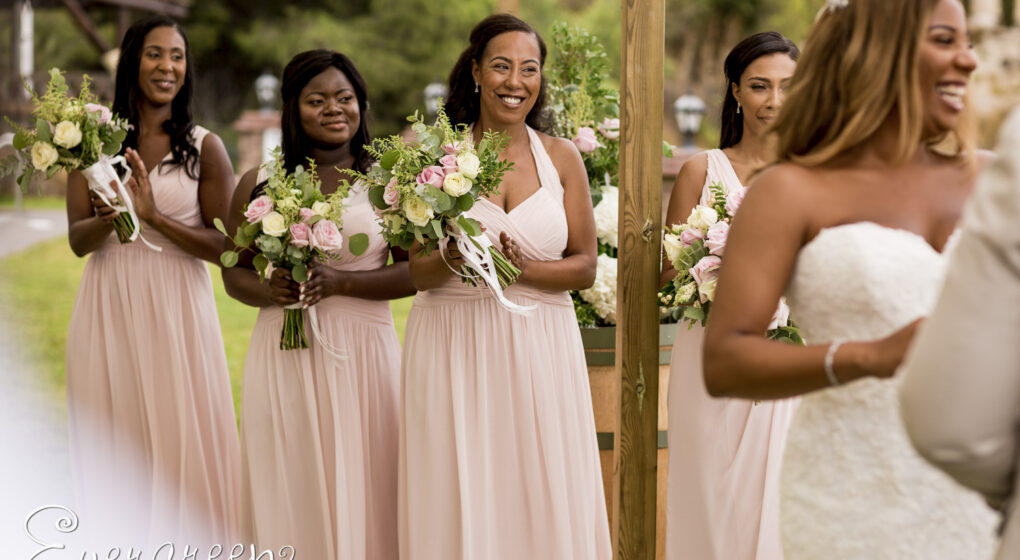 The couples I work with are all so different but there's one question they almost all agree on. When I ask 'what wouldn't you like your guests to say about your wedding ceremony?' I reckon 9 out of 10 of my couples respond: 'I'd hate them to think it was boring'.
Whatever your style as a couple – however you feel about romance, drama and being the centre of attention – you don't want to bore your guests. At most weddings the ceremony is the first moment when all your guests come together as a group and get a taste of what kind of day you've got planned for them.
They don't get much of a warm-up. Some will have travelled a long way and rushed to be ready on time. They might not have managed breakfast, let alone a drink… So, what have you got for them? And what are they hoping for?
Well, as someone who has stood up in front of that expectant throng of plumed, groomed and behatted friends and family time and again, I'm pretty sure I know the answer. They want to love this moment. They want to see you happy – and to feel that happiness themselves. And they want to remember your wedding ceremony with the same rosy glow of warmth and affection as they feel whenever they think of you.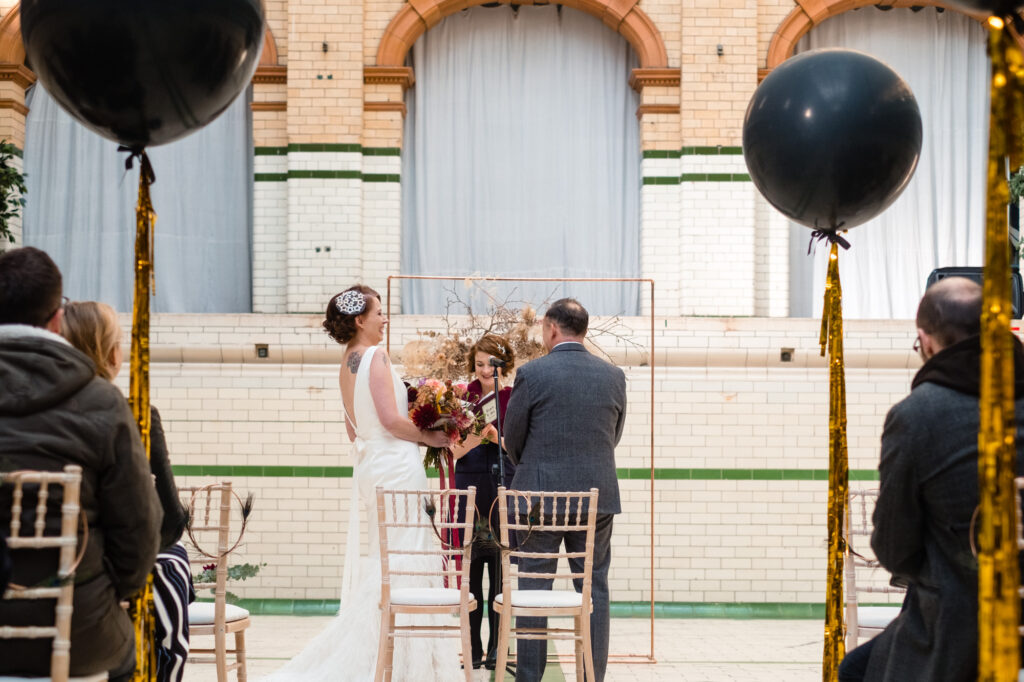 Laughter is the key
The key to giving your wedding guests that sparkle of pleasure is to make them laugh. No matter what your style – whether you're tying the knot in a muddy field or the ballroom at Claridge's – your guests will begin to relax, connect with one another and enjoy themselves as soon as the first giggle starts to spread around the space.
This might not come as much of a surprise to you if your wedding-day priority was always to create a fun and laid-back celebration but it's just as true if you're planning an intense and passionate ceremony. Because we humans – simple creatures that we are – can only cope with so much solemnity before it all feels like a bit too much and we need to break the tension.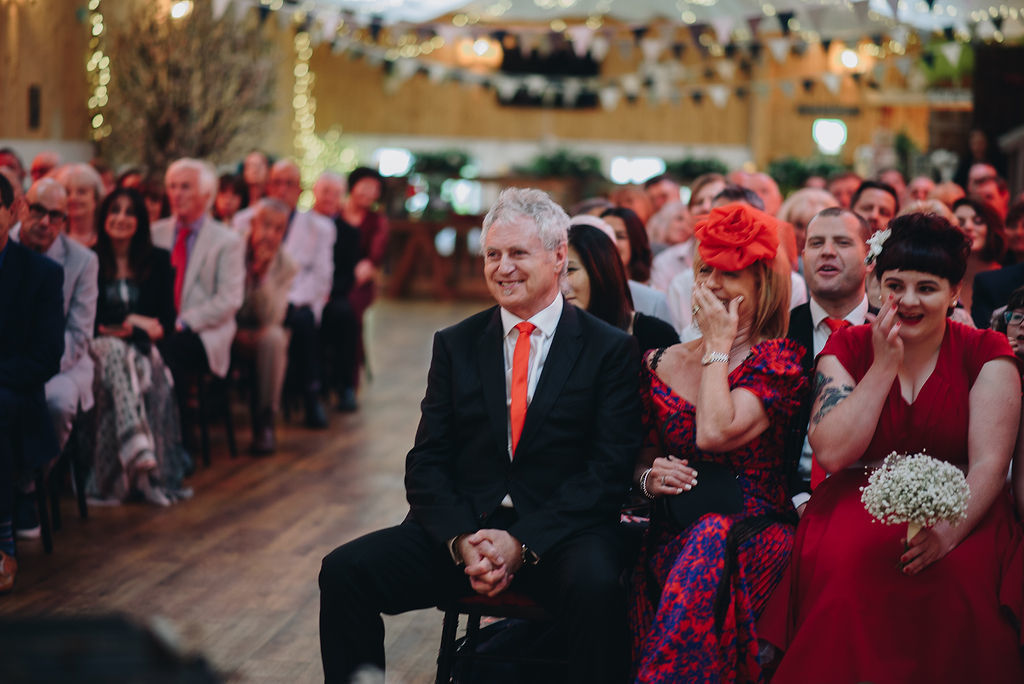 Setting the vibe
So if you want your wedding guests to be in the moment when you and your partner are exchanging your heartfelt vows (and not, heaven forbid, to laugh at the wrong moment), the best thing you can do is to warm them up nicely and show them that, no matter how seriously you take your marriage vows, you don't take yourselves too seriously.
Your most intimate moments of sincerity will be all the more moving if your ceremony has some variety of tone and mood so, if you don't want a dry eye in the house, you need to play with your guests' emotions. Make them laugh. Then make them cry. Then make them laugh again.
It sounds manipulative. Well, it kind of is – but in a good way, I promise. They'll love it. As Dolly Parton said in Steel Magnolias, "Laughter through tears is my favorite emotion!" (Apologies for the 30-year-old cultural reference. Look it up though; it's a great film.)
So, now we've dealt with the why, let's move on to the how. Here are my tips for how to bring your own sense of humour to your wedding ceremony.
1. Story story story
We humans are programmed to respond to stories – sad ones, happy ones, exciting ones and most especially funny ones. Laughing together is one of the essential ingredients of falling in love. I see it again and again when I first meet my couples and I ask them to tell me about themselves. The mistakes, the confusions, the silly squabbles and all the unique ways you've found to rub along together and get through the challenges life throws at you become part of the story of you – they're how you fell in love and the glue that holds you together. Sharing your stories – whether you ask your celebrant to tell your whole love story or whether you find your own ways to share little insights into your life together and even your wedding planning mishaps and anxieties – will bring warmth, affection and, without fail, laughter to your ceremony and make all your guests feel that much more trusted, welcome and involved in your big day.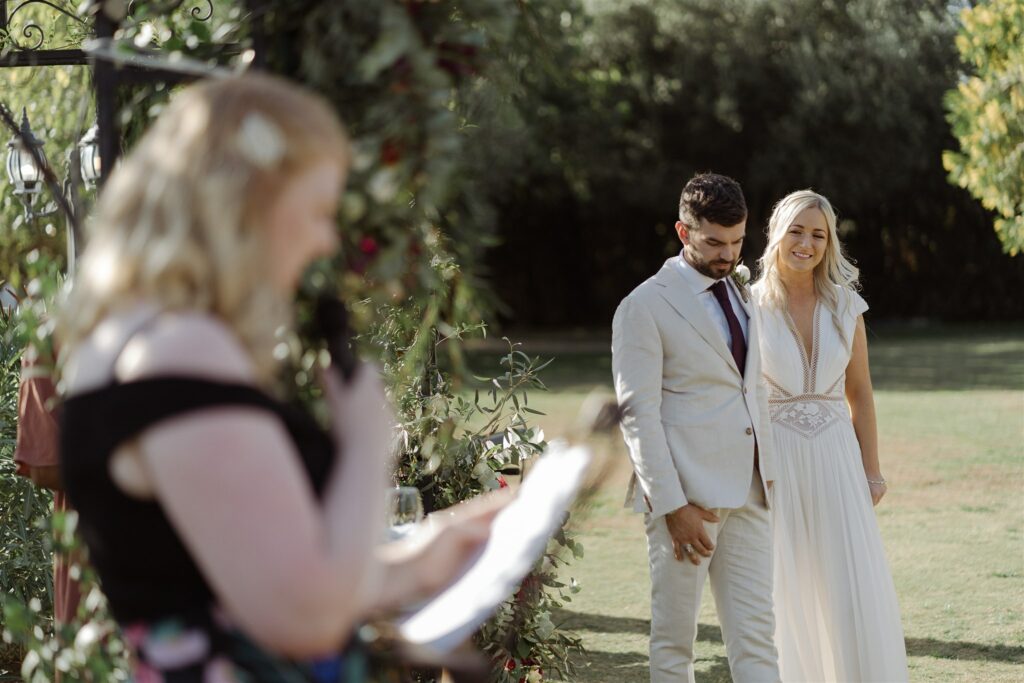 2. Honesty is everything
The laughter is real when you're true to yourselves. Just by being the person your nearest and dearest know so well, you'll bring smiles to your guests' faces, particularly if there are parts of your character that don't fit neatly into a typical image of a bride or a groom.
Working out how best to be your true selves is a discussion for you, your partner and your celebrant. It could be anything from dressing in the way you feel most yourself to sticking to your own style of speech when you're making your vows (you might swap out the customary 'I do' for 'I suppose so,' 'hell yes!' or even 'why-aye'). Being yourself – proudly and unapologetically – reflects the real meaning of marriage; the take-me-as-I-am commitment you and your partner are making – and it shows your guests they're getting something real and unfiltered – not polished and rehearsed Instagram-ready 'content'.
3. Insult your guests (affectionately…)
Wedding guests love a name check – even if it's a bit cheeky. If one of your guests played a part in getting the two of you together, has helped out with the big day or even if they've experienced a comical mishap (nothing too upsetting or embarrassing) running up to the wedding, mention it. Whoever speaks in your ceremony – whether it's you and your partner, your guests, members of your wedding party or your celebrant – the more you talk to and about each other, the closer and the more involved the group around you will feel.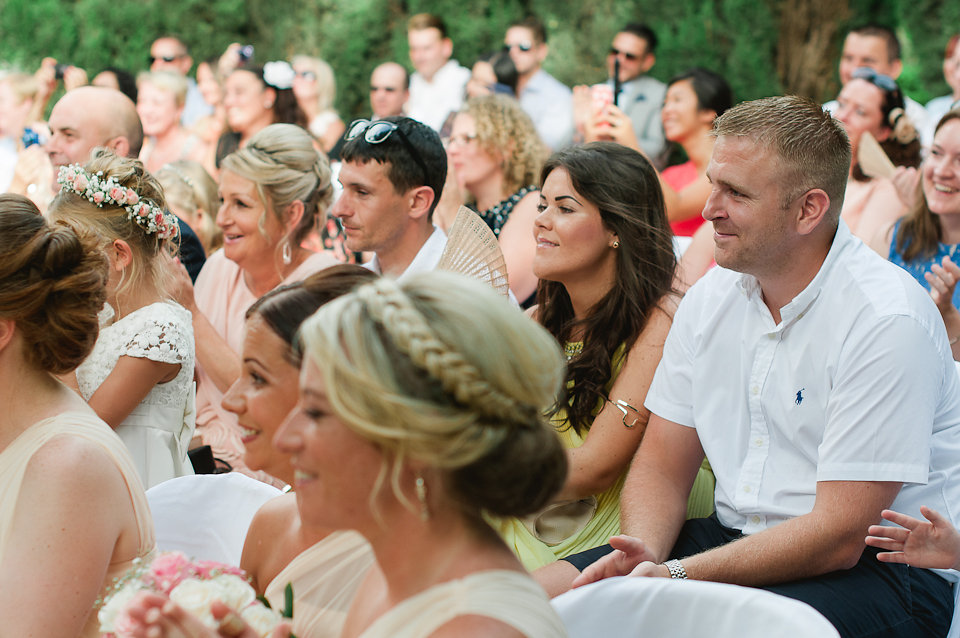 It generally goes down pretty well to pick someone out and cheekily praise or tease them. (Obviously don't go for anyone who's going through a tough time or is notoriously touchy.) But remember: well-observed details about other people are funny; hackneyed stereotypes are not so much. So playfully – and kindly – tell the truth about the real people you know; if your jokes are sexist or divisive clichés you found on the internet then, even if your guests laugh politely, the chances are that you'll have made at least some of them feel uncomfortable.
4. Include a surprise or two
An element of surprise is one of the key ingredients of good comedy. Examples of surprising moments that can create a big laugh include:
the unexpected and timely arrival of a particular person (or animal)
music with the perfect mood/lyrics (either very fitting or comically incongruous – either way, don't explain what the song is or why you've gone for it – just start the music and let your guests work it out)
finding a really personal and unique way to involve someone special to you (for example presenting them with a funny gift that reflects some element of their character or your relationship with them)
involving all your guests in an unexpected element of audience participation (much less high-pressure than picking on one person) – this could be anything from a singalong, a silly promise you make them all recite together or an entertaining way of ending the ceremony – like getting everyone to jump the broom on their way out.
Tread carefully though; weddings can be so high pressure that singling someone out and making an unexpected demand of them could be disastrous. Examples of surprises that are probably a bit much for your typical wedding crowd (at least in buttoned up Britain, where I mainly work) include:
anything involving nudity or messing up someone's outfit
anything that puts one person on the spot (unless you're 100% sure your victim will secretly love the attention)
practical jokes along the lines of a faked accident or mishap (these can quickly spiral out of control and might be genuinely distressing for some of your guests)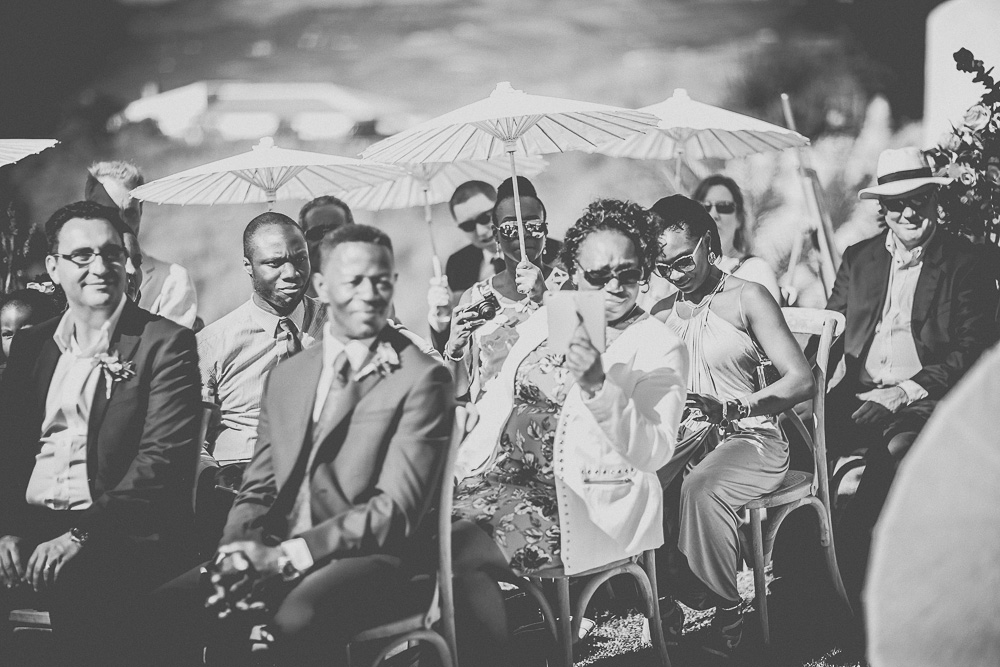 Finally, here are a few ideas of elements you could slip into your ceremony to make your guests laugh:
funny readings – you can get really creative here and read anything. It could come from a 1950s 'advice for wives' or 'advice for newlyweds' book or you could take a well-known text or a particular genre of writing and personalise it in a funny way. You could even write – or ask your celebrant to write – funny poems to or about each other. Think outside the box when it comes to readings. Think about the kind of humour that the two of you really go for and choose something you can't read or discuss without getting the giggles.
Include a Mr & Mrs style quiz. There are all sorts of gameshow/parlour game variants that you can bring in towards the end of the ceremony – adapting their rules to suit you. I did this at my parents' vow renewal and it brought the house (garden) down – mainly because my dad answered all his questions without the tiniest smidgeon of romanticism (eg Question: 'What do you think would have become of you if you had never met Sue?' Answer: 'Well, I'd have married someone else, I should think.')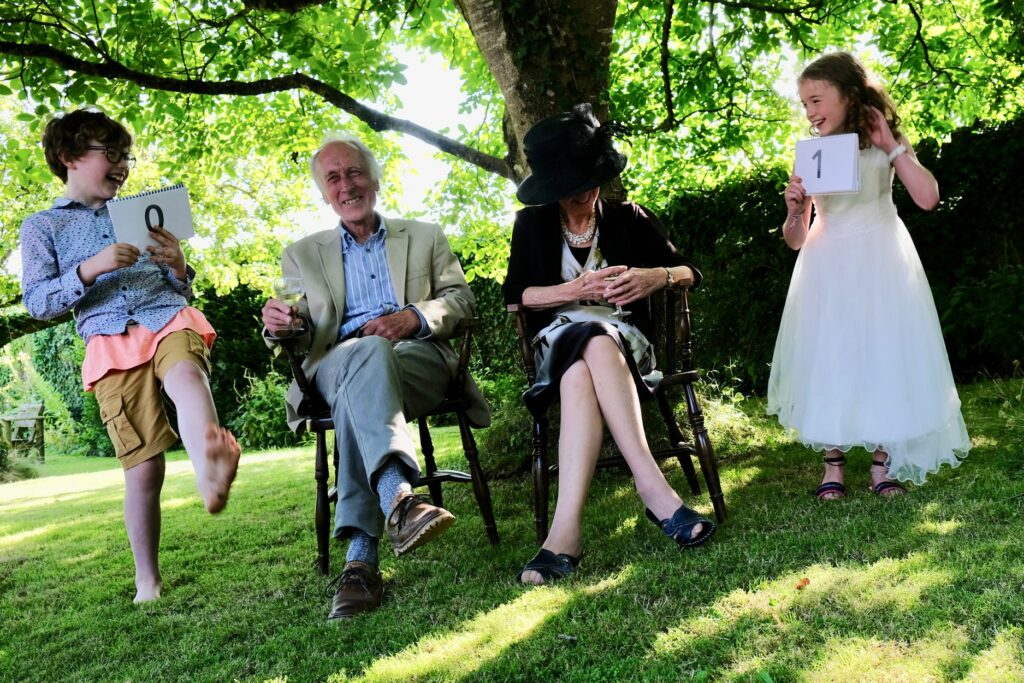 Prepare cheeky icebreaker activities for your guests. For example you could provide all your guests with a wedding ceremony bingo card or a quiz about the couple that they can make a start on while they're waiting for the ceremony to begin. Or print out Who's Who style programmes with funny descriptions of all the guests. These make lovely keepsakes and they're a great way to show your guests you've thought of them individually (and found a really special, personal way to insult them…)
One last piece of advice: humour is about spreading joy. If you think about making your guests laugh in terms of sharing your happiness with them and giving them the gift of laughter during your ceremony, you won't go far wrong. Spread the love. Have fun. Be kind. You'll love it. And so will your guests.

Main image photo by Evergreen Malaga