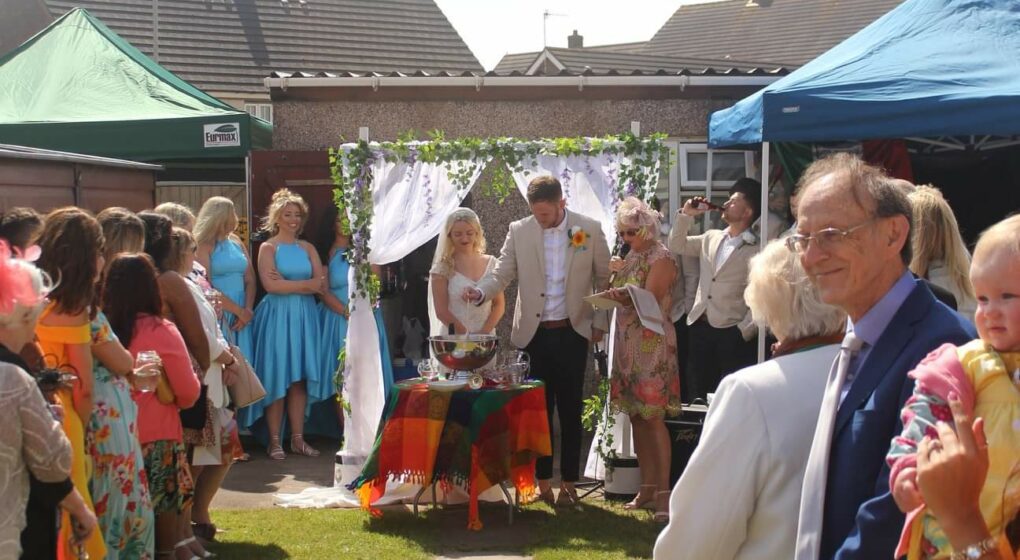 South Wales Wedding Celebrant Kathryn Britton is passionate about the spoken and written word. In her twenties she was an entertainer and was lucky enough to travel the world, which no doubt helps her to add some theatricality and showmanship to her beautiful bespoke ceremonies.
This Welsh celebrant loves writing and creating ceremonies so much, that when she's not writing for weddings and other services, she's busy writing her children's book!
Read on for more about Kathryn and her passion for creating gorgeous wedding ceremonies in Wales and beyond.
What has been the highlight of your wedding career so far as a wedding celebrant in Wales?
I love the diversity of locations and ceremonies and working with the personalities of the couples. From a sand ceremony to a hand-fasting, in a 5* hotel, on a beach or a barn; with couples who want a low key, quiet family soiree to couples who want a festival theme and to plant trees! I love them all, because they are all different and unique, a bit like me lol!
What has being a wedding Celebrant in Wales taught you about life and people?
To be myself – I can't be anyone else its too hard! Some people will like you, some won't, but never, ever let anyone dull your sparkle!
What advice would you give to couples getting married now? What mistakes could they do with avoiding?
Give and take and let each other grow within the relationship, never take each other for granted and enjoy the ride! One of my favourite quotes is from Elbert Hubbard and I use it frequently – Do not take life too seriously, none of us gets out alive!
What do you love about being a wedding Celebrant?
Delivering a beautiful and heart-felt ceremony and knowing you've touched everyone in the room. Every love story is unique, as are they and its the inclusion of that uniqueness that makes a ceremony special.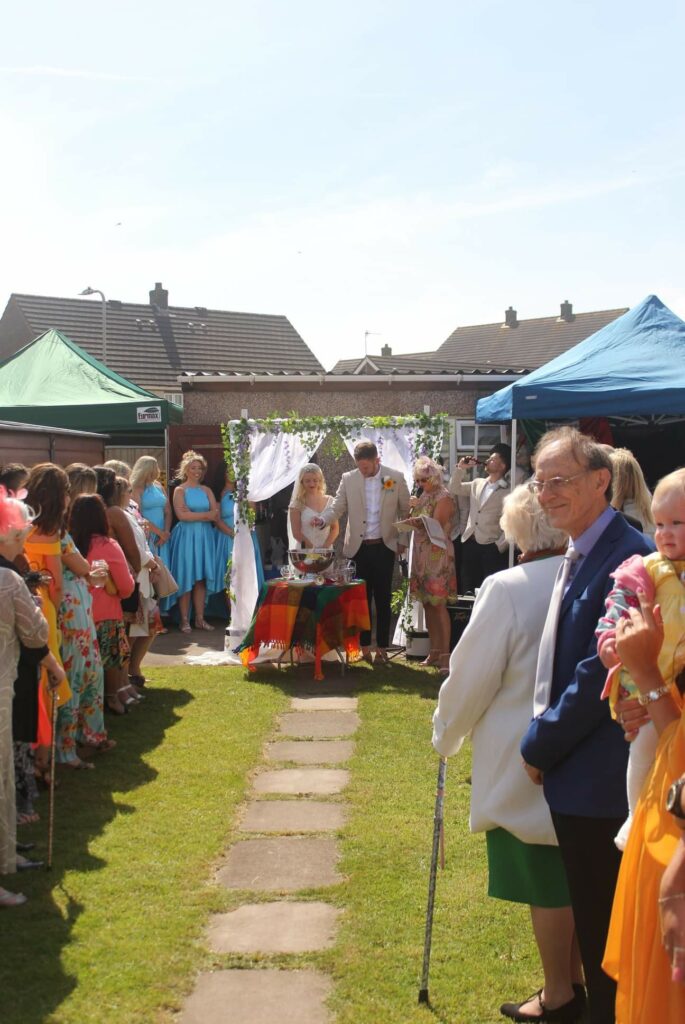 What aspect of your job as a wedding Celebrant gives you the most satisfaction?
Reading and researching the couples questionnaires. I'm naturally nosy so love getting to know what's gone on behind scenes to get them where they are today. Do they have a song, can I weave the lyrics into the ceremony? Looking up readings and quotes that I can add to their script, one of my favourites is from Louis de Bernieres Captain Corelli's Mandolin and don't get me started on Shakespeare, the font of all knowledge for quotes in Kathy's World!
What are your favourite types of wedding ceremonies in Wales?
I like a traditional ceremony with vows and ring exchanges etc; with lots of music, laughter and audience participation. Having said that I also like an outdoor wedding with an environmentally friendly ethos with pagan traditions such as hand-fasting, wine or love-cup ritual and incorporating the four elements of fire, air, water and earth.
If you had to sum yourself up in three words, what would they be?
1. Curiously-Creative 2. Lovingly-Heartfelt 3. Gregariously-Funny Oh and rule breaker lol!
What's your favourite symbolic ritual, and why?
I adore the sand ceremony. It gives me so much scope to incorporate special memories. I am currently writing a sand ceremony script and each layer and colour has a charm, lion for courage as they have been through a tough time, tree of life to go with my reading, musical note as he is a musician, four leaf clover for luck, infinity for longevity; their two children are adding a layer each as well. I can't wait for them to review it, my problem is, in parts its quite emotional and I keep filling up, hopefully I will be over that before the ceremony!
What would be a dream ceremony for you?
Although I love simple, a dream wedding scenario would be a glamorous high profile couple in 6* luxury somewhere very hot and very decadent! I love to travel so this would be food for my soul.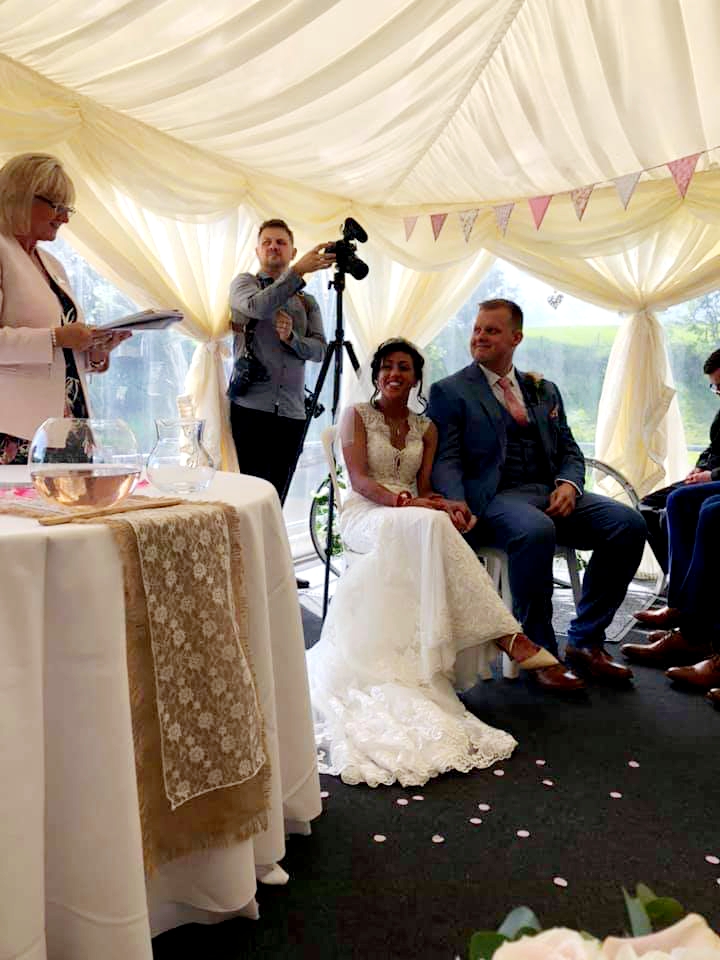 How would you say the wedding industry has changed in the last fifteen years?
There seems to have been a move away from traditional church/hotel weddings with more couples choosing simpler DIY weddings in more rural locations. Of course technology has changed the way couples shop and source items for their wedding with less reliance on magazines and bridal fayres and more so on the internet. Today's brides are more likely to seek inspiration from Pinterest, Instagram, social media and other wedding related apps and platforms.
Venues today are more likely to offer a whole package with a civil ceremony, wedding breakfast and evening reception all included. As the Millennials all reach maturity I can only see digital use increasing, with video streaming, paperless invites and virtual reality becoming more on-trend. Wedding planning of the future may be based more on being environmentally friendly, speedy and convenient. Celebrants offer a whole new approach with couples being able to choose where, when and how, limited only by their own imagination – after all its their day lets do it their way! So many couple say to me retrospectively that they weren't even offered a celebrant as a choice but had to pick from A. B. or C. I feel they are losing out and its down to us to spread the Celebrant word!
What kind of wedding couples do you enjoy working with?
When couples are open, honest and embrace the process it is so much easier to write an absolutely fabulous script for them. When they incorporate beautiful rituals and write themselves amazing vows, it makes every aspect of my job easier, more rewarding and satisfying resulting in an awesome ceremony.
What are your favourite types of venues/spaces for weddings in Wales?
I live next to a beach so love a sandy barefoot beach scenario, with the waves lapping and the sunshine beaming down on the happy couple. These don't happen often in the UK due to the unpredictability of our weather, however when they do there is something magical about the glistening of the sea underneath the sparkling sunshine – a photographers dream!
When you're not busy being a Celebrant what do you love doing?
Travelling – which is the greatest gift of all, so much to see so little time! I love writing and am working on a children's book called 'Charlie's Garden'. I love football, watching not playing! I love enriching my mind spirit and soul, preferably in a spa with a masseuse working on my knots whilst I am reading a good book!
If you can picture Kathryn carrying out a stunning bespoke wedding ceremony for you in Wales, or in England and beyond, then get in touch with her here. She'll be over the moon to hear from you.