Engaged and ready, looking for inspiration? Planning the wedding of your dreams? Chosen Greece for your special day? Then you've come to the right place. Wedding Celebrant in Greece Sarah Hatjipavlis, gives you the lowdown on how to get married in Greece with her top tips and wedding know-how.
Firstly, congratulations, how exciting, Greece is such a wonderful choice, with more than two hundred inhabited Islands, it is only a few that are the most famous as top venues for destination weddings!
Athens destination weddings
Athens, one of the world's oldest cities, and in fact the warmest major city in Europe has a stunning choice of wedding options on the 'Athenian Riviera' a famous coastal area running from the Athens suburbs until the most southerly point of Attica, Cape Sounion. You can have your ceremony with dreamy sea views and one of a kind sunsets and your guests will also have the opportunity to visit Athens and the Acropolis and Parthenon, not to mention the amazing Acropolis Museum one of the most impressive museums in Europe set in the shadow of the Acropolis itself.
There are also one of a kind villa options too, out in the rural Greek countryside, away from the crowds, where you can party all night, the only neighbours to disturb the 'cicadas' a singing choir of 'true bugs' who provide a chorus all of their own, during the hours of darkness!
A Greek Island wedding
Since the movie 'Mama Mia' hit the screens back in 2008, it was filmed on the previously almost unknown Island of Skopelos, located in the North Sporades; couples have been choosing smaller Islands for their classic simplicity. Trending now are small white chapels, rugged Greek landscapes, the olive groves, goats hopping from crag to crag on the mountainous hillsides providing so many photographic opportunities!
Santorini for its famous volcanic black sand beaches, stunning cliffs, blue waters, appears in lists regularly as 'one of the most romantic Islands in the world'; Mykonos known, for its famous night life and entertainment, white sand beaches and A list crowds. I think these two run a close race for the number one spot chosen by international couples for their destination wedding in Greece. However, there are so many Islands to choose from, smaller, less developed, more Greek, full of traditions, and for many couples these are their dream venue, they want to step back in time! Hydra, Paros, Antiparos, Chalki, Symi, Tilos, these are just a few of the hundreds of Islands that come to mind.
Wherever you choose, all Greek Islands are so very different and yet on the other hand they are all just the same, in Greece we have the perfect summer climate, fabulous local flavours, an extensive choice of accommodation but the main and most important thing is the kindness, love and warmth of the Greek people themselves! What could be better than that?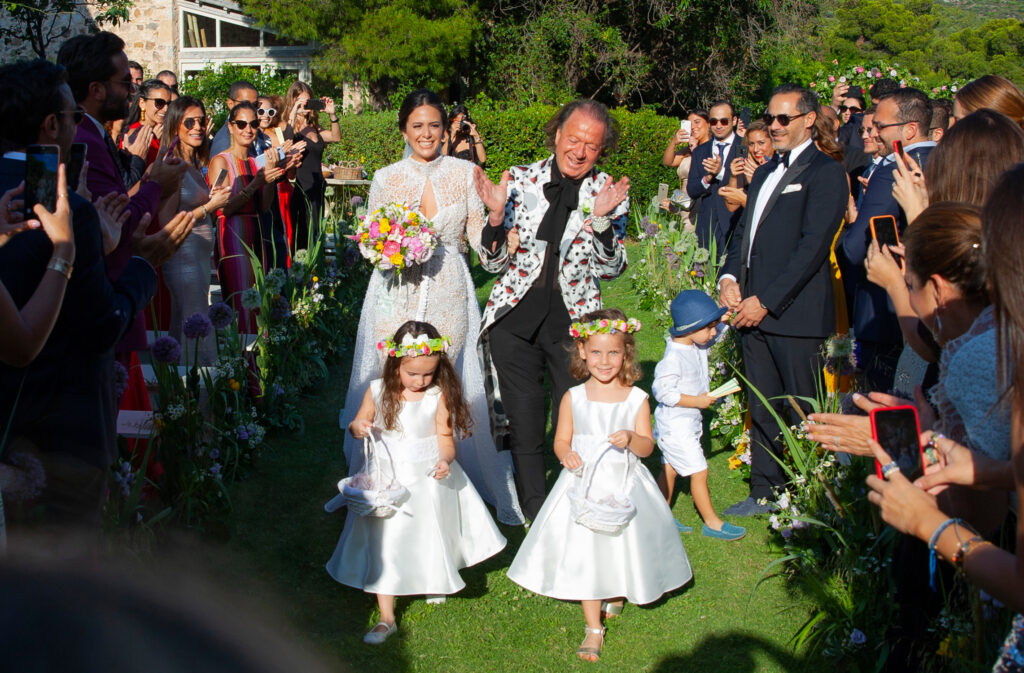 Do I need a wedding planner?
The answer is an emphatic yes, if you are planning an overseas wedding, you really do need a wedding planner and there are hundreds to choose from. Find a good communicator, someone who responds to your questions, someone who is clearly interested in you as a couple, someone professional. They will be able to put your ideas in to place, keep to your budget, coordinate your entire day, assist your family and friends and of course keep in touch with you from moment of initial contact until well after the wedding day itself!
What next?
So you have your venue, and your wedding planner, things are falling in to place. Next, what about the ceremony?
A legal wedding ceremony in Greece
If you submit all the paperwork required for a legal ceremony in Greece and have all the relevant documents authorised and officially translated, then you will be in the position to have a legal marriage in Greece and you will sign on the day. Your Greek marriage certificate will then be available to pick up from the local town hall and the final step will be translating it into your own language back home. The wedding ceremony will be performed in Greek by the local registrar, or their official representative and more often than not, translated by your wedding planner; this civil ceremony will take about ten minutes. You can personalise this a little, how much, just depends on the local authorities, but normally a set reading, and personal vows can be added.
A symbolic wedding ceremony in Greece
No paperwork required! No local registrar needed! More venue options! A professional celebrant will write and create a ceremony just for you, they will tell your story, in the style of your choice. Your family and friends can participate, there will be tears, laughter, plenty of emotion, you can include family traditions, ideas from your culture, symbolic elements.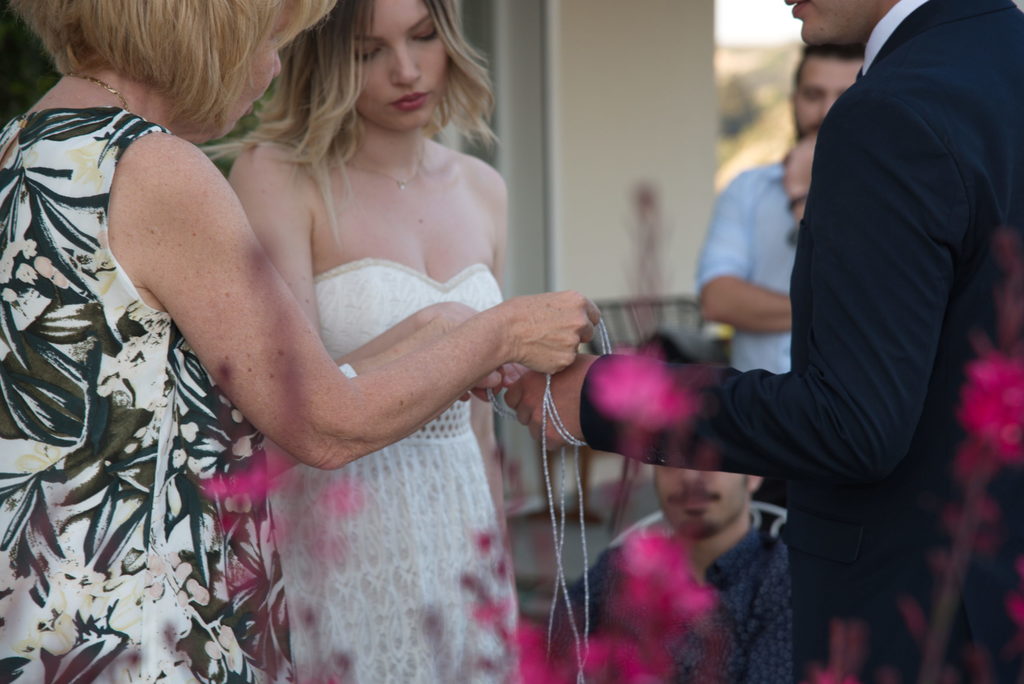 Total marriage equality in Greece
These ceremonies are for everyone, no restrictions; in the world we live in, total marriage equality is a must, so a loud shout out to any same-sex couple looking to tie the knot in Greece, yes this is the way for you. The ceremony is termed symbolic, will it feel symbolic, definitely not, it will be better than the scripted civil version! You have travelled a long way for this moment, you have brought your family and friends with you, you are all dressed for the part; make the most of it, a celebrant led ceremony has no time restrictions at all! Most couples choosing a symbolic celebrant led ceremony in Greece, will pop to their local registry office back home before or after travel to Greece, to be legally wed, and then this frees them up to have a bespoke ceremony written for them by a celebrant in Greece.
My own Greek wedding!
Having met my other half, a local Rhodian, on a summer holiday, a fair few years ago, we had; much to my mother's disappointment, a Greek Orthodox wedding. In order to appease Mum, we also had a commitment ceremony a month later in the UK. Now I understood a big fat nothing on the day of the Greek wedding, and my, by then, husband, very little of the UK version, yes of course they were both wonderful and memorable but there were of course no celebrants available back in my day! A celebrant would have been able to bring both families together and include a little of everything!
So if you have chosen to tie the knot in Greece, don't overlook your ceremony, it is after all the most important part of your wedding day, that special moment when you say your words of commitment to each other and move on as partners for life! Your wedding ceremony, your way in Greece what could be more inspiring than that?

What fabulous advice from Sarah. If you'd like to book Sarah for your stunning wedding ceremony in Greece, you'll find her here.
Main photo image by Savvas Argirou