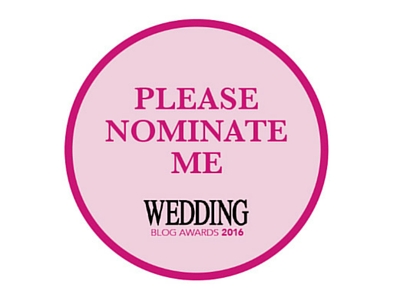 When I wrote and published my first blog post (two years ago on June 22nd) I was filled with excitement and nervousness, the type that my three year old displays on a regular daily basis!
I was so excited to share all of this wedding knowledge that I have amassed over my years of being a wedding celebrant and having been to and seen a lot (hundreds) of weddings.
My number one drive and aim of this blog, is to help you, my readers, to think about and be inspired to have a wedding ceremony that you truly want and that fits in perfectly with how you think and feel. Number one! So when I hear back from you, whether it's by email or in a comment online about how the blog has helped and inspired you and how you have enjoyed reading my posts, I almost burst with pride and am so happy to know that I am helping.
So can I ask you a little favour?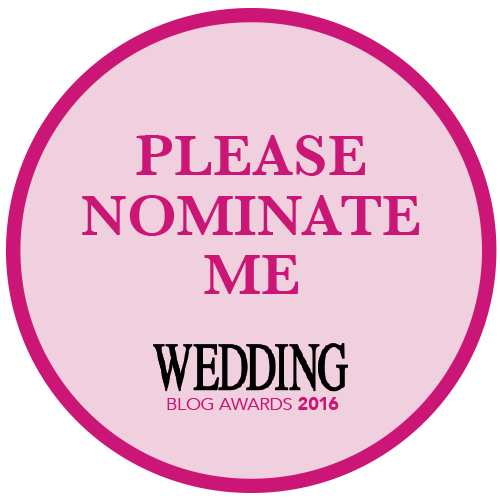 Wedding blog awards are not my reason for blogging and are not something that drives me to publish my posts every week, BUT (you know I love my capitalised buts!) blog awards are very important in helping the blog to become more recognised and help other couples to be aware of the variety of inspirational wedding resources that are available to newly weds to be.
I am very proud that Engaged & Ready is currently the ONLY blog of its kind that focuses solely on wedding ceremony inspiration. It focuses on the heart of the matter, the heart matters and all the important stuff to do with weddings and getting married.
If you enjoy reading my posts and find them useful, informative and maybe even inspiring, I would love your support to be nominated for the Wedding Blog Awards 2016, in the Rising Star Wedding Blog category.
Here is the link to the voting page
http://www.weddingandweddingflowers.co.uk/nominateblogawards
And below I have put a screenshot of the information you'd need to fill out the form, which should only take a few seconds and you have until August 11th to vote.
Thank you again to all of you, my beautiful readers and number one reason for doing what I do and loving what I do!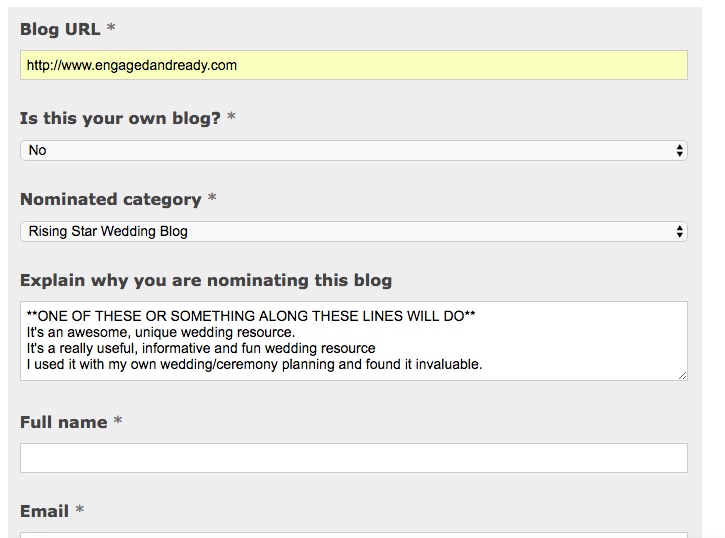 Thank you so much! xxxx